-
Words by Lottie Lewis, images by Mike Bresen, Christine Brailsford Caro, Cher Pendarvis, Surf Simply, Erling Mandelmann, Piña Surfboards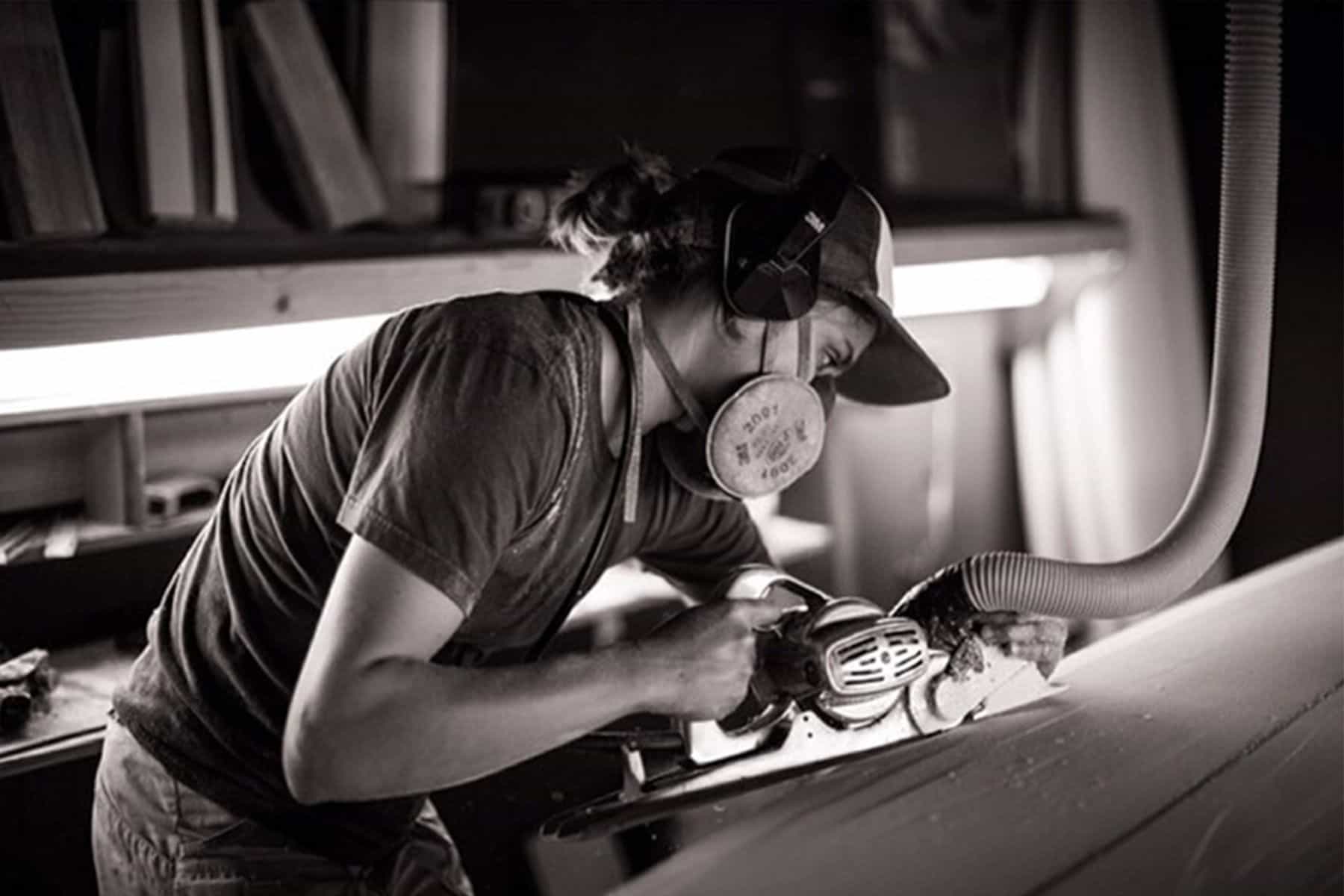 The Representation Of Women In The Surf and Surfboard Shaping Industry
It's not a new realisation that women are underrepresented in the world of surfing. You've probably noticed it at your local break. Everywhere you look the line-up is male-dominated. It's apparent in the competitive circuit, in the industry and particularly so in the shaping bay. But slowly this narrative is being challenged and overturned, with talented female surfers and business leaders exploding onto the scene, taking the industry by force and proving that gender doesn't matter. There is still at least one section of the surf industry however where women have been noticeably absent with no good reason, and that still has a long way to go: surfboard manufacturing.
Globally, it is estimated that the male/female split of the surfing population is roughly 65% male, 35% female. This could be attributed to a number of factors. Historically, within various cultures women were not allowed or encouraged to compete in "extreme" sports, and would often be criticised or ostracised by the male participants (as seen in the 2021 documentary Girls Can't Surf, which follows the journey of surfing's female greats as they take on the male-dominated professional surfing scene). Other factors can be religious or traditional cultural values that stop women from taking part in sport, entering the ocean or being equipped with the basic skills to learn, (which is explained thoroughly by Martina Burtscher and Easkey Britton in their academic paper "There Was Some Kind of Energy Coming into My Heart": Creating Safe Spaces for Sri Lankan Women and Girls to Enjoy the Wellbeing Benefits of the Ocean. In the western world, reasons include a lack of confidence and accessibility, which is increasingly being catered for through all female surf that aim to support women and girls to get them in the water. Times are definitely changing. Back in 2018 the World Surfing League announced parity of pay for men and women. Stephanie Gilmore, eight time women's world champion, was reported to have said, "When I was told there was going to be equal pay for men and women, I pretty much cried." That development happened during the tenure of professional surfing's first female CEO Sophie Goldschmidt, who led the organisation between July 2017 and January 2020. With the recent departure of CEO Erik Logan, the WSL's Chief People & Purpose Officer Emily Hofer has been jointly appointed to lead the organisation with COO/CLO Bob Kane, continuing the WSL's commitment to a balanced leadership.
Less so now, but it's still apparent to this day, that whilst male surfers were selling the sport, women were selling sex. Bikini-clad models with unwaxed surfboards were often seen in advertisements running down the beach, but never paddling out. It's not only the gender stereotype that needs addressing, but the lack of diversity within it. It may be improving, but you'd still be led to believe that most female surfers are skinny, blonde and white, due to the majority of advertising. This is definitely now being challenged, with more focus on women actually surfing and in the water, and depicted through a range of ethnicities, ages and body shapes, but we still have a long way to go.
Whilst the gender gap in surfing generally is slowly edging towards neutral ground, it still leaves us questioning a few things. It may be nigh on impossible to find any concrete statistics online about the percentage of male surfboard shapers to female shapers, but you only need to browse the racks of your local surf store or ring around a few of your local surfboard factories to get the general gist that most surfboards are made by men.
If most surfboards are made by men, then it stands that most surfboards will be made for men. There are scientifically accepted physiological differences between the sexes however (the American Physiological Society states that males typically have proportionately more muscle mass, more bone mass, and a lower percentage of body fat than women) and therefore surfboards designed for men to achieve optimal performance, which most have been, will not necessarily do the same for women. History shows us that the reverse has been true though, with the shorter and lighter "Darrilyn" surfboard that Joe Quigg shaped for Malibu surfer Darrilyn Zanuck in 1947 at the request of her boyfriend Tommy Zahn, gaining popularity with other surfers and becoming the precursor to the Malibu chip. Shorter and lighter goes faster and is more manoeuvrable, and when they realised this, the guys wanted the girls' surfboards.
Whether approached primarily as sculpture or science, there is no reason whatsoever for the lack of diversity in surfboard shaping. Or in any industry, for that matter.
During World War II it was proved emphatically that who does a job and their gender are of no significance to the final outcome; in America, over six million women took wartime jobs in factories, three million volunteered with the Red Cross, and over 350,000 served in uniform, whilst in Britain women were called up to fulfil roles such as mechanics, engineers, munitions workers, air raid wardens, bus and fire engine drivers, and by mid-1943 almost 90 per cent of single women and 80 per cent of married women were working in factories, on the land or in the armed forces. The Axis powers took an entirely different approach and attitude to women entering the workforce to take up roles vacated by men who were at war, much to their detriment.
Looking outside of the surf industry at complimentary sectors, it makes you question why there aren't more female shapers. From a sculptural perspective, talented women bust their way through the glass ceiling in the mid 19th Century. The late Barbara Hepworth (who lived and created in the British coastal town of St Ives, which also happens to be a vibrant surf town) is one of the most important modernist artists of the 20th Century, carving the way for women in the arts.
"At no point do I wish to be in conflict with any man or masculine thought. It doesn't enter my consciousness. Art is anonymous. It's not competitive with men. It's a complementary contribution." – Barbara Hepworth
In the field of science and engineering, arguably an alternate approach or route to surfboard shaping than an artistic or sculptural approach, there are again numerous examples excellent women who have overcome baked-in biases and patriarchal systems to be celebrated for their talents. Whilst, women make up a small percentage of winners of the science-based categories that Nobel Laureates are awarded (5.3% of winners for the Nobel Prize in Physiology or Medicine, 4.1% of winners for the Nobel Prize in Chemistry and just 1.8% of winners for the Nobel Prize in Physics), there are outstanding and inspirational examples. Marie Curie was not only the first woman to win a Nobel Prize (for Physics, alongside her husband Pierre Curie, and Henri Becquerel) in the Prize's third year, but she went on to win another for Chemistry to become one of only four people to have won multiple Nobel Laureates, and the first and only woman. Her daughter Irène Joliot-Curie also won the Nobel Prize in Chemistry in 1935.

Victoria Drummond MBE (1894-1978) was the first female marine engineer in the UK, the first female member of the Institute of Marine Engineers, and the first British woman to serve as a chief engineer in the Merchant Navy. Growing up in an upper class Scottish family and a goddaughter of Queen Victoria, she bucked the trend (at that time in the UK, women of privilege were not expected to work, let alone enter a male dominated blue collar trade) and at 22 years of age became an apprentice marine engineer. Victoria went on to become the first woman to receive the Lloyd's War Medal for Bravery at Sea during World War II.

Right now in the field of fluid mechanics, there are women in leading roles in some of America's top academic institutions, such as Anette (Peko) Hosoi, professor of mechanical engineering and associate dean for engineering at MIT or Dennice Gayme, associate professor of mechanical engineering and Carol Croft Linde Faculty Scholar at Johns Hopkins University. Having women in such prominent positions makes them role models for prospective undergraduates, and helps to turn the tide.
Surfboard shaping is a complicated industry, with no school of shaping to be attended or qualification to be gained. It is a multi-faceted trade, combining art, physics and chemistry, all of which are skills that hold no gender bias.
Whether approaching the design and creation of a surfboard from a sculptural or scientific direction, or a blend of the two, there is nothing from within modern surfing's relatively short history that precludes women from excelling other than barriers to access.
Thankfully, and rightfully, there are a number of women from around the world bringing their skills to the shaping bay and being recognised and celebrated on the merit of the surfboards that they are producing.
Cher Pendarvis of Pendoflex Surfboards has been beating a path in the surfboard industry for decades. Starting out in 1965 repairing dings at a surf shop, she shaped surfboards to pay her way through college. She made her first surfboard from start to finish in 1968, shaping, glassing, hot coating and sanding it, as well as laminating and foiling the fins for it.
"For one experimental board in the early 1970s, I designed and made 11 different fins to fit in an early Fins Unlimited single fin box. After drawing up the fin templates that I wanted to try, I laid up the fiberglass fin sheet panel and used a small hand saw to cut the template shapes and then hand foiled it with a small disc sander. I love to envision an idea, making it and trying it in the water!"
Beginning in late 1974, and for more than 15 years, Cher surfed for Channin and was the first and only woman on the surf team and at the factory in California.
"I worked with master shaper Mike Casey to shape boards for me. Since I had been building my own boards since late 1968, I had creative ideas that we incorporated into my boards. Some of these ideas became models, as other surfers (guys and a few gal friends) came to the factory asking for boards like mine. Also, in the mid-late 70s, I designed and hand-inked typographic logos for Channin and also designed the Surfboards by Donald Takayama logo with the two cereus cactus flowers. (We still have the cactus plant!) I knew Donald from surfing and he hired me to do his logo, which is still in use today. Also I worked for Tony Channin part time at the factory, doing resin pin-lining alongside the great Sam Cody."
Then after graduating, Cher became the first female staff member at Surfing Magazine through the mid to late 70s. As part of San Diego's tight-knit Point Loma/Ocean Beach crew, she was one of the first surfers to ride a fish. Cher married surfboard shaper Steve Pendarvis of Pendoflex, whom she continues to design and shape alongside.
Also California-based is Christine Brailsford Caro (pictured also at the top of this article). She runs her surfboard brand Furrow out of theiconic Moonlight-Christenson Glassing factory in North County, San Diego. Built by hand using locally produced materials.
Christine specializes in speed shapes and transition era style boards, along with wooden paipos and prone craft inspired by the ancient Hawaiians.She is inspired by designs from the shortboard revolution and shapes beautiful single fins, Stubbies, twin fins, fishes, midlengths, and gliders.
Piña Surfboards in Costa Rica was founded by German-born water-woman Marcelina. At the age of 19 she moved to Costa Rica and started surfing. After moving back to Germany to study to become a professional carpenter, she returned to Nosara in Costa Rica to pursue her dream of making wooden surfboards. Since 2019 she has been running workshops to share her passion with surfers who want to make their own wooden surfboard under her guidance.


Lou Aitken is Aotearoa New Zealand's only full-time female surfboard shaper, having started out doing an apprenticeship as a cabinet maker before learning the craft of shaping from her uncle during a stint working on Australia's Gold Coast. When she returned to NZ she started shaping surfboards out of her parents' garage, before moving to the Coromandel Peninsula to work alongside and continue learning from local surfboard shaper Pete Anderson. Lou shapes her own surfboards under her own Aitken Surfboards label.

In Australia, Jalaan Slabb is an 18-year-old indiginous woman from a family of passionate surfers, who makes surfboards form her home in Bundjalung Country, on the far north coast of New South Wales.
The surfboard industry may have far to go, but it's moving forwards and has already made some great steps in the right direction. Gender inequality sadly resides within many businesses, industries, sports and religions, but together we can influence the change we want to see.