Community Projects, Women
Creating 
Safe 
Spaces 
For 
Women 
to 
Enjoy 
The 
Ocean 
and 
Surfing 
-
Words by Kim Feldmann, images by Amanda Prifti, Lara Colwood, Lizzie Goldsack, Mat Arney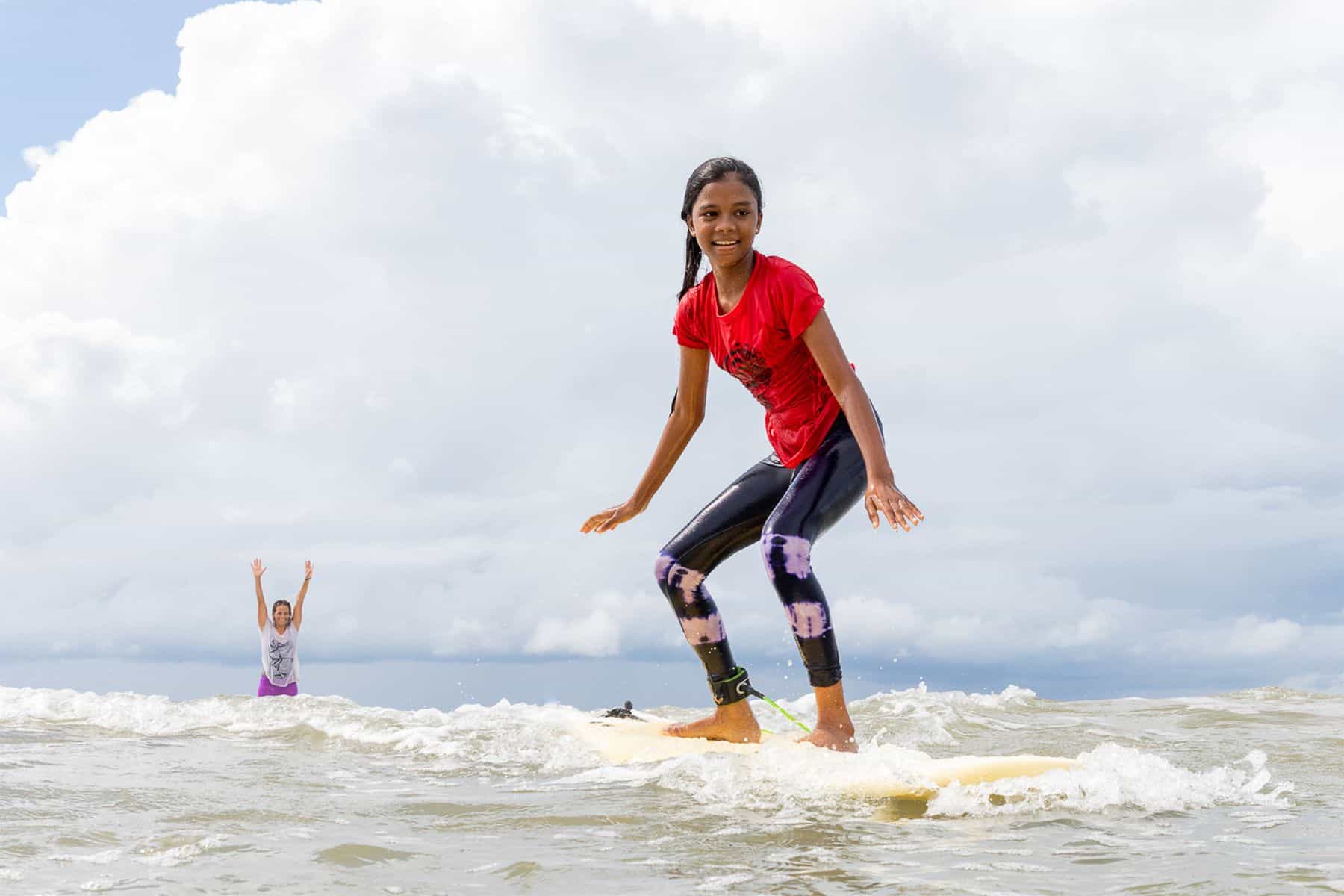 A Sri Lankan Case Study
Despite the growing interest from women to take up surfing, as well as the structural changes and increased discussions that have taken place over the last few years, gender inequalities remain a major stumbling block. And if these blocks can cause women from so-called liberal nations with developed surf cultures to stumble on their surf journey, those from more conservative societies with emerging surf cultures can have their path quite literally blocked.
A new study out of Sri Lanka looked at ways to not only identify these blocks, but reshape them. Authors Martina Burtscher and Easkey Britton drew on a series of interviews and informal conversations with members of two female-focused surfing programmes, Girls Make Waves (GMW) and SeaSisters, as well as participatory observations from 40 sessions between 2017 and 2020, to explore the potential of surfing and development organisations (SDOs) to create safe spaces for women and girls to practise surfing.
After a retrospective analysis, the authors identified eight main barriers:
Do not see surfing as a possibility for them; cannot identify with Western surfer girls.
Need permission of families to participate in activities outside the home; they have concerns regarding safety and reputation; gendered constraints on time.
Resistance and harassment of local community members and visitors.
Restricted mobility; expectation not to go surfing alone.
Prioritisation of survival needs; expensive surf lessons and equipment.
Expectation not to mix with men after reaching puberty; women do not feel safe with unknown men.
Gender norms and expectations around clothing and beauty (modesty, fair skin).
Ocean regarded as a dangerous place; women cannot swim; trauma from the 2004 tsunami.
What follows is a summary of the eight common mediators proposed by the authors in the context of Sri Lanka; pathways for transforming unsafe spaces of exclusion and fear into safe spaces of inclusion, healing, and empowerment.
Seeing Surfing As An Option
For many Sri Lankan girls and women, surfing is simply not considered an option. This is largely because the country's surf culture is still in its infancy, but also due to the lack of role models; in particular local female surfers to whom they can relate more than Western ones. The Sri Lankan women who do try their hand at surfing usually do so after being encouraged by friends and family, tourists, or surfing programmes. As was the case with SeaSisters, the number of women keen to sign up surged to the point where the programme had to introduce a waiting list which not only shows that SDOs can be an effective mediator for local women and girls to access surfing, but that there is a real interest on their part to learn how to surf – if only they can view it as a possibility.
"My father surfs. My brother surfs. My husband surfs. When we go to the beach, we can only watch boys surf"
– Baby Rani, video Girls Make Waves 2019
Supportive Families
Seeing surfing as an option is the first step. But in order to paddle out the majority of Sri Lankan girls and women, especially those from rural areas, still require the support – or at times the consent – of their male family members. This is often due to a combination of the concern over women keeping in step with the norms of society and the widespread preconception that surfing in the ocean is dangerous. But even when families give their permission, some girls and women might still struggle to find the time to go surfing, having to juggle paid work outside the home with the domestic duties many of them assume after reaching adolescence. Or, in the case of mothers, having to find someone to look after their children whilst they are in the water. These insights led the authors to suggest that SDOs must build trustful relationships with families, and that within these relationships, it's important to highlight the various benefits and economic opportunities provided by surfing.
"I face challenges when my parents and my family consider surfing as something to distract me, something that they think I waste my time on."
– Mahishaa, Sri Lanka, interview in 2020
Supportive Communities
Even with the support of their families, Sri Lankan female surfers still have to deal with the negative reactions and resistance that challenging gender norms can set off in their local communities, particularly from men. Yet, as it was witnessed in the early stages of Girls Make Waves, where the initially reluctant tourism board started to back the idea of women surfing once they realised the economic opportunity in the forming of local female surf instructors, this mindset can change over time. This goes to show that harnessing support from local communities and, in patriarchal societies such as Sri Lanka, reshaping men's perceptions is of the essence for the efficient development of SDOs. And, consequently, the prospect of women and girls participating in surfing programmes.
Group Factor
According to the authors, surfing together as a group has two-fold importance in enabling female surfers to participate in surfing programmes. Firstly, many young women in Sri Lanka either aren't allowed to or do not feel comfortable going to the beach by themselves; whereas in a group, they are less likely to stand out and/or feel like they are single-handedly going against cultural norms. Secondly, teaming up with other women also boosts their confidence and creates a sense of belonging and sisterhood, a shared identity that can stimulate them to fight for their rights.
"Yeah, it will get better when like all the girls are bold and just go surfing and say, 'We want to do this.' It will start to change then. And then, people have no other choice than accepting it. […] the family will not talk about other girls because they have already one girl in their family who surfs."
– Susanthika (21 years), interview in 2017.
Free Lessons
For many Sri Lankan women, the importance of earning a living far outweighs that of recreation. And whilst this issue is related to both gender and class, economic barriers nonetheless affect female participation in sports. With that in mind, the authors argue that offering free lessons and equipment is a fundamental factor in the success of surfing programmes for women of Sri Lanka and other emerging surf cultures in developing countries.
All-Female Environment
The creation of a female-only space is perhaps the most impactful – as well as multifaceted – factor to consider. On the one hand, an environment where all participants and instructors are women, such as that of GMW and SeaSisters, often translates to more physical and emotional safety – especially for younger women who are usually expected to stay away from boys after reaching puberty. Moreover, a space without men also increases the chances of families giving permission whilst providing women with new support systems and a judgement-free platform to talk about female-related topics. On the other hand, given the low number of qualified female surf instructors in Sri Lanka, initiatives such as GMW and SeaSisters tend to rely on foreign women to take over that role – which means attention must be paid to the cross-cultural elements and power relations between instructors and participants. Likewise, the fact that participants seldom practice surfing outside the facilitated safe space can create dependencies – something that became evident during the COVID-19 pandemic when most volunteers returned to their home countries. Based on these observations, the authors emphasise that "local leadership is important for long-term success, such as the training of local women and the establishment of all-female surf clubs, which gives ownership and paves the way for the younger generation to follow."
Culturally Appropriate Surf Apparel
Sri Lankan society as a whole expects women to look a certain way and dress modestly – to fit in their own standard of beauty. And whilst many Sri Lankan female surfers strive to explore new possibilities, they are also mindful of respecting their cultural values, e.g. participants and instructors of GMW and SeaSisters are advised to cover their knees and shoulders by wearing t-shirts and leggings. Yet some, particularly those from urban areas, opt for surfing in bikinis, which often incites harassment from men and disapproval from women who deem such openness unseemly. With this contrast in mind, the authors point out the importance of using culturally appropriate surf apparel* and the need for attention on the part of female surfers and SDOs to navigate such socio-cultural gender norms.
*Click here to learn more about Finisterre's pioneering Seasuit project – a full-coverage swimsuit developed specifically for surf and open water swimming, the Seasuit and Hijab offer coverage and security in a range of aquatic situations.
Safe and Playful Teaching Methodology
Given that the majority of Sri Lankan girls and women are either disconnected or traumatised by the ocean (most join GMW and SeaSisters without knowing how to swim), designing a programme with high safety standards by way of trained staff, translators, and a close instructor-participant ratio is crucial. The authors also found that keeping lessons playful – as opposed to performance-oriented – is an effective way of tapping into the proven well-being benefits of the ocean to overcome fears, eventually allowing participants to reconnect with this environment in a way that is health-enabling rather than life-threatening.
"Before, I was so afraid. When I started surfing, I learned things which made me so afraid, like standing on a board or paddling. This makes me more confident. This makes me less afraid of things."
Dayani (23 years), interview in 2017.
The creation of a safe space is dependant both on the individual context and the existing structures; it is defined by reducing risks and threats as well as providing an empowering experience. Correspondingly, the process of creating a safe space for Sri Lankan female surfers is not free of the entanglements of society's norms and ideals, and is directly linked to the challenges they face individually – be those related to class, education, family background, or by the sheer difference between growing up in a rural village as opposed to the city. And whilst such socio-cultural paradigms still hinder the sustainability of women's access to surfing across the world, the study shows that, if executed safely, surfing programmes can open up new spaces for female surfers to reconnect with the ocean, to tap into its well-being benefits, to learn new skills, to create new friendships and support systems, to design tools that can reshape – or altogether break – the aforementioned stumbling blocks.
**********
The author and Surf Simply would like to thank Martina Burtscher for her assistance with the article, and photographers Amanda Prifti, Lara Colwood, and Lizzie Goldsack for letting us use their images.
Reference: Burtscher, M.; Britton, E. "There Was Some Kind of Energy Coming into My Heart": Creating Safe Spaces for Sri Lankan Women and Girls to Enjoy the Wellbeing Benefits of the Ocean. Int. J. Environ. Res. Public Health 2022, 19, 3342.