Interviews
The 
Surfpreneurship 
Storm: 
The 
Rise 
of 
Lifestyle 
Entrepreneurship 
in 
Brazil 
-
Words by Kim Feldmann, images by Ana Catarina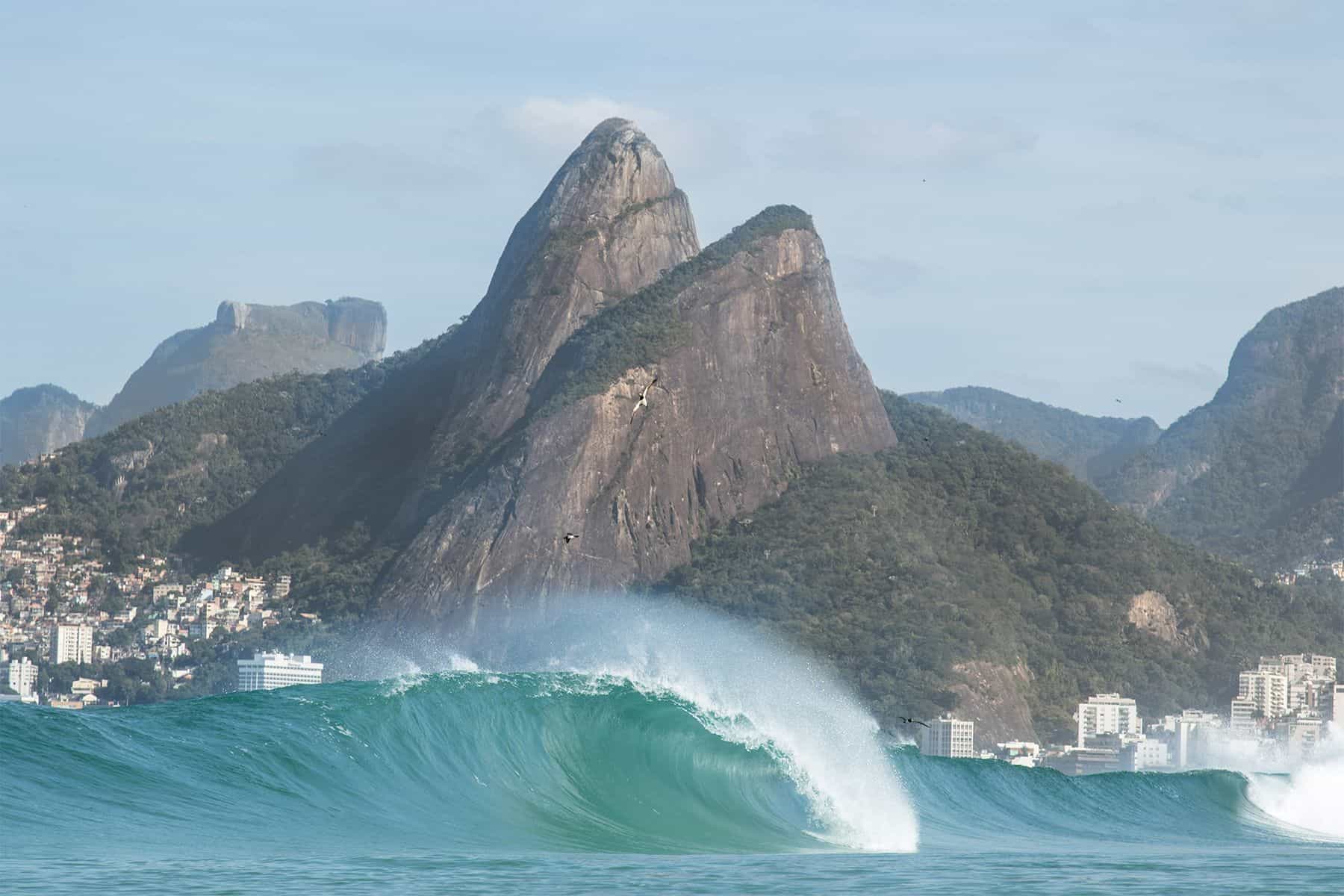 Lifestyle entrepreneurship – or the engineering of an entrepreneurial activity around one's preferred lifestyle and personal circumstances – has been a trend in surfing since its Californization: people started flocking to the coast and running all sorts of businesses that served more to maintain the surfing lifestyle than to reach commercial success. However, with the advent of the digital era and the increasing access to travel, the regularity with which surfers engage coastal communities beyond their own has changed – as has the need to create alternative ways to navigate this relationship. So much so that this segment of entrepreneurship has gained a name: Surfpreneurship.
Laura Bradshaw of the Institute for Sport Business at Loughborough University London is someone who has been delving deeper into the "surfpreneur phenomenon." In her latest paper, Surfing the Amazon: Exploring Surf Tourism and Lifestyle Entrepreneurship in Brazil, published this past September in Springer's Brazilian Entrepreneurship book, Laura examined how entrepreneurs in this up-and-coming surf tourism hotspot have been tapping into the socioeconomic value of waves to create sustainable business models that not only allow for a surfing lifestyle but also contribute to the broader surf tourism ecosystem and the communities therein. Drawing from different cases across Brazil, Laura foregrounds the opportunity the country has to capitalise on underprivileged coastal areas, where beaches "could generate the potential for boosting surf tourism development and improving the flow of tourists to the area."
Surf Simply caught up with Laura to hear her take on the potentials of lifestyle entrepreneurism in surfing and the role Brazil can play in the development of a more sustainable surf tourism industry.
What motivated you to study the topic of surf tourism and, now, lifestyle entrepreneurism in surfing?
I've always had a keen interest in surfing and ocean sports. I previously worked as an athlete manager with some extreme sports and surf athletes, and the interest grew from there.While I've always had an interest in sports and a background in sports science, management and innovation, my interest in surfing never faded. I follow the WSL competitions and travel to watch the Big Wave surfing events such as Nazaré, Portugal. I've always loved to travel and explore new places and cultures, which brings with it a heightened sense of wanting to understand how our actions impact the fragility of our planet. I guess travel opens the mind and naturally brings a conscious look at our footprint. I think that with sports like surfing, there is an opportunity for athletes to connect recreational surf enthusiasts with the broader ecological and environmental issues linked to the oceans. The fans become part of that narrative, and surfers globally do a lot to help with green issues.
I'm also curious about the pull of adventure tourism and the delicate ways this trend can help or hinder the development of local communities. From a research perspective, I enjoy exploring the different elements of sport, travel and tourism and want to add to the knowledge in this area. The multidisciplinary angle of surf tourism fascinates me; it's a fragile, complex web that can very easily become tangled if not managed sustainably by all concerned. Lifestyle entrepreneurism in surfing is an emerging area of research; it needs far more analysis spent on understanding the nuances of surf entrepreneurs and the impact they have. Traditionally, surf entrepreneurs made a life around their love of the ocean, setting up surf schools or making boards; they were seen as innovative go-getters who had a positive impact. However, more recently, they can also be seen as social media influencers, which are sometimes incongruent with traditional lifestyle entrepreneurs. Those who may come from far wealthier and more developed socio-economic areas and their lifestyle and cultural differences can displace disadvantaged communities in other parts of the world that are less developed. The topic is complex and needs more focus to understand how surf tourism impacts global communities.
Data from the Brazilian Surfing Institute (Ibrasurf) estimates that the national surf industry generates around R$7 (US$1.4) billion a year, which places the country right up there with the USA, Europe, and Asia-Pacific. Besides the growing size of the market and the consequences this has to the global surf industry, what led you to focus the lens on Brazil specifically?
I have been exploring surf tourism in different regions for a few years now. I had recently travelled to Nazaré, Portugal, to watch the Big Wave surfing and was interested in understanding the inter-seasonal impact of tourism to the area. Big wave surf tourism is something primarily governed by nature and not easy to plan for. By looking into areas such as Nazaré, where the area has experienced economic development through tourism, led me to explore other places trying to do the same. Through my research, I discovered Save the Waves Coalition, which documented multiple sites they are working with to protect the local areas, and Brazil was one of these locations.
I was interested in Brazilian surf tourism because it appears ripe for development, and with the influx of world-class surfers coming out of Brazil, the popularity of surfing is likely to rise significantly. These elements are interesting to understand how surf tourism could improve an area's socio-economic development. For example, gentrification is often an unwanted by-product of tourism. The influx of visitors from different countries/cultures/socio-economic statuses can have a lasting impact on a local community, driving up prices and pricing locals out of their homes. This dichotomy, which is rich for research, by untangling the issues and presenting the advantages and disadvantages, may offer evidence for local governments to better support infrastructures while protecting local habitats and cultures. Better decisions can be made to preserve the waves long-term and ensure economic sustainability in an area by raising awareness of the issues.
Based on the literature you've reviewed, what were some of the main differences between the dynamics and potentials for lifestyle entrepreneur initiatives in Brazil and other major surf destinations such as the USA and Australia, which are solid surf tourism hubs?
Brazil differs from the USA and Australia in many ways. For example, for athletes, the surf industry is not as powerful in Brazil, so surfers have to work harder, travel more and hustle hard to gain sponsorship; however, this also appears to be the recipe for success in Brazil. Research refers to this as resource-constrained innovation, e.g., the struggle, the discomfort, and the hard hours working to make something happen research suggests is the correct positioning for success. The infrastructure in the USA and Australia is already in place to support surfers and local communities. In Brazil, local surfers are still battling significant challenges to be able to surf their local break. Sewage is a major problem on Brazil's beaches, and while it's a global concern, Brazil still struggles to prioritise health. One thing that is apparent when it comes to surf tourism in Brazil is that there is an opportunity for growth, increased socio-economic development in deprived areas and the opportunity to bring more work and jobs to coastal communities. Often countries such as Brazil thrive off resource-constrained innovation, where they will overcome odds and find efficient workarounds to succeed. Surfing appears to be no different. Surfers will find innovative ways to train or draw in their sponsors, and this determination and dedication create formidable characters who are resilient to pursue their dream on the world surf stage. Brazil may be catching up in terms of local infrastructure and business opportunities, but it is a diamond in the rough. If policymakers understood the economic potential, they may invest in better infrastructure and ensure cleaner waters for those wanting to surf.
In the paper, you highlight how recent studies have identified that negligent coastal developments and pollution are two major threats to the health of surf spots, and that stimulating lifestyle entrepreneurism and the use of methods such as Surfonomics or the Zonal Travel Cost Method to evaluate the socioeconomic value of waves can benefit local communities and the environment through coastal conservation efforts. You go on to cite the case of Guarda do Embau, in Southern Brazil, and how having received World Surf Reserve status has "resulted in a new water quality monitoring program, municipal approval, and funding for construction of a wastewater treatment plant". I'm wondering if there were any other pros you might have come across in your research that you think it's worth expanding on?
No one, not the government nor local policymakers, can micromanage conservation efforts alone; it has to be a collaborative approach. Therefore, it is essential to have buy-in from local communities who want to make a difference. When locals want to protect their areas, protect their cultural heritage and ensure there are waves for future generations, it enables longevity and a better chance of success. This is where lifestyle entrepreneurism comes into play; when you have people setting up businesses near the coast because they love the ocean, want to live a healthy lifestyle, and pursue their surfing activities, this is a win-win situation. You have locals who are passionate about their surf breaks, people who want to protect the coastal areas and an ecosystem development which can, in turn, attract more business and economic stability. The issue, however, is when there is a discrepancy in the type of lifestyle entrepreneur. For example, if you have an influx of tourists who fly in to catch a wave, putting pressure on local surf breaks and creating overcrowding, it can cause friction. The balance must be found through surf etiquette in and out of the water. To be a successful lifestyle entrepreneur – and by that, I mean to bring in enough money to cover outgoings to allow you to surf – you need to contribute to the area, make surfboards, run a surf shop, offer surf lessons, give something back to the ecosystem. You have to give something. Yet, when surf tourists visit an area, there are struggles as they don't always have something to give in return; the local resources are used up, with high numbers of visitors, car parks overflow, local services are stretched, and without adequate support and infrastructure in place, this can cause friction and localism.
Branching off from the previous question: How can other surf communities across Brazil – or other up-and-coming surf tourism hotspots – work toward achieving positive results such as the aforementioned?
Communicate, communicate, communicate. There are positive results when members of the same ecosystem collaborate and share knowledge. To gain a deep understanding of the problems faced and the solutions available, you need all stakeholders to join the conversation and work through the issues together. This is the only way to create change.
You also mention that Brazil has the opportunity to learn lessons from other regions that have experienced an increase in commercial surf tourism, such as the Indo-Pacific islands, where problems related to reef erosion, overcrowding, crime, and price increases have been identified. With that in mind, what would you say are some of the cons – or potential dangers – of lifestyle entrepreneurism, particularly in the context of underprivileged coastal areas in Brazil?
The dangers are the same as any areas of deprivation that have the opportunity to become developed. Gentrification of an area, when local communities are displaced and out-priced. A change in culture; if you have an influx of western visitors, it can change the language, culture and values of a host community. Changes in development could mean natural, coastal areas with minimal commercial buildings/skyscrapers that with economic development could see a complete change and be replaced with a concrete jungle that nobody asked for. Commercialisation could increase prices and cost of living and see investors selling holiday lettings, leaving buildings empty for part of the year and communities becoming ghost towns. It could also cause environmental problems. If you have an influx of surfers, surf businesses and more people using the surf breaks, you can see coastal erosion, overflowing car parks, overcrowding, and stretched community services such as medical services. Perhaps the most significant danger of all to the individual is if the lifestyle entrepreneurs' business becomes so successful or expands and their dream of being able to surf each day slips away with the rise of their commercial success.
In your view, what are the main challenges Surfpreneurs in Brazil currently face? And what can they do to overcome these challenges?
A challenge would be finding the niche area in the market and generating the financial support to get started. Lifestyle entrepreneurs in areas of deprivation don't always have the means to access finances or investment as start-ups. Those from humble beginnings may not have the means to inject the initial capital needed to get started. The difficulty is that these areas are ripe for investment, yet lifestyle entrepreneurs generally do not seek to get rich quickly or achieve huge economic growth; they are simply seeking ways to pursue a lifestyle and find a way of funding that lifestyle that allows them enough time to get into the ocean. Therefore, the challenges surrounding accessing start-up funds for SMEs (Small and Medium-sized Enterprises) to get them started. This is where governments can help by injecting resources into SMEs, enabling a healthy ecosystem to thrive – one based on a passion for their work, passion for their sport and a desire to protect the local environment and community to maintain that lifestyle. It is a win-win for all. I believe the solution to some of these challenges will be more easily solved with technological advances and digitalisation. Technological advances can level the playing field globally between entrepreneurs, providing access to funding, more accessible ways of proving identification and a smoother way of doing business that does not rely so heavily on local resources.
Could you please give us an example of how technological advances might be able to help these surf-related SMEs overcome some of the hurdles when getting started?
One example is the use of technology, such as smartphones, for business start-ups. In developing countries, paperwork and legitimate forms of identification are not always in order or available, and it can hinder and stall the process of gaining finance and getting through initial business start-up processes, where the first requirement is often proof of ID. Recent advances in facial recognition and biometric scanning to digitally confirm identification are levelling the playing field for people wanting access to finance or start-up assistance, as they can simply use their smartphones to prove identification. This is something we are seeing more and more of, and it results in more accessible options for all. As emerging technologies develop, it is levelling the playing field in terms of access to resources and digitally breaking down any walls of the geographical divide.
Technology can empower social entrepreneurship. It offers rapid access to services, communication, access to information and improves digital literacy. It also narrows the gender gap and can offer more opportunities to those in rural locations or communities who wouldn't generally have access to the same services as those perhaps in large cities. It allows for faster engagement and stakeholder involvement and offers opportunities for a more inclusive approach to working. Lifestyle entrepreneurs often have strong community networks, either online or in person, and this allows new networks to be forged and maintained, and technology aids these link-ups. Technology can facilitate business growth and improve lifestyle; as a social entrepreneur, this is a win-win situation.
In the paper, you write: "Many tourism sub-sectors rely on particular sites and their natural resources, and commercial tourism enterprises compete to obtain or control access and use of those resources. Such competition can occur through social, economic, administrative or political processes. Therefore, while the competition is fierce, especially against global competitors in the sports tourism sector, there is a niche for locally grown businesses, with local values and a nuanced lean approach to compete with the major players in the market, making the homemade innovation that lifestyle entrepreneurs demonstrate a potential key to sustainable tourism." Would you say that lifestyle entrepreneurship is a better fit for the sustainable development of the surf tourism industry than traditional businesses? In what ways do lifestyle entrepreneurs benefit the industry that traditional businesses don't?
Lifestyle entrepreneurship offers surfers the chance to get out onto the ocean daily, by having a manageable business that provides flexibility in hours and workload that ensures that lifestyle entrepreneurs can continue participating in their chosen sport or hobby. Good weather, low living and business costs and a penchant for a nomadic lifestyle offer lifestyle entrepreneurs the opportunity to live a satisfying lifestyle on a minimal budget. You only have to look at the rise of 'vanlifers', those who live out of their vans and have the flexibility to travel and incorporate their work into their nomadic lifestyles, to understand the boom in popularity around lifestyle entrepreneurs. Digital jobs have allowed many to work remotely whilst on the move, which lifestyle entrepreneurs favour over traditional jobs which tie them to one location.
I'm not sure one is necessarily better than the other; I think it's an ecosystem that needs different types of businesses to thrive in. Diversity in all forms is important. It would be sad to have empty high streets and an influx of lifestyle entrepreneurs living and working digitally out of vans. As with most things in life, there needs to be a delicate balance of traditional and progressive change. Lifestyle entrepreneurs with a physical presence, such as surf schools or shops, can integrate into the local communities. They become a static symbol within the community that can be used as networking hubs to provide and share services and products but also for points of connectivity and networking, knowledge sharing and a shared sense of purpose and value. This sense of community is built between businesses, regardless of whether they are traditional or lifestyle entrepreneurs. However, I would argue the key difference is that lifestyle entrepreneurs generally have a more holistic approach to the environment, conservation and sustaining the local ecosystem. Their main driver is financial sustainability, not business growth.
Why is it important for your everyday surfer to think about issues concerning surf tourism?
As travellers, we need to consider our own footprint wisely. Global travel has increased in recent decades and with that so has air pollution and C02 emissions, and we need to consider our carbon footprint responsibly. Furthermore, we need to consider leaving no footprint when we spend time in far-flung destinations that are fragile and susceptible to change. This can be as simple as accepting local traditions and not pushing a western trend on them, spending money at local businesses rather than global chains, volunteering or donating our time and respecting local traditions on and off the water.
Similarly, how can we as surf travellers help lead lifestyle entrepreneurship initiatives in the right direction? Are there specific ways we as travellers could collaborate with them? And are you aware of any tools that could optimise this traveller-host relationship in order to make the surf tourism industry more sustainable?
Surf travellers can promote lifestyle entrepreneurship initiatives by giving back to communities. If you arrive at a destination in a rural coastal area or an area of economic disadvantage, consider using some time to give something back to the local communities. This can be in very small ways, such as shopping locally so the money can go back into the local economy, leaving online reviews of services and products that would be helpful to other surfers, creating blogs or online content to share positive tourism, highlighting issues such as waste and plastics and reminding fellow community members to take their rubbish home, invest in more sustainable surfboards and not to leave broken boards on beaches and in the ocean. A constant reminder of surf etiquette and an appreciation for local cultures and communities goes a long way.
Another point would be to be mindful of your impact on local communities when visiting. The goal is not to westernise local communities. Surf travellers should respect local culture and blend into their surroundings, maybe try to learn to speak a new language, aim to eat traditional local food, and adapt to local customs. The magic of surf travel is to spend time in new locations, to learn new languages and cultures and not to create a global surf community that is the same in every location. This is very important because it impacts issues such as localism and gentrification, and neither are the positive results of tourism. Surf travellers can enjoy the area's natural resources without leaving a physical or cultural footprint.
The first step in promoting surf lifestyle entrepreneurship initiatives may be for surf travellers to explore their own backyard and what they can do locally to aid the sustainability of surfing in their local area. Surfers often describe feeling a sense of being at one with nature when in the water, and it creates a general feeling of responsibility to do more to protect the environment. This deep level of connectedness is what can be tapped into to create understanding and bring about action to tackle environmental issues. For example, if you don't live near a surf break that is regularly polluted, you may not be aware of the environmental issues that coastal communities face. Surf travellers have the opportunity to document their activities and also raise awareness of the problems faced. This becomes a very powerful tool in communicating how better to look after our planet.
Communication is the key to developing traveller-host relationships. Spreading the word, raising awareness, documenting responsibly and visiting with an aim of leaving no footprint behind can help nurture healthy ecosystems. I also think, at times, there is a responsibility when visiting certain communities that need protecting from over-tourism, so if you consider small island communities in far-flung destinations that may not have the resources to accommodate large numbers of tourists, it may be best to consider not documenting anything at all. It is the surf travellers' responsibility to understand when to communicate and when to keep a surf break anonymous for the sustainability of the wave and the protection of local communities. This is a delicate balance and not always easy to navigate, but having the initial awareness may be a step toward protecting host communities.
How do you see the growth of the surf tourism sector changing things – for better or worse – in the future?
There will need to be better management of local surf breaks and host communities. Surf tourism is set to increase and the need to preserve coral reefs, waves, and coastal areas from development, overfishing, and dredging will require careful coastal management by multiple stakeholders. If sites are being developed, this should not push local communities out of their environments to make way for travel resorts and temporary accommodation that sees towns and villages like ghost towns in the off-peak seasons. Coastal management teams need to work towards year-round tourism that is balanced and manageable and compliments the natural carrying capacity of an area and surf break rather than overwhelm it. These issues need careful planning to ensure that all stakeholders are in communication and collaboration to ensure sustainable actions for climate change and the protection of local cultures and host communities. When we see locals being displaced from an area to make way for tourists, this should ring alarm bells that the coastal management plan has not been achieved successfully.
Have you got any other research lined up? Or are there any specific fields of study within surf tourism and/or surf destinations that in your opinion deserve priority at the moment?
Yes, I have a lot more research in the pipeline focusing on different geographical areas of surf tourism, such as cold-water surf tourism in the British Isles and more research focusing on surf engineering and the innovations around surf equipment. I want to spend more time unpicking the challenges we are seeing in regions such as the Maldives and Indo-Pacific, where they are attempting to manage the carrying capacity of surf spots, and the increasing issue of localism is an exciting topic to explore. So, there is a lot more research that needs to be done, and the hope is that it builds up a scientific knowledge base for local governments to use to make better, more informed decisions around coastal areas for the sustainability of surfing and the good of the local communities.
**********
The author and Surf Simply would like to thank Laura Bradshaw for her assistance with the article, and photographer Ana Catarina for her stunning pictures.