People
The 
Silver 
Surfer 
Journal 
-
Words by Mat Arney, images by Jon Herbert & film by MUMBO (Oli Brotherhood and Victoria Mantua)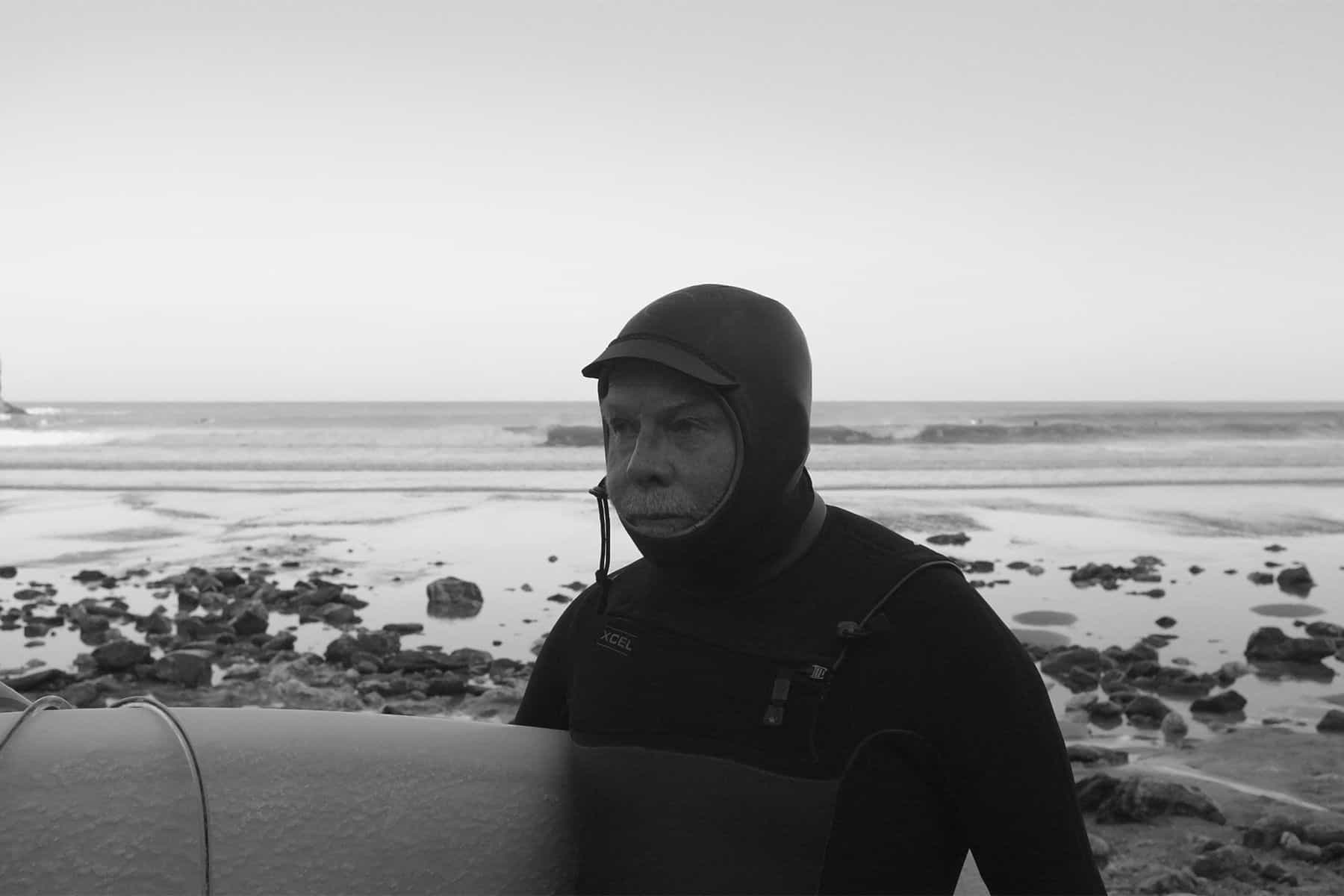 Andrew Forrest is a 70-year old surfer. For the last three decades, since first catching a wave at the age of 44, Andrew has dedicated himself wholeheartedly to surfing and has pursued waves relentlessly, surfing whenever there is swell and sometimes chalking up three surfs in a single day (more than many surfers less than half his age). For this entire time, he has also kept a detailed journal of his surfing experiences.
His story and the inspiration that it provides would have risked going unnoticed, beyond the regular surfers at the breaks that Andrew frequents, were it not for him forging a friendship with a creative director and art director named Jon Herbert, over a shared love of vintage surf posters and books. Several years ago Jon packed in his job in London's creative industry, sold his flat, and moved to the coastal village of St Agnes in Cornwall, in the southwest of the UK. Whilst renovating a house he took on a few shifts at OPEN, a local experimental surfboard factory with a coffee shop and retail space out front, knocking out coffees on Sunday mornings for the locals who would come in on their way back from a surf. One of these regulars was Andrew.
"In the beginning, I'll admit there was only one thing that obviously stood out to me about this unassuming, somewhat subdued (some might say surly) character: his age."
– Jon Herbert
As they got to know each other over daily double espressos, and bonded over their respective experiences in the media industry (Andrew was formerly a photojournalist) and shared love of vintage surf books and photography, Andrew eventually mentioned his journals. The journals had developed into a system where Andrew would record each day's surf session(s) with a star rating (out of ten), beach location, the surfboard ridden and fin set-up, along with a photograph for posterity whenever possible. It is just something that he does, but Jon was fascinated. He saw in the journals and Andrew's journey as a surfer the potential for a coffee table book; something that could share this untold and inspirational story and show that surfing and the enjoyment that it brings is accessible at any stage of life.
"We can all relate to the different stages of his progression, learn from his achievements and mistakes, and – hopefully – absorb some of that relentless determination that has kept him going well past retirement age."
– Jon Herbert
Andrew became what he terms "a full-time UK Government-sponsored surfer" when he retired in 2014. At an age when many of his peers are putting their feet up or thinking about taking it a bit easier, Andrew took his newfound free time and went surfing even more, still in pursuit of continual improvements and a high wave count. His journals are proof of this. They serve too, as proof that with age comes opportunity, and that enjoying surfing and getting better are absolutely obtainable. We all have many more waves to look forward to, and none of us are ever too old to start something new.
The good news is that Jon did manage to persuade Andrew to let him turn his journals into a book. The result is The Silver Surfer Journal, and Jon's vision and expertise as a creative director shine through. From the layout and selection of Andrew's journal entries and photographs, through to Jon's own supplementary imagery, choice of fonts, paper stock and binding, every element has been carefully considered and the result is a beautiful artefact.
Silver Surfer Journal is a self-publishing project that Jon crowdfunded. Click here to fins out more and purchase the Silver Surfer Journal.