-
Words by Mat Arney, images by Paige Wilson, Otter Surfboards, John Eldridge, Connor Cornell, WSL/Hain & film by Noosa Surf Festival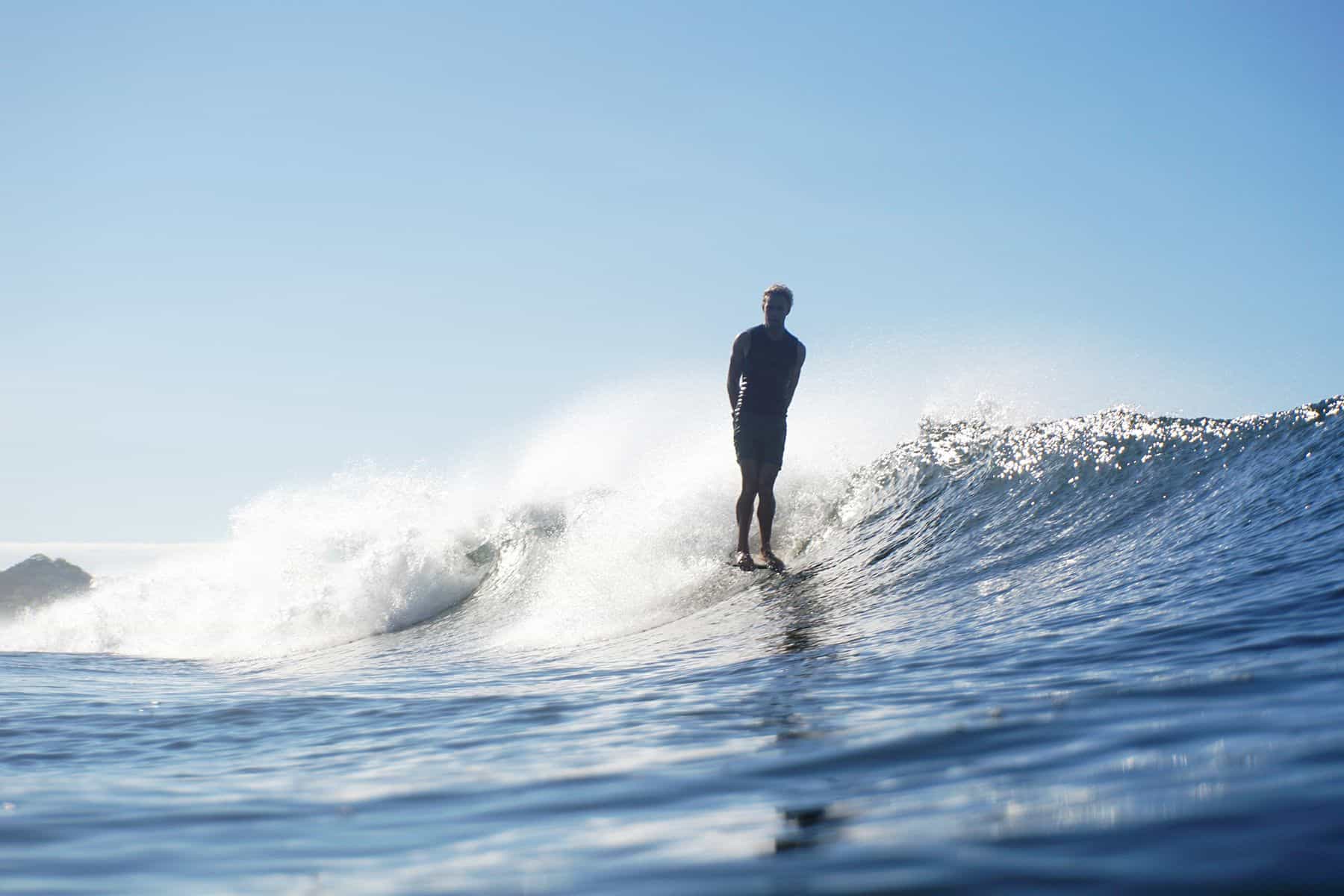 Opening Image: Surf Simply's Asher King, perched. Photo by Paige Wilson.
More than any other discipline within the realm of surfing, longboarding is perhaps the one with the biggest discrepancies between culture and competition.
The WSL Jeep World Longboard Championship ran at the end of 2016 at Hainan Island in China. But unlike the larger world of "regular" shortboard surfing, where most of the highest profile surfers are also those who sit at the top of the WCT rankings, contenders for the longboard world championship tend only to have a profile within that niche; they are not necessarily the world's most famous longboarders.
Getting there gracefully. Photo by Otter Surfboards.
This dichotomy is largely down to the way that ASP/WSL sanctioned longboard contests were judged. Until recently, there was very little difference between the criteria used to judge a longboard event and that used to judge a regular surf contest: both used the "speed, power and flow" wording and the result was that the "best" longboarder was the one doing their best impression of shortboard surfing on a board over 9 foot. Now, there is a greater emphasis on traditional surfing, with the use of the entire board being specified and the keywords being "style, flow and grace". There have also been recent rumblings from the WSL suggesting an upcoming change to a single-fin only scenario, however it has since transpired that the League was a little over eager in announcing this news and that further discussions need to take place involving the surfers, slowing down the shift-to-single until 2018.
Sam Bleakley ducking into the shade in Barbados. Photo by John Eldridge.
"It appears that the new criteria is awarding scores for more stylish and controlled drawn out turns and noserides, which I enjoy and celebrate. I believe everyone has an equal right to ride whatever equipment they want to in the 9 foot plus range, but I do champion flow, and using good, timely footwork to gracefully link tail, rail and nose work. This is clearly something that is now scoring more highly in the new criteria, which is a good thing; footwork is a key word – no shuffling!"
Sam Bleakley, Former European Longboard Champ & WSL Commentator
As yet, however, the world's best and most high profile traditional longboarders on the men's side have failed to throw their hats wholeheartedly into the WSL's ring (is it simply not an attractive proposition?), and the top competitive longboarders' transition to a more traditional style has been slow. In fact, Joel Tudor's Vans Duct Tape Invitational series stands as more of a de-facto championship tour featuring a greater range of "known names", and garnering more exposure and higher viewer figures (both on the sand, and online).
"The fundamental difference is style. Just because the WSL changes a few words in their criteria, it doesn't mean it translates to the type of surfing that is actually happening. The Vans Joel Tudor Duct Tape Invitational is simply the best representation of longboarding there currently is. It's not just a contest, but an exhibition of the art of log riding."
Justin Quintal, 4x DTI winner & WSL competitor
Justin Quintal with style to burn. Photo by Connor Cornell.
"The majority of the surfing world is now starting to understand the nuances and subtle details that makes logging and alternative board riding so special. I think there are many contributions to the changes that we are currently seeing take place in surfing, and the growing popularity in logging, and I believe that over the past 8 years or so the DTI has been one of the major catalyzing factors."
Justin Quintal, 4x DTI winner & WSL competitor
Longboarding has exploded in popularity and mainstream acceptance in recent years. In its traditional guise that celebrates trim, footwork and tip-time it is booming in Australia, America, Asia and Europe. Women's longboarding is also booming.
"The performance at the women's event this year was incredible, and women's longboarding to me is one of the most exciting and beautiful aspects of surfing today."
Sam Bleakley, Former European Longboard Champ & WSL Commentator
Tory Gilkerson en-route to her world title. Photo by Hain/WSL.
"I think that the women on the WLCT have a good grasp on the the traditional criteria. Often, us girls are naturally more stylish and graceful, and surf more traditionally. The majority of the girls ride more high performance shapes, but it's easy to see that the judges reward hanging ten in the pocket and smooth casual surfing. The new criteria could push the evolution of equipment toward more traditional single fin shapes, and therefore more traditional longboarding."
Tory Gilkerson, 2016 WSL Women's Longboard World Champion
As the "Ride Everything" movement opened surfers' eyes to all that wasn't a heavily rockered toothpick, so many surfers then came to the realization that most breaks are not high performance and that more often than not the best tool for the job is a longer or at least higher volume board. Are these surfers interested in who the current World Longboard Champ is in the same way that other surfers follow the title race on the 'CT? It's unlikely. How then, can the WSL improve their longboard offering so that the reaction to a new world champion within that category isn't a resounding: "Who?"
"I'm really interested in the relationship between surfing, dance and performance, and think we can take longboard judging criteria to much more exciting places to both provide a positive platform for a new generation of longboarders to have good professional careers, put on beautiful displays of waveriding, and make events into real carnivals that are a pleasure to watch."
Sam Bleakley, Former European Longboard Champ & WSL Commentator
Would a tour or a series result in followers being more invested in the outcome? Certainly, moving headline events to accessible locales with an established longboard scene would create a greater buzz for spectators and might help to attract a larger number of well known surfers to competition.
Or, is it possible that traditional longboarding has flourished on the sidelines for so long that there is now little hope of bringing it back into the fold, because there simply isn't much interest amongst the top surfers in jumping through the hoops required to become a World Champion? Is longboarding now the stereotypical counter culture's counter-culture, happier on the fringes where it has the freedom to draw its own lines?