Surfboards
The 
History 
of 
Surfboard 
Design: 
Bob 
Simmons' 
Planing 
Hull 
("The 
Spoon") 
-
Words by Kim Feldmann, images by Clara Jonas (illustration), Nathan Fletcher (blueprint), Callum Morse (photography)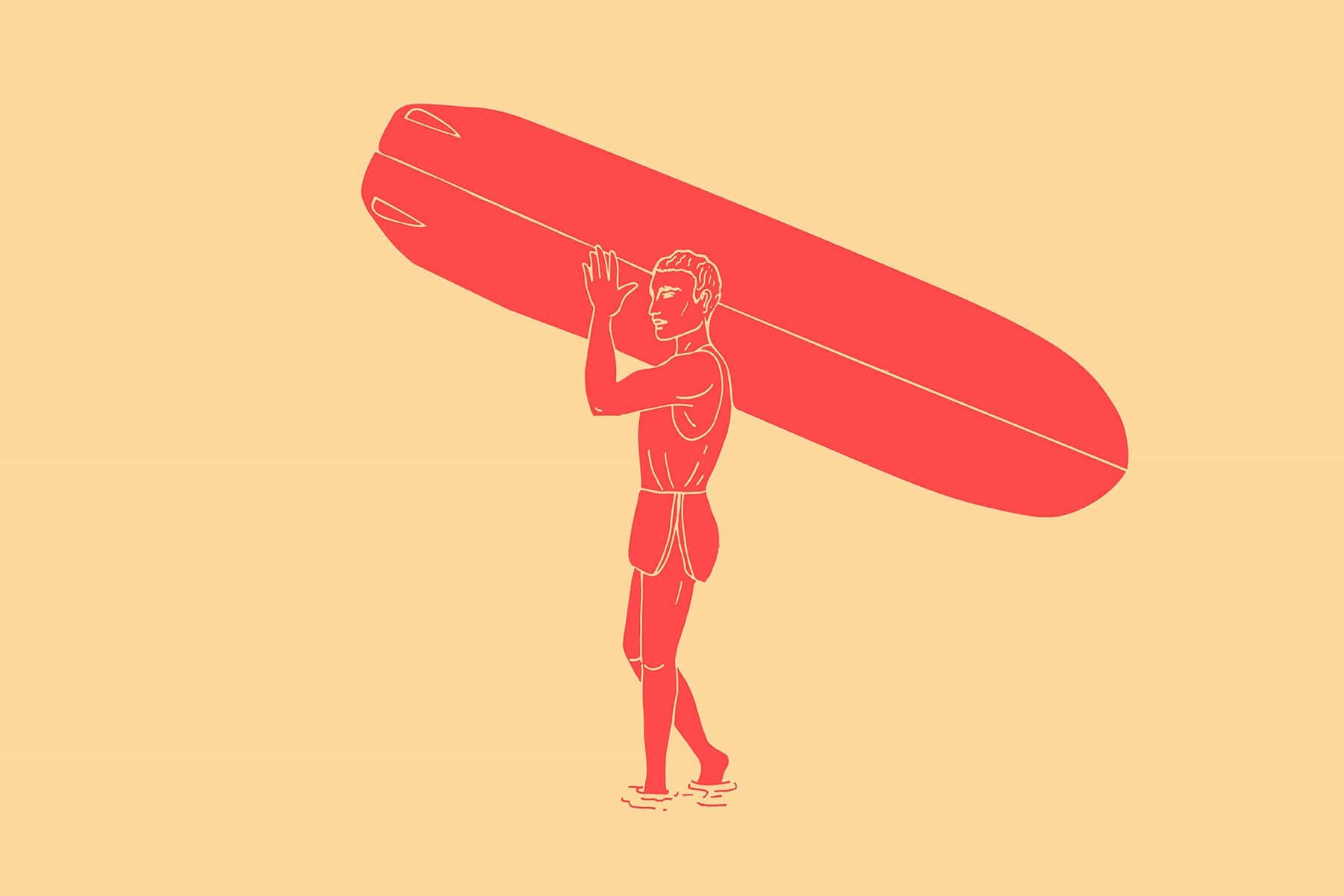 Through a series of experiments in his quest to design faster surfboards, eccentric Californian surfer-cum-engineer, Bob Simmons, incorporated the naval architecture principles of planing hulls to board-building,. He was the first to pioneer the application of concave bottom-contour, rocker, foil, rail profiles and dual-fin systems. These innovations came together on his 1949 'Spoon' model – a 10'x24" balsa construction coated in fibreglass and polyester resin. A much more hydrodynamic craft, the Spoon was decades ahead of it's time, but ultimately cleared the path for later, more formulaic explorations in surfboard design, making it a foundation stone in the art of wave riding and, consequently, the development of the emerging culture.
The Historical Context
Both surf culture and surfboard design picked up momentum after World War II. The sport disseminated across the globe; it began to display traces of an industry, with a more definite image of "the surfer" mirroring Southern California trends. Surfboards throughout the first half of the 1940s were primarily made using either balsa or pine and redwood, some utilised keel-shaped fins, and were constructed either as planks or hollow boards – both of which featured flat decks and chunky rails, with only a slight longitudinal curvature along the bottom due to the accentuated thickness in the midpoint. Such models had sufficed surfers' needs hitherto. Yet with the stimulus rendered by postwar technologies (namely the commercial availability of fibreglass and polyester resin), and the mastering of green or unbroken wave riding techniques, shapers began to look for ways to optimise speed and control.
The first step in this new phase of surfboard evolution occurred in 1947. After absorbing the concepts from an MIT-led study that was undertaken in Hawaii on planing hulls (intended to improve the speed and manoeuvrability of military boats) and filtering it through his newly formed knowledge of wave science, Californian Bob Simmons began to tamper with the usual design features of the time. With a bull's-eye on increasing speed, he successfully introduced principles such as rocker, foil and fine-tuned rails, inadvertently creating the functional and good-looking crafts the new generation of surfers aspired to and altering the archetypal blueprint of surfboards forever. To a large extent, Simmons' innovations laid the foundations upon which surfers in the following decade built upon to give shape to the modern longboard.
Why Was This Development Necessary?
Before WWII, surfboards were rather rudimentary when it came to aesthetics and finishing, and except for the Hot Curl design rolled out by Hawaiians, presented performance limitations when riding across the open face of the wave. Plank boards, around 10ft in length and up to 60lb in weight, featured a pointed outline and flat profile and proved unresponsive. Hollow boards (aka cigar-boxes), though lighter, could measure up to 14ft and were known to tip easily.
Whilst the collective motivation for design innovations concerned making use of new technologies (in particular addressing the issue of equipment durability which was compromised by the crack-prone varnish finish), the most significant developments sprouted from Bob Simmons' obsession for longer, faster rides. To have it glide faster and more responsively, not only did the profile of a surfboard need to be reconsidered but the mechanisms of the wave had to be taken into account, for though manoeuvres weren't yet on the menu, surfers needed to turn in order to place themselves on the optimal line on the wave and gain more speed.
Who Was Involved?
Honoured in the International Surfing Magazine Hall of Fame, surfer-board-designer, Bob Simmons (often referred to as "The Father of Modern Surfboard"), is commended for his holistic vision of wave-riding and for making some of the most fundamental contributions to surfboard design. Born in Los Angeles in 1919, Simmons was knocked off his bike by a car when he was 16 whilst rehabilitating his left leg following a close-call with a cancerous tumour. With a broken left elbow now fixed at an a 45-degree angle, he took up surfing as a means to strengthen his arm. Riding his first waves on a borrowed cigar-box aged 20, his erect posture and narrow, goofy-foot stance eventually became a consistent presence at Malibu.
Out of the water, Simmons excelled as a student despite having dropped out of school. He undertook a part-time engineering course at the California Institute of Technology for nearly five years, quit school shortly after WWII broke out to become a machinist, took a part-time position as a mathematician for Douglas Aircraft for a couple of years once the war ended, then went off to earn a B.S. in mathematics at San Diego State College. In the mid-'40s, under the tutelage of Mickey Dora's step-father, Gard Chapin, Simmons took his first steps into the world of surfboard design. But the turning point in his surf life occurred in 1946 when he started to translate concepts from research on planing hulls and wave science to surfboard-building. Post WWII the exact nature of the sport of surfing was still unclear but Simmons was of the opinion that straight-line speed was the metric to be sought, and he designed his boards with this end in mind. Simmons was the first to explore the use of foil, nose-lift, concaves, rail profiles, and dual-fin systems in surfboards – features that culminated in the iconic Spoon model. He also pioneered the production of Styrofoam-balsa (aka sandwich boards) surfboards with Joe Quigg in the late 40s, helping to dramatically lighten the average board. As much as he was a trailblazer, Simmons' hard-headed and hot-headed personality branded him a rogue, and while a great innovator, his boards were infamous for their poor build quality and in. He drowned at Windansea, San Diego, in 1954, age 35, and in the years after the new "Hot-Dog" style of surfing drove many of his design innovations out of the line-up, only for them to be re-discovered more than two decades later.
Design Details
The Spoon model represented the first major design leap toward a more hydrodynamic craft. Coated with resin-saturated fibreglass, this balsa-only construction also heralded a crucial development in terms of durability that led to the 'glassing' stage in the board-building process becoming standard. At 9ft by 24in and weighing a mere 25lb, the Spoon's dimensions alone made the board more controllable than its predecessors. Its straight outline ran from a crescent-shaped nose to a wide, squared-off tail whose increased planing surface improved speed, and whose tendency to spin out prompted the creation of the dual-fin set-up: two 5-inch-high keel fins placed wide apart at the tail. The Spoon's exaggerated nose-lift, borrowed from the planing hull principles of fast motor boats, was combined with a slight downwards slope toward the tail, thus bearing the first hints of a smooth curve and planting the seed to the development of rocker. Such curvature facilitated the enhanced straight-line speed sought by Simmons, in that it allowed the surfboard to rise up and glide on top of the water. It also reduced the chances of nose-diving. Water-flow, lift and speed was further improved by a deep concave running from the midpoint to the tail along the bottom surface, aiming to reduce friction between the wave and the surfboard. By playing around with volume distribution (foil), as well as rounding and thinning the rails, Simmons rendered in the Spoon more lateral control. It could be directed to more acute angles and maintain a higher line on the wave face – the kind of performance that paved the way for explorations around manoeuvrability in the years to follow.
Specifications
Avg Minimum Avg Maximum Length 8' 10' 
Width
Nose Midpoint 24" Tail Thickness 3" Weight 25lb 40lb