Surf culture
The 
2015 
Global 
Wave 
Conference: 
A 
Meeting 
of 
Minds 
-
Words by Mat Arney, images by Mat Arney & film by Fat Sand (overview) and Sideways (presentations)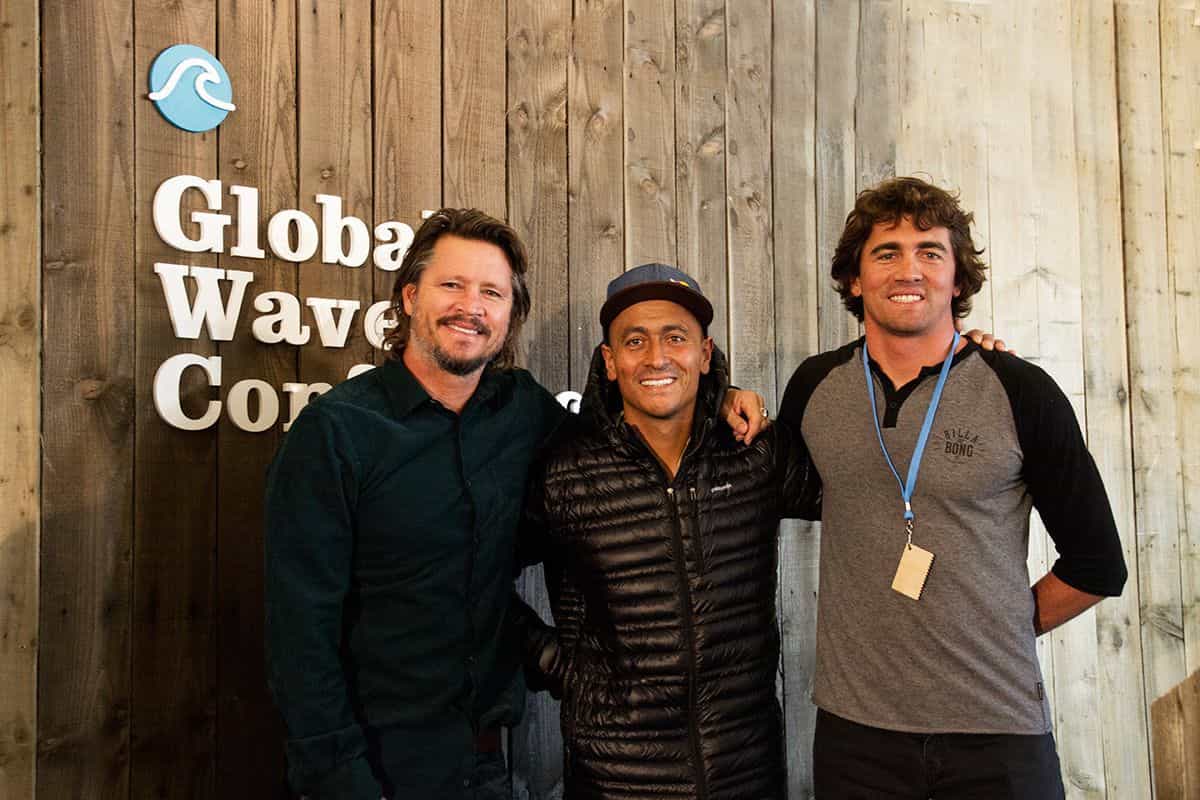 If, as a surfer, you are ever dismissed as "just a long-haired drop-out" then you ought to bring to the attention of the person pushing that out-of-date stereotype the 2015 Global Wave Conference, which just wrapped up in Cornwall, UK. This year's conference provides proof, if ever any is needed, that large parts of the surf community are mature, highly knowledgeable, successful and concerned about matters far beyond simply getting barrelled. You only have to glance at the list of the conference's international delegates, many of who hold PhDs, to see that this event was a gathering of leaders in their respective fields. Topics covered over the two day conference included marine litter, water pollution, climate change, the importance of 'blue health' (human health and wellbeing relating to the ocean), sustainability in the surf industry, and the economic value of surfing, before the whole show went on the road to the home of British politics – the Houses of Parliament at Westminster Palace in London.
The 2015 Global Wave Conference enjoyed good waves at this year's venue in Cornwall, England.
The 2015 Global Wave Conference was the event's 4th incarnation, and was this year organised and hosted by British environmental charity and campaign group Surfers Against Sewage. It was the largest and most ambitious enviro-surf conference to date, with 48 speakers (including special guests Tom Curren, Brad Gerlach, Greg Long and Ramon Navarro) converging on the Bedruthan Steps Hotel (perched above the beach at Mawgan Porth in Cornwall) from 16 countries – incidentally, the issue of carbon offsetting for international travel was raised on the first morning of the conference, and answered. The coach carrying delegates arrived on Sunday afternoon and was met by a clean shoulder to head high swell. British cold water surf brand Finisterre were on hand (founder Tom Kay spoke later in the conference about building ethical and sustainable products for surfing) to take delegates surfing, with a stack of wetsuits and a quiver of surfboards (including a number of hollow wooden surfboards provided by fellow speaker and wooden surfboard maker James Otter) laid out on the grass in front of the hotel. The north peak at Mawgan Porth has likely never seen such a stellar crew in the line-up as it did that afternoon, and probably won't ever again.
Tom Kay, founder of British cold water surf brand Finisterre, welcoming Kahi Pecarro from Sustainable Coastlines Hawaii to Cornwall…
Before Kahi and the rest of the delegates headed out to make the most of the great waves breaking on the beach below the hotel where the conference was being held.
Tom Curren talking sustainable surfboard design and construction with Cornish craftsman James Otter of Otter Surfboards.
The conference opened that evening with a drinks reception and dinner, before getting down to business on Monday morning. The team at Surfers Against Sewage had put together a packed programme divided into two morning and three afternoon sessions, and thanks to their thorough preparation and fantastic team of staff and volunteers the whole event ran flawlessly.
Journalist and broadcaster Lucy Siegle delivering her keynote speech, which can be viewed here.
Lucy Siegle, BBC broadcaster and the ethical living columnist for British broadsheet newspaper The Observer, was Monday's keynote speaker before the big guns of the enviro-surf movement took to the lectern to share their approaches to protecting surfing habitats; Surfers Against Sewages Chief Executive Hugo Tagholm shared the lessons learned from the organisation's 25 years of successful campaigns; Dr Chad Nelson the Chief Executive of Surfrider International spoke about the battle to protect Trestles; Nik Strong-Cvetich of Save The Waves presented their World Surfing Reserves programme; Surfrider Foundation Europe's Stephane Latxague shared their experiences of working with UNESCO and finally Mexico's Dr Eduardo Najera (Director of Wildcoast/Costasalvaje) discussed the challenges and opportunities of protecting surfing zones in a developing nation. All of this happened before 11am, and the conference's first scheduled coffee break – the audience had a lot of information to digest and suddenly understood that they were all in for an intense and inspiring couple of days.
Imagine if you will a line-up of five speakers of similarly high caliber for each of the conference's topic streams. Before lunch the audience had gone on to hear from, amongst others, a Stanford scholar (Dr. Dan Reineman) and the coastal and marine advisor for the UK's National Trust who have been protecting valuable habitats, buildings and coastlines around the UK for the past 110 years. Marine litter was the focus following food, with Dr Marcus Eriksen from 5 Gyres Institute sharing his story before developing solutions were presented by Jon Khoo of Interface Carpets (who supplied the floor tiles for the stage, made from recycled fishing nets) and David Stover of Bureo Skateboards who also use recycled fishing nets to produce their skateboard decks and sunglass frames.
Water Quality and Human health were up next, in a session that included the Deputy Director for Water Quality at the UK's Environment Agency sharing their methodology for water quality testing only to have Surfers Against Sewage's Campaign Director Andy Cummins follow him and not only dismantle the British government's approach to measuring the cleanliness of bathing water, but also expose the repetitive failures by British water companies that frequently put public health at risk. Following an early evening break, surfboards were the topic of conversation: Michael Stewart of Sustainable Surf talked about the Ecoboard project that aims to provide a benchmark for sustainable materials and manufacturing techniques within the surfboard industry, before Firewire's CEO Mark Price spoke about how they are working with Sustainable Surf to implement sustainability at scale; of the 14,000 surfboards produced so far carrying the Ecoboard badge, approximately 13,000 of them have been produced by Firewire and he thinks that the rest of the surfboard industry needs to catch up.
"The other surfboard manufacturers are slow on the uptake, and they're also charging pretty substantial premiums for an Ecoboard – around $100 to $125. Those things are going to have to change."
Mark Price, CEO Fireswire Surfboards
At the other end of the production scale to Firewire, James Otter of Otter Surfboards is an artisan maker producing wooden surfboards and empowering surfers to reconnect with their hands through his "make your own" courses, and his talk focused on treading lightly, sourcing materials locally and producing heirloom surfboards that will last a lifetime. Burgers and beers followed before Brad Gerlach presented Caste-A-Wave, a film documenting the unique surf culture developing in India that is breaking down social boundaries and transcending the country's caste system. To round the night out, professional big wave surfer Ramon Navarro and Matias Alcalde from Lobos Por Siempre presented The Fisherman's Son, and shared their campaign to protect their beloved surf spot at Los Lobos in Chile from over-development. Ramon travelled to the UK to attend the Global Wave Conference not as a professional surfer "VIP" guest, but as a passionate environmental campaigner eager to learn from the gathered wealth of knowledge and experience.
"We need your help. We need to learn from all of your experiences how to protect the places that we love. Please share your collective knowledge with us so that we can act fast, before it is too late."
Ramon Navarro
With Ramon's humble request ringing in their ears the audience turned in for the night, their minds no doubt racing from a day of information overload and inspired by everything that they'd seen and heard.
Chilean surfer Matias Alcalde from Lobos Por Siempre after catching a few waves in between talks.
The next morning, many of the conference delegates managed to catch a few waves before taking their seats for what turned out to be the stand-out speech of the entire event; Greg Long, renowned big wave surfer, took to the stage and shared the story of his journey to becoming the world's most successful and decorated big wave surfer, the wipeout at the Cortes Bank in 2012 that nearly ended his life, and his outlook in the years since then. His speech was intensely engaging, full of humility and humour, and left a few audience members with tears in their eyes – Greg received a standing ovation upon finishing his keynote speech, and rightly so.
Two of Tuesday's inspirational speakers, Dr Easkey Britton and Greg Long.
Irish big wave surfer, scientist and explorer Dr Easkey Britton had the unenviable task of following Greg, and her presentation on social empowerment based upon her experience as the first professional female surfer to visit and surf in Iran was just the ticket. Her theme of engaging and inspiring communities was continued after the morning coffee break, with delegates including Kahi Pecarro from Sustainable Coastlines Hawaii (who brought in his luggage samples of the stomach contents of fledgling albatross', packed with plastic litter), Zach Plopper from Wildcoast and the founder of Magic Seaweed, Ben Freestone, all taking to the stage and sharing their experiences with the conference.
A sample of bolus – the stomach contents of a juvenile albatross – showing the massive volume of plastic litter that they are inadvertently force-fed by their mothers.
Surfonomics and the role of the surfing industry in making surfing more sustainable was up next, with speeches from SIMA's CEO Sean Smith and Volcom's Vice President (Sustainability), Derek Sabori who had both travelled from California. Tom Kay, the founder of British cold water surf brand Finisterre, told the audience how he built his company around ethical values and along the way made a long term investment in the regeneration of a flock of rare-breed British sheep that produce wool similar to merino, allowing Finisterre to reduce their reliance on wool from the other side of the planet.
The value of waves is a broad subject area, and the Global Wave Conference's line-up of speakers for this stream was truly international, with delegates from South Africa, Spain, Portugal, the Canary Islands, the Netherlands and New Zealand covering conservation issues, resource management and wave protection methods before Hugo Tagholm closed the Cornish leg of the conference and everyone headed to the bar for a drinks reception hosted by Parley For The Ocean. One of the key recurring themes in various presentations had been collaboration, and when it was all done and dusted and delegates were able to share a drink in the hotel bar, links were forged and plans put in place for various organisations to start sharing expertise or working together for a common aim; many of the issues covered at the conference, such as climate change and plastic pollution, transcend geographical boundaries and impact us all, so sharing ideas, learning form one another and working together towards a shared solution offers all involved the best chance of success.
Throughout the evening rumours abounded that two of the conference's VIP guests, surfers Tom Currren and Brad Gerlach, might be tuning up their guitars for an impromptu performance, and those who stayed the course of the evening were eventually treated to a special session from Tom and Brad, following Ivor Novello & BAFTA award-winning musician Emily Barker onto the stage.
Brad Gerlach and Tom Curren putting on a memorable show.
At breakfast on Wednesday morning, none of the place settings with their backs to the sea were taken as a new swell started to fill in on the beach below, awash in beautiful autumnal dawn light. Many of the delegates boarded the coach to London with wet hair having taken the opportunity for one final surf before heading off to the British capital and then, ultimately, the airport for their flights home. The Palace of Westminster is the seat of the British government, and parts of the building (the Great Hall) date back 900 years. It is a building that often symbolizes Great Britain, housing within it the Houses of Parliament (the House of Commons and the House of Lords) and overlooked by the famous clock tower known as "Big Ben". It was here that the conferences delegates, now dressed in suits and ties, attended a drinks reception in the Churchill Dining Room hosted by the Members of Parliament Steve Double MP and Geraint Davies MP, the chair and vice-chairman of the Protect Our Waves All Party Parliamentary Group. Surfers mingled with Members of Parliament and civil servants, discussing the issues raised during the conference, before Hugo Tagholm and Chad Nelson, representing the UK and USA respectively, shared the key points from the Global Waves Conference.
Chilean big wave surfer Ramon Navarro and Surfrider CEO Dr. Chad Nelson talking in front of one of the impressive art works in the Houses of Parliament.
"Surfing is a truly global sport, as are the threats to our ocean and coasts, so it makes sense to bring together the world's leading surfing conservation organisations and businesses to seek scale in our impacts and the Surfrider Foundation is proud to contribute."
Dr. Chad Nelson, Surfrider Foundation
Three times World Surfing Champion Tom Curren was then presented with the Global Wave Champion Award (the trophy was a bodysurfing handplane crafted from British poplar and Californian redwood by James Otter) for his services to protecting the environment, most notably his role in establishing the Surfrider Foundation Europe in 1990.
"I'm honoured to be awarded the inaugural Global Wave Champion Award for the part I played setting up the Surfrider Foundation Europe. It's great to see the organisation still growing and creating positive change for our surf habitats. I'm also stoked to see Surfers Against Sewage and the global enviro-surf movement collaborating to protect sites of special surfing interest everywhere, for everyone,"
3x World Surfing Champion Tom Curren
The last speech of the conference was delivered by one of Surfers Against Sewage's founding members and it's former CEO, Chris Hines. Chris held up a government white paper from the 1990's that stated three key aims for British water quality to be achieved within the next twenty years; he pointed out that of those three promises made only one has been delivered, and that was achieved not by the British government but by the hard work of Surfer's Against Sewage. There is still a long way to go and a lot must be done to improve the health of our oceans and protect what we love, however if the assembled surfers from around the world stood in that room have anything to do with it, then I for one am hopeful. Individually we are capable, but as a collective we are a force to be reckoned with.
3x World Surfing Champion Tom Curren, Surfers Against Sewage's Hugo Tagholm (the conference organiser) and big wave legends Greg Long and Ramon Navarro at the Houses of Parliament.
In the words of conference organizer Hugo Tagholm:
"I call on every surfer to play his or her part in this mission: Launch local campaigns; join your local enviro-surf group; take part in a grassroots demonstration; organise a community beach clean; free entangled wildlife; attend public meetings about beach developments; document and report pollution; lead a local environmental group; take action to protect your local surf spot; be the voice of your beach. Take action. Be part of the new localism."
You can check out each of the talks from this fantastic event over at www.globalwaveconference.org