-
Words by Kim Feldmann, images by Daniel Smorigo/WSL, Volcom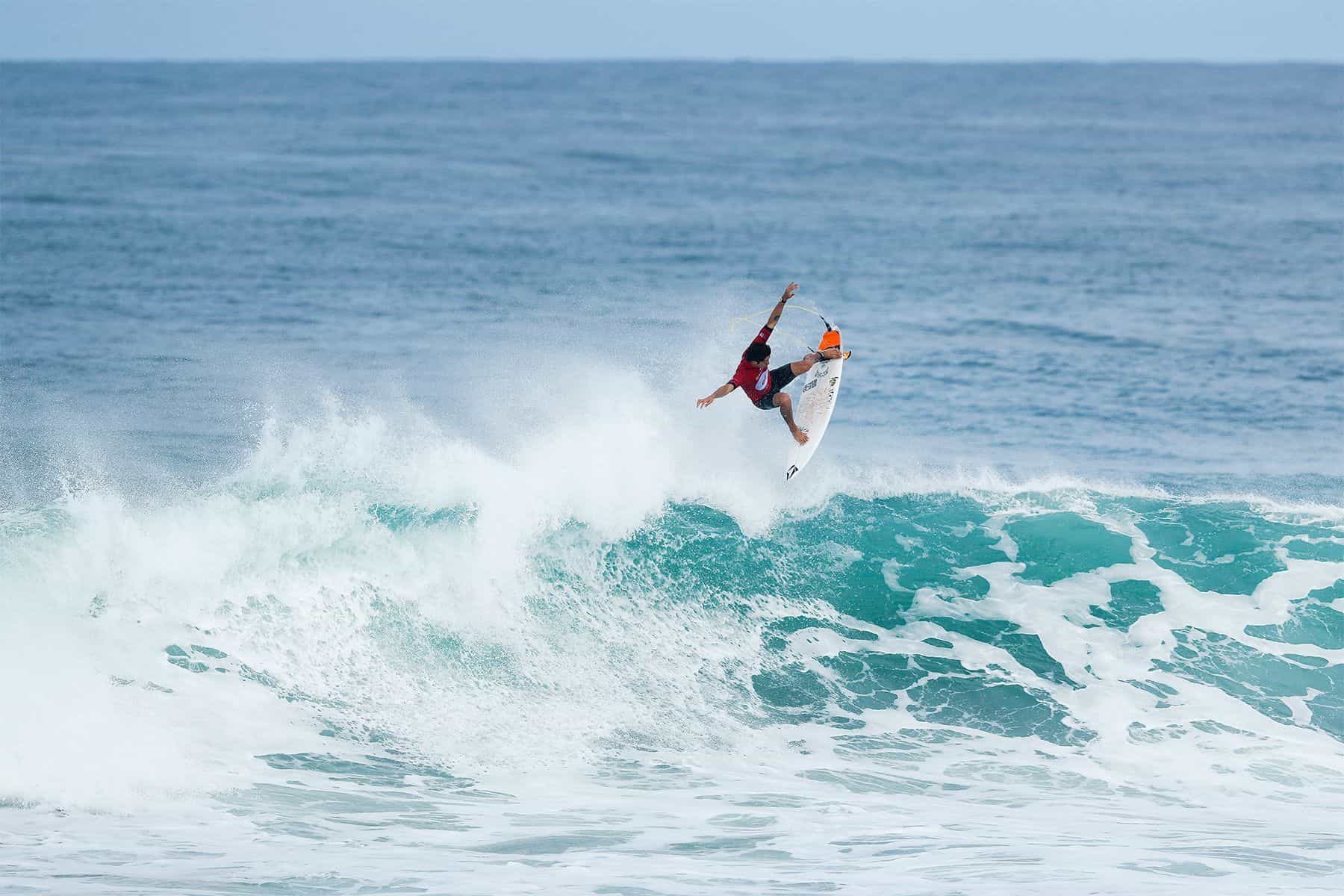 From webisodes and short-films online to the heats of the WQS and CT, Yago Dora has been flying high, grabbing the rail and landing flat, as he impresses the judges and intimidates former champions with his unpredictability and polished style.
A few days before his second wildcard appearance this year (Outerknown Fiji Pro), we asked Yago a few questions about the transition from free to competitive surfing, as well as the emotional and psychological aspects evoked by such a transition.
Compared to most pro surfers, surfing became a solid part of your life rather late, right? How and when exactly did this transition happen?
Indeed, I started a little later than the majority of surfers my age but my passion for surfing grew so quickly and intensely that I ended up spending more time in the water than most, which led to a faster evolution. I think I realised I wanted to live as a surfer when I got my first sponsorship contract at age 15.
Because of this, your surfing appears to have matured quite fast. What do you think were the key factors for this rapid evolution? Have these factors changed over time?
My father was always next to me, filming and backing me up in every trip, making me realise that the evaluation of images and feedback are one of the key factors for evolution.
From a personal point of view, how has surfing changed the life of Yago?
Surfing got me out of my comfort zone and into places and experiences that I wouldn't go through in any school. I didn't manage to finish my high of-school degree as a result not having enough time to balance studies and surf, but I don't regret this decision at all.
You're part of this new generation that has been dubbed the "Brazilian storm". In your opinion, what were the causes that led this generation to obtain such good results worldwide?
I believe the structure of the country as a whole. Brazil has always had incredible surfers, but in the past few had opportunities such as we do today. This encourages young surfers to work hard and achieve good results, as we understand nowadays that it's possible to "live off surfing".
In Brazil, what remain the biggest challenges for a young surfer who wants to become professional? Are there any incentives (financial or not) from the government or other organizations related to the sport?
In Brazil, if you're not a "surfer under the spotlight" it is difficult persuading a company to invest in you. The surf market (especially in Brazil) is rather fickle, but I believe this can work as a motivation for Brazilian surfers to evolve in order to find support to achieve their dream of travelling and competing all year round.
What names come to mind when you think of this next generation (after yours) of Brazilian surfers? Who should we watch out for?
Samuel Pupo, Matheus Herdy, Lucas Vicente, Joao Chumbinho to name just a few…
For the past few years we've primarily seen you on webisodes, short online edits and even feature films, busting huge airs and trying new moves, but as of lately you're clearly also focusing on competitions. Was there a time when you decided to dedicate more energy to competing, or is this something that happened naturally? And what were the reasons to step into the world of competitive surfing?
I've always enjoyed competing, but when I started on professional contests I got really frustrated for losing heats I thought I shouldn't lose, due to my lack of experience in competition. With time I developed my surfing and matured my approach to competitions, which in turn inspired me to truly focus on doing well in competitions.
Considering both your free-surfing background and your current results as a competitor, do you believe there is a line to be crossed between free surfing and competitive surfing? If so, where do you think you stand?
I believe free surfing was what actually developed my surfing, boosting my confidence to compete, and now competition helps me see and approach free surfing differently. Competition brings a healthy obligation to make the most of every wave, in short periods of time; a shift of perception in the "chilled" free surf idea. I feel like I need less and less time in a session to achieve something that I'm happy with.
While we're at it…we know there are a set of "rules" to consider when aiming for a high score in a heat. Do you approach it differently as you would in a free surf session or are you the instinctive kind, who lets the surfing take over?
I'm usually quite instinctive and try to let my surfing flow naturally, but in competitions there's definitely the need for strategy.
What was your reaction when receiving a wildcard for the Oi Rio Pro? Did you set any goals for the competition?
I was invited for the trials of the Oi Rio Pro, where only the winner would get into the main event. I had exactly that in mind, so I surfed every heat with no pressure, considering it as another opportunity in my career.
And once you started moving up heats, did these goals change, or new ones appear?
I didn't have any actual goals at any point in the event. I surfed every heat as if it were the first, or last, without expectations.
As for the psychological aspect of things, how did you deal with the inevitable pressure and/or excitement of surfing against names like John John, Medina, Mick and ADS?
The pressure is definitely there. Many people created expectations about my performance in this event, but I tried my best to not let it affect me. I was really excited simply to be there, and hungry to win whichever heat came my way.
Did the confidence obtained from moving up heats always work in your favour? If not, can you give an example of a moment where you "tripped over" your confidence?
The moment I beat Gabriel Medina many thoughts came into my head: "me, as I wildcard of the event, without even being in the run for the title, just beat someone who I always cheer for and hope to be world champion again.". Then I thought "since this happened I'll at least try to go face-to-face with other contenders for the title."
How much is this "emotional practice" part of your training routine? And do you think it's something you can actually practice or it comes with experience?
I've always been a genuinely tranquil person. That, together with the experiences I've had in the past few years, assist my emotional side to the point it doesn't need much practice.
Can you describe a day in your training routine?
A full day of training when I'm at home would consist of a morning surf to warm things up followed by functional exercises with my coach Marcelo Amaral. A well-balanced lunch and another surf session in the afternoon.
That semi-final heat with ADS must have been a challenge in all aspects. Not only were you facing a former world champion, but also a team partner and a friend. Can you describe some of your before and after thoughts about the heat?
The heat against ADS was psychologically and emotionally similar to the one with Medina. I was surprised and stoked with my performance up until then and I knew a semi-final was already a good result, both for me and for him. This gave me strength and flexibility to surf without expectations, not worrying too much about the actual result.
After your latest results, it's only natural that external expectations are brought over you. As a young surfer, new to this competitive world, how do you deal with that?
I've always enjoyed proving myself, not only personally but also for whoever follows my path in a way. For whatever reason it may have been, I feel like I've always had people doubting my surf (especially in competitions) and so I use this to fuel my hunger to show what I can do.
Your father Leandro Dora (who has previously featured in one of our interviews) has proven himself as a leading surf coach. We asked him before and now we'd like to ask you the same question: how do you structure this father/friend/coach relationship?
My father is the person with whom I spend most of my time. We know each other so well that sometimes there's no need to say anything in order to know what the other is thinking. That naturality has merged into our coach-athlete relationship.
Have you got any targets for the rest of 2017? And are you working on any other surf related projects?
I'll be going on a few trips for personal projects aside from competitions, but my focus this year is directed to competing and finishing in the top 10 of the WQS so to get my spot on the WCT for 2018.
To wrap it up: barrel or aerial?
Barrel.