-
Words by Harrison Roach, images by Burkard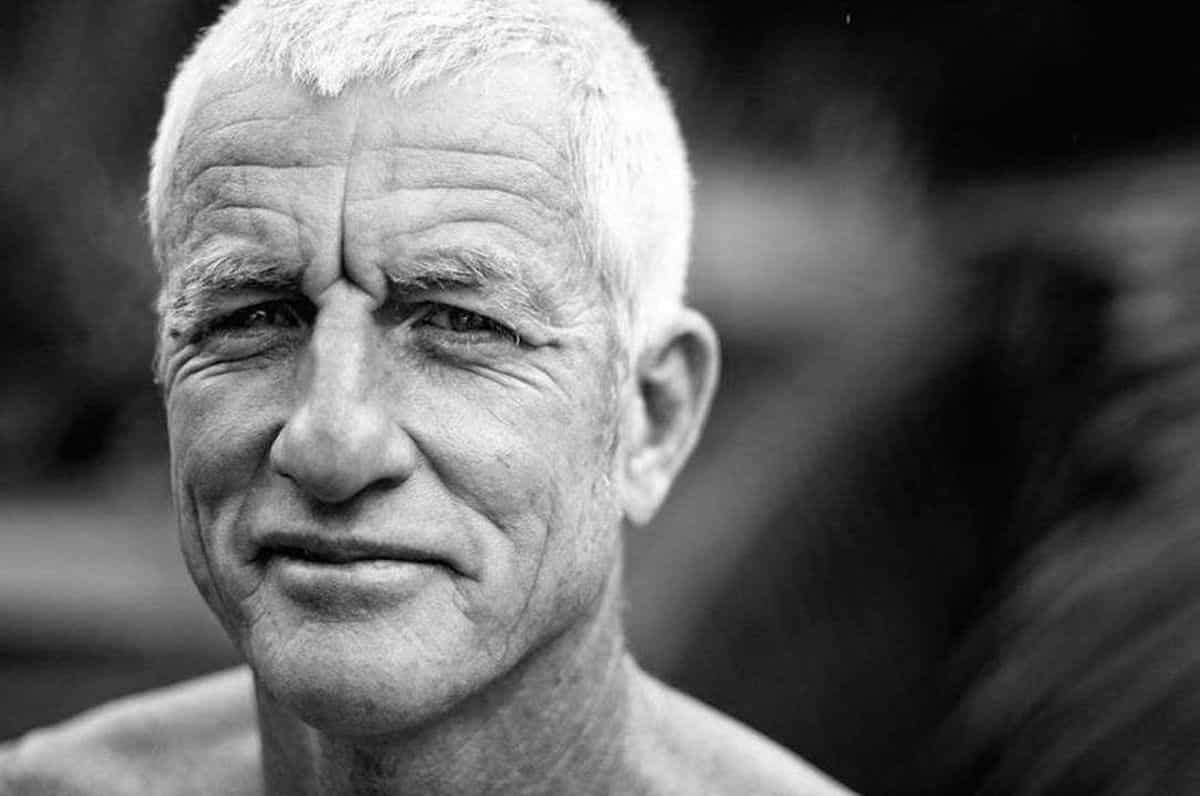 Legendary Hawaiian lifeguard Mark Cunningham is arguably the best body surfer in the world. His flipper-like feet and supremely smooth style have set him at the forefront of the art since the 1970's. Mark's appearances in surf films Sprout, A Broke Down Melody and more recently, Come Hell or High Water, have etched his name into the unwritten body-surfers hall of fame. Recently, the expert swimmer sat down with me to impart some wisdom.
I love to joke that I was made in Hawaii, but I was born in Massachusetts. That's where both my Mum and Dad were from. My father got stationed here in Hawaii after world war two. I was very fortunate to grow up in Honolulu. I started surfing where the slopes of Diamond Head meet the sands of Waikiki. I turned 60 this past summer, that was fun, and my father only lived to 59 so I'm stoked to be here. I have a lot of friends that aren't here anymore. Life is good.
There's a neat connection with surfing in Honolulu. I went to the same Punahou high school where world surfing champion Fred Hemmings went. One of the first professional surfers of the 70's, Jeff Hackman did his chops there. Peter Cole and Fred Van Dyke were teachers and former world surfing champion Jimmy Blears went to Punahou. My two older sisters went out with surfers and if they were gonna go to the beach they had to drag me along. Thus the hook was set very early.
I always blame the transition era and shitty equipment for all the wipeouts and bodysurfing that I did as a kid. I was a very gangly and uncoordinated teenager and I was body surfing after my board more than I was standing on it. One of the older guys in the neighbourhood took notice, got me a pair of fins and started taking me to Sandy Beach, which was just 20 mins from where I grew up. This was pre body board so a lot of people bodysurfed back then and it just felt natural. It felt very good to me.
I remember being in high school late 70's and we played hooky and came out to the North Shore. It was the day after a Masters contest and Gerry Lopez and Rory Russel were out surfing at 6-8 foot Pipeline. They were sharing waves and it was as though their boards just drew the same solid lines. There was room for two of them in the barrel several times. They were like the blue angels doing wing-tip-to-wing-tip surfing. There weren't a whole lot of people on the beach or in the water and I was just going "Hoh, that is so cool. That is so beautiful!" I wanted to witness those moments as often as possible. 40 years ago I made it a point to spend a lot of time at Pipeline to look at that kind of beauty.
Mark at Ehukai Beach Park lifeguard tower. Photo Gilley
I spent just under 20 years lifeguarding at Ehukai Beach Park, Pipeline. For many, many years I'd be the first guy in the water of a morning and would go to work all day, finish up, light it a couple of times and be the last guy out after the sun went down.
As I've gotten older I don't need as much body surfing as I used to. I feel like I've had my share and every day I swim just to re-set the clock and get the gills wet. A little dab will do me. Unless the conditions are perfect and it's uncrowded… on those occasions I'll still stay out for hours on end.
I'm sixty years old but I'm just a stoked grom. I still read Surfer and Surfing and Surfer's Journal cover to cover every month. There are so many talented people in surfing… whether they're a photographer taking a picture or a journalist trying to put in words the crazy stoke that has us all hooked. There's a wonderful cast of characters surrounding this sport. And is it a sport? An art? Is it a senseless little self-indulgent pursuit? It breaks my heart that I'm not more eloquent about it. After all these years I still cannot express as wholeheartedly and passionately as I'd like to how fucking cool surfing is.
Mike Stewart is the best body surfer in the world. Somehow I've become the most notorious or famous or well known but Mike's one of the waves riders in my circle of friends who I really, really respect. He has seriously dedicated himself to the pursuit of the big barrel and the big wave and trying to get better and better at riding them. He's like Kelly – he's an alien. He and Laird and Kelly are definitely from another planet. It's such a cliché but their whole connection with the ocean is very next level.
The Dolphin body surf. Photo Burkard
I remember coming out of the water one day and looking back at Pipeline and just going "Ah…" It brought me to tears because it was so beautiful. I don't travel much and I'm certainly not worldly but it just felt so real and genuine and I said, "Well, this is for me." Why would I want to be anywhere else when I can live here and I have friends and I've got food on the table and there's a roof over my head.
I feel so fortunate that Thomas Campbell and the Malloy brothers interpreted body surfing in their films. A segment on body surfing could have very easily turned into another mindless segment of surf porn but they had enough sense or passion or purity about them to recognise it and edit it and show it in such a way that made bodysurfing something fun and genuine. It's amazing what an impact those gentlemen have had. Their films struck a cord with a lot of people. Guys and girls still come up to me and say, "I loved your part in Sprout. I'm so proud to be a body surfer now." It's wonderful.
Mark with renowned waterman Mike Stewart before tackling Teahupoo. Photo Burkard.
When you think about it, Torpedo Person is the perfect name for a body surfer. We're these projectiles going under the surface of the water and on the surface of the water and 99% of our rides end in an explosion. Not too many pull outs or kick outs in body surfing.
When Keith Malloy said we're going to Teahupoo I kind of went "Gulp… do I have to?" I'd never been to Tahiti but somehow I knew Raimana and we stayed with him. He put us in the right spot on the right day at the right time of the tide. Thank god I was with Mike Stewart, who kind of cracked the egg at that place.
Mark positioned perfectly in the pocket. Photo Burkard.
You never regret a swim. Even at my age I still have to remind myself of that lesson. I get distracted with my life in Honolulu sometimes. These days all of us have so many options and distractions, so many variables and possibilities, so many things to do or things we might want to do or things to see or check off the list and sometimes… it's the most insane thing but we get too busy to go surfing, which just sounds sacrilegious. Being in the water is healthy mentally, physically and spiritually and it touches and heals you in so many ways.