-
Words by Kim Feldmann, images by Aprimore Surf, Marcelo Amaral, Henrique Pinguim, World Surf League & film by Aprimore Surf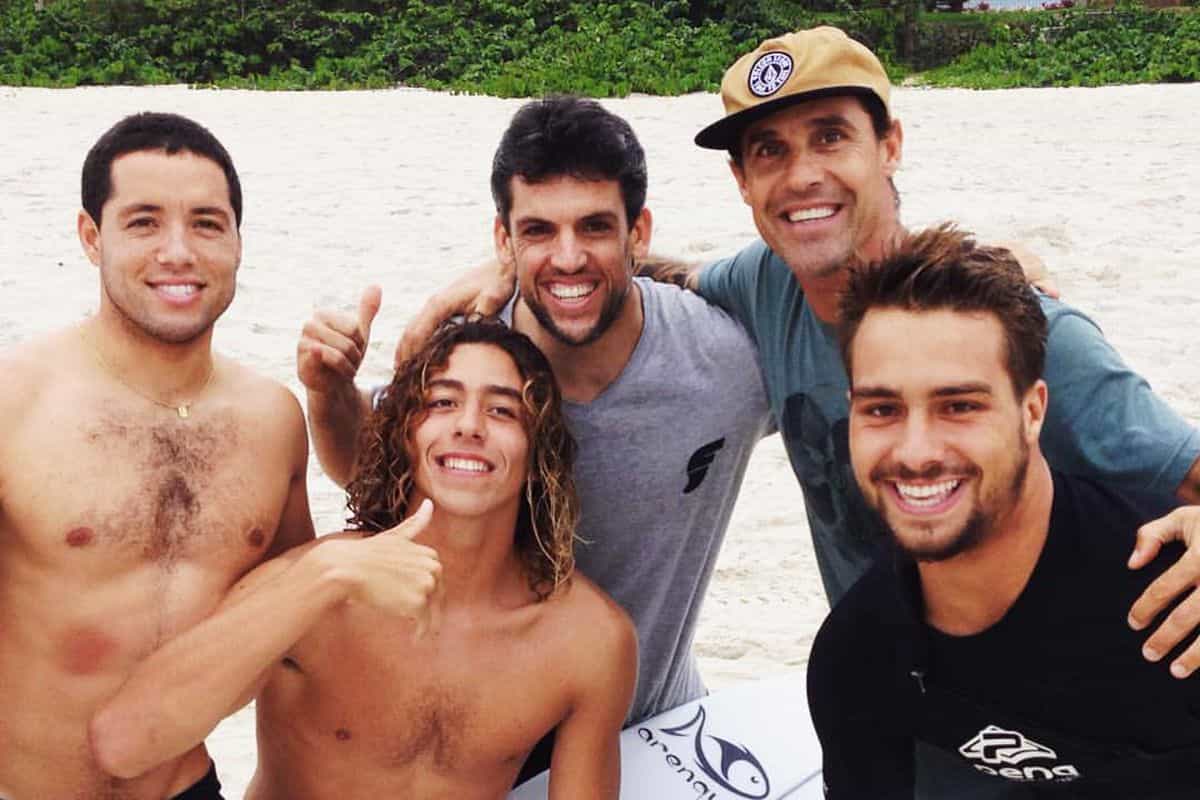 Leandro Dora has been playing an important role in Brazil's surf scene over the past few years, and his independently developed method has had a positive impact on the careers of many surfers. He has used his incredible tool kit of experiences and coaching techniques, together with a deep passion for the sport, to create AprimoreSurf, a company that works together with athletes in the development of their skills as well as to help prepare them for life as professional surfers. Surf Simply caught up with the coach of the current WSL Men's Champion and Junior Champion to find out more about how he's been working to build Brazil's recent competitive success:
Can you start by telling us a bit about your first contact with surfing?
My first contact with surfing was in the Summer of 1982, in a time when I used to spend holidays at my aunt's house in Florianopolis, Brazil. I saw many people at the beach with surfboards and that instantly aroused my curiosity. My mom however thought that surfing was too dangerous, so I was forced to wait a couple of years until I had the chance to catch my first wave in Pontal do Sul, Parana (South Brazil), and since then surfing has been a big part of my life.
You used to run an after school surf practice program for young guns in Florianopolis, Brazil a few years ago. Now you work side-by-side with some of Brazil's top professional surfers. Can you describe how such a transition happened?
I actually used to work in the food industry and owned a small café that focused on selling organic food. I was then invited to take care of the food in Aragua – a beach café at a popular surf spot in Florianopolis. Since I had always been involved with surfing and had experience in the world of competition as an athlete, as well as a manager my own surf team through a clothing company I owned, I started to play a role in the "surf practice sessions" aside from taking care of the café. With time I began to work as a personal trainer, where I followed each athlete's daily development, accompanied them on surf trips, developed career and training plans, etc. My work expanded as athletes started to get good results and improve their surfing, which attracted more attention and helped the entire thing grow into what it is today. It was a very natural process and something I've always enjoyed doing, Plus, the respect of the athletes that I work with added a great deal of value to my work.
What's the strangest or most innovative training technique you've ever implemented into training? And did you see it work?
With time one creates ideas of what to do in and out of the water in order to develop the athlete's performance. There were many "strange" things that we've implemented into training sessions, such as using different boards (cut off noses, varied sizes, finless), surfing with clothes on or two wetsuits and other things that would create some sort of challenge so that the surfer could experiment with something "new", instead of just a usual day in the water. I've also created many tools to be used out of the water, using balls, elastic, skateboard decks, PVC pipes and all sorts of material in order to focus on a specific technique or skill. We've played around in many ways and I'm not sure exactly which worked, but we've had a lot of fun in the process.
Is there a "most important" part of training? If so, why?
The most important part is to be in the water surfing. I believe filming and evaluating the footage work as a great complement for the practice as it helps direct training sessions and remind the athlete which details to focus on when in the water. So in my opinion video-analysis is the most effective training technique.
Aside from competition, professional surfers deal with a lot of pressure from media, sponsors, family, etc. Is "pressure management" part of their training? How?
Nowadays it's not uncommon to see athletes as young as 10 being pressured by their parents, who tend to envision a career for their children. Such a dream is fairly new in Brazil, but it is already more mature in the US or Australia for example, where training centres work on the sustainable development of athletes towards professionalism. I believe it has a lot to do with culture, and family pressure is often due to financial ambition and a wish for the child to be successful. So sometimes they start to surf with the "grand scheme" of becoming a professional surfer and making a living from it already embedded. I don't think that's healthy though, and aim to work through gradual evolution in all aspects, be it with regards to their responsibilities and career goals, personal conduct and even nutrition. I think there's a need for gradualism in evolution, so when the athlete reaches the apex of his career he doesn't burn out. The "market" of professional surfing is as competitive as any other and I think athletes must be complete. They need to work hard to obtain a good salary (like any other professional would) and sponsorship contract in order to make a living from surfing, not only through performance, but by taking care of their image and advertising their work in positive ways…they need to be a professional in all aspects.
Regardless of the wish to achieve results, surfing is a somewhat "relaxed" sport. How do you keep the spirit of fun amidst training and competitions?
There's a big difference between surfing and competitive surfing. To begin with, in competitive surfing you have a stipulated time to be in the water and catch waves, while there's also someone else there trying to do the same. In free surfing you're free to run away from whatever may be pressuring you, thus giving you that sense of escape and relaxation. Still, there are many athletes who posess a more mature competitive instinct and know how to deal with such pressure, while others struggle more in this environment of rivalry. To know how to separate things is important, since often you may face your own free-surf partner in a heat.
How did you come about participating in the professional success of Adriano de Souza and Lucas Silveira?
When talking about professional success, Lucas and Adriano have very distinct stories. Lucas came from a more economically privileged background and aside from the technical aspects we've always tried to work on his character to "bring down walls" and make him realise that he was only another person in the competitive world of professional surfing, and that he'd have to work hard. This mindset has consequently merged into his professional side and with a combination of hard work plus a lot of love for the sport he has been able to let go of many creature comforts, putting himself through unfamiliar situations in order to evolve as a surfer. Adriano's background is quite the opposite. He came from the slums of Brazil, a place where you're constantly fighting for opportunities. He had been waiting and working towards a chance at the World Title for quite a while and when we teamed up I tried to take his mind off the pressure that comes with such a goal and make him understand that we still had time to work and that not everything had to be decided that year. I also worked on keeping him confident with regards to the social difference between where he came from and where he is now, and to use this simplicity and grit to achieve his lifelong dream.
Adriano de Souza's run to the top was a memorable and deserved one. What do you think were the key factors (apart from natural talent) that made him World Champion?
It was mainly commitment that helped him to succeed. He's a very determined and professional athlete who's not afraid of working hard and has consequently become an example to be followed.
As a surf coach you probably have a lot of homework to do. How do you organize your schedule?
I do indeed have a lot of homework. I currently rely on a team of professionals who help me a lot, otherwise I wouldn't be able to follow all of the athletes that we're involved with. AprimoreSurf is a company and has a series of professionals who provide services in specific areas and contribute a lot to our work, therefore helping with the homework side of things. This ranges from assisting in filming, downloading footage, editing videos and evaluating images, to physiotherapists who work on physical compensation exercises and a content manager who filters and forwards information so I can develop the work with each athlete. We also have a system where I receive footage and create video analysis through online reports, letting us connect any time anywhere. So I do have a lot of homework, but the team makes it all a lot lighter and I'm very grateful for that.
In 2015 you worked with both ADS and Lucas Silveira, who turned out to be World Champion and Junior World Champion, respectively. Was there a recipe for success or did you take it day-by-day?
I guess the question is the answer. The recipe for success is daily work and nothing important is achieved overnight. When I started working with Lucas he was 11 years old, and I sketched an evolution/achievements plan which was something noted in our "to-do-list". He has gradually evolved and managed to go beyond what we'd planned. And with Adriano it was the same. We trained day after day and talked a lot. So I believe the recipe is hard work.
From a strategy perspective, how do you usually approach each competitive situation? Is there room for improvisation?
Strategy is a very complex aspect and depends on conditions, among other things. We do try to create a strategy for each heat, but it varies a lot. From deciding where to paddle out from, whether to wait for a good wave or catch many, go for high scoring but risky manoeuvres or play it safe to build scores…such ideas vary depending on the competition. As for an evolution of strategy, it all comes down to spending a lot of time in the water and putting yourself in different waves and conditions, always with enthusiasm and focus.
Your son Yago Dora is only 19 years old but has already been building a name for himself in the world of surfing. As his coach and father, how do you structure this relationship, and is there a line that has to be drawn?
My relationship with Yago is very open, and together we've developed a harmonious way of connecting. We're always talking about it and are able to separate the professional side of things from the personal one. He's a very easy person to deal with and knows how and when to listen and put our career development strategies into practice, since I'm quite demanding when it comes to training. But we manage to organize this in a natural way, keeping the balance between both sides of our relationship.
The year 2015 was an intense one. Can you point to some of the biggest lessons you – and the athletes you were involved with – learned?
Indeed 2015 was a very intense year. To begin with the death of Ricardo dos Santos, who was a dear friend as well as iconic athlete in the AprimoreSurf team. Such a loss shook the entire team, but we tried to bring out all the positive aspects of his life and personality into our work as inspiration. So the biggest lesson was to keep working hard and never give up on our dreams.
You've got your fingers in a lot of pies at the moment. How to you stay inspired to keep training both innovative and interesting?
I always try to have fun and keep emanating happiness. My personal lifestyle often matches the one of the athlete, which usually involves waking up while it's still dark, having a quiet moment of self-observation, enjoying a healthy breakfast and setting off to work on whatever aspect we've been trying to develop. But I think that it goes beyond coaching and it's important to be there for the ones you work with as a friend also; to cherish the good times and help them through the bad ones. I enjoy being around the people that I work with and I learn a lot from them and believe that the energy exchange between the team creates inspiration, helping everyone to evolve.
In your opinion, what's the biggest challenge a world champion runner up faces? And how best to deal with it?
The biggest challenge is pressure. Once an athlete gets into the race for the title there's definitely a change of behaviour and performance, since there's more at stake. Surfing is an activity of self-expression, so any type of external pressure will influence an athletes performance. One must feel light in order to surf with flow, so I believe the most important thing to do is to learn how to deal with pressure, and to find focus. For me – and often the athletes I work with – focus is found in the connection between body, mind and soul, which is obtained by believing in something more than what's tangible and going through a moment of reflection, to understand your energy and apply it in a positive way.