-
Words by Mat Arney, images by Ming Nomchong, Samuel Stamper, Andrew Kaineder, Camille Robiou du Pont, Karo Krassel, Max Gifted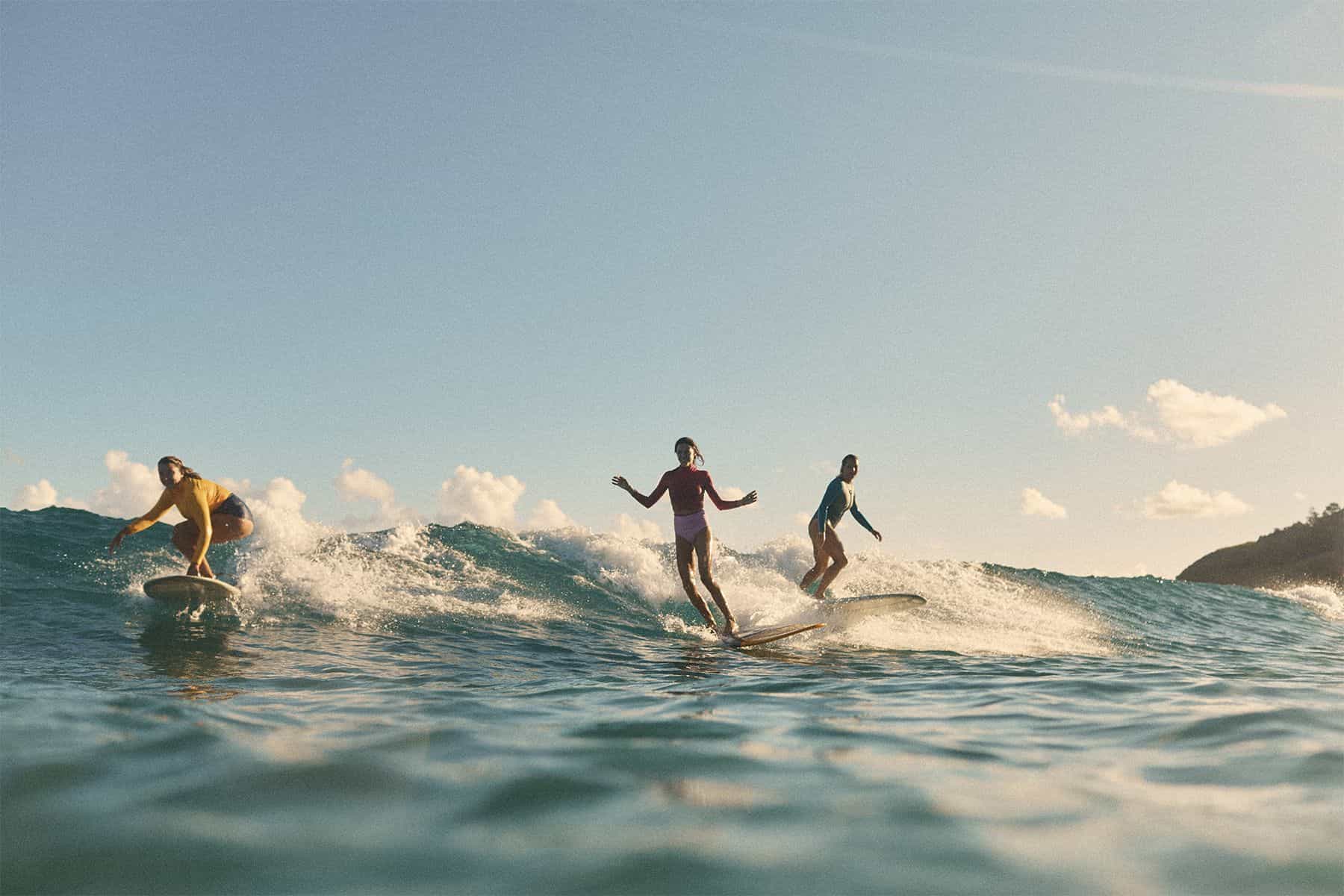 Despite the great deal of progress that has been made in recent years there still seems to be, in 2019, a need for positive female representation in surfing. Surf Like a Girl, by Carolina Amell, adds some hardback, coffee-table book weight to the right side of those scales; featuring a diverse group of thirty female surfers from around the world who range in age, skin tone, and career, it's aim is to challenge the perception that surfing is a male dominated sport. Sure, some of the book's content sails a bit too close to the instagram-generation bikini advert and privileged expat-western surfer vibe, but between those pages are numerous inspiring and empowering stories told in the subjects' own words, including those of women who captain boats, shape surfboards, surf whilst pregnant and shoot beautiful photography in frigid cold-water locations.
Here are a select few subjects from this beautiful book, that showcase just how broad and beautiful this 256 page addition to surfing's library is:
Ming Nomchong
Photographer
"I moved to Byron Bay and began experimenting with water photography. I didn't realize at the time that there weren't many girls doing it, so that wasn't a factor. There's a massive community of women surfers in Byron, and I pitched a story about it to a surf magazine. I ended up getting twelve pages for my first ever editorial. I guess that's how my career really started – the rest really rolled on from there, with a lot of hard work, long hours, and a determination to make something of this passion."
Meryem El Gardoum
Leading the way in Morocco
"Surfing is hands down my first love; I can't imagine life without it. I've learned a lot from it: how to be patient, how to fight for what you want, how to break the stereotypes that people have about women in Morocco, and that as soon as you reach the lineup there's no gender separation – what matters is who's going to catch the wave of the day."
Easkey Britton
Surfer, scientist, creative
"I've been a surfer for as long as I can remember. I was born into a pioneering surfing family in the northwest of Ireland and was standing on a board from the age of four. In a way, surfing is my creative process. What I keep returning to in my life and work is the power of the ocean to connect. I'm interested in understanding the relationship between people and the environment and facilitating (re)connection with nature, especially water. Something that helps me connect is having an awareness of the cycles of the female body, the moon, the tides. This helps me reconnect with my body in nature, understand my own inner ebb and flow, the high cost of always being "on" in a society that rewards busyness, and the equally important need for stillness and reflection."
Ikit and Aping Agudo
Surf and sisterhood
"We embrace our Filipino identity and skin color and would like to encourage our fellow Filipinos to do the same. We are proud dark-skinned girls. Nothing can ever change that. It hasn't hindered us in chasing our dreams. We've continuously challenged ourselves for the better and stepped out of our comfort zones. Don't let what other people say affect you – just be proud of yourself and whatever you've accomplished in your life. Always have a heart that sees the good ness in others, keep your feet on the ground, and be grateful every day."
Anne Taravet
Leading the wave
"I started surfing when I was fourteen years old in Morocco, where I was born – that was back in the 1970s. Today I am 61. I was the first surfer girl in Morocco, and when we moved to France there were only ten French girls who were surfing at that time.
I worked for an airline, so I've been able to travel and surf in many different places. In 1980, the World Surfing Championship was held in France for the first time, in Biarritz. I wanted to go just to show my parents that I was of a good standard. They never wanted me to surf; they used to say that surfing was a sport reserved for "junkies"! But that year I became the French champion and came second overall in the world contest."
Tiffany Carothers, Martina Burtscher & Amanda Prifti
Co-founders of Arugam Bay Girls Surf Club
"In Sri Lanka, women who want to surf face many cultural barriers. We believe that everybody deserves to enjoy the waves, so we co-initiated the ABGSC to create a safe space for Sri Lankan women to learn to surf. With the ABGSC, we aim to empower women through surfing, restore the safety of the ocean following the 2004 Indian Ocean earthquake and tsunami, and spread environmental awareness."
Surf Like a Girl, published October 1st 2019, is a 256 page hardcover art book (measuring 9½" x 11¾") published by Prestel, an imprint of Random House.