-
Words by Mat Arney, images by Joya Berrow & Lucy Jane/The Right To Roam Films & film by The Right To Roam Films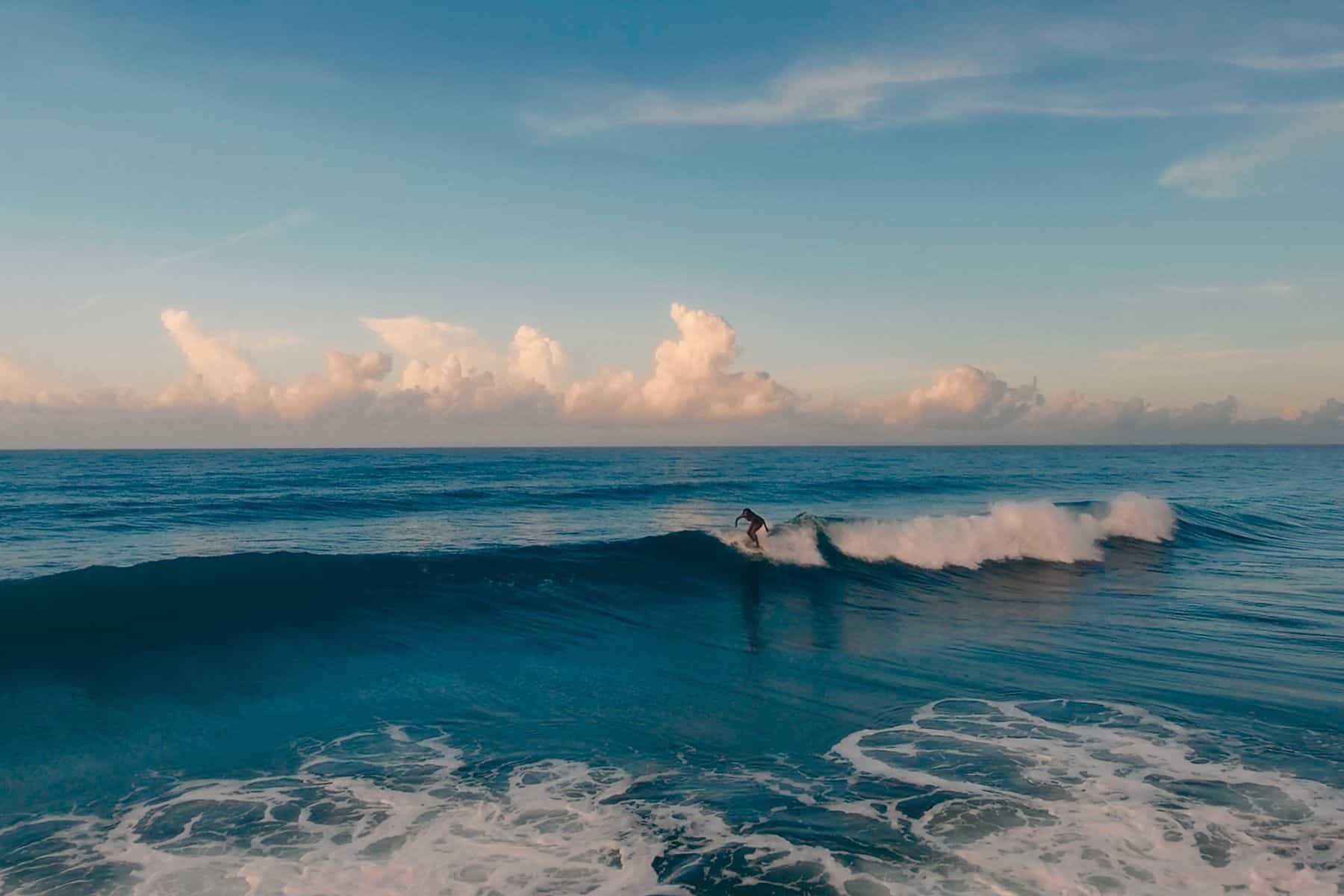 "I've dedicated my life to empowering girls of colour to get into surfing and to find the peace that they need though the sport "
Imani Wilmot
There is an undeniable and extremely uncomfortable truth in surfing: the image of surfing projected by the surf industry and media (therefore defining our culture) is very male, and very white. The forces that influence and shape global surf representation continue to perpetuate the stereotype of a sexualized white female surfer, not only denying women who surf of positive role models but also (and more damagingly) failing to create the sort of inclusive culture that will encourage people who don't fit within that narrow profile to discover and access the joys and benefits of surfing.
Imani Wilmot is a second-generation surfer hailing from 8 Miles Bull Bay, Jamaica. Born into the island's first family of surf, Imani had an unusual upbringing by Jamaican standards due to her relationship with the sea. She travelled and competed as a member of the Jamaican surf team, realising in the process that there is a real need for broader representation in surfing, and also that surfing can be used as a powerful tool for delivering a message and driving social change. Her focus now is to empower women within her local community by introducing them to surfing and the therapeutic power of the ocean in a supportive environment, and her work has resulted in many positive transformations amongst the group of women who she works with.
Surf Girls Jamaica, released on January 10th 2019 on the Real Stories documentary channel on YouTube, tells the story of Imani and the community of surfers she has nurtured. Filmed and directed by award-winning UK filmmakers Joya Berrow and Lucy Jane of The Right To Roam Films, this powerful 16 minute documentary highlights the importance of Imani's work and follows the stories of several of the women who have improved their situations since finding surfing, as well as showcasing Jamaica's first all-female surf contest. Joya and Lucy's aim is to use the medium of film to prompt and drive social change, and with Surf Girls Jamaica they are right on track.
"By creating awareness, we will change attitudes and behaviours and help to build strong communities towards a surf culture that inspires and includes people from every walk of life."
Joya Berrow and Lucy Jane, The Right To Roam Films
Surf Simply caught up with Joy and Lucy ahead of the film's release to find out more about the making of Surf Girls Jamaica.
How did you discover Imani Wilmot's story?
It started a few years ago in Colombia; we spent some time amongst the Caribbean surf community there and felt that it was being completely ignored by mainstream surf media. We were immediately compelled to bring attention to this lack of representation – as female surfers we were already acutely aware that there are whole groups of women who do not have role models and due to this do not see a place for themselves within the global surf industry. I (Lucy) was looking online and thinking "surely there must be something that we can do to bring light to this situation", and eventually I found an article about Imani. I reached out to her immediately and the more that she explained about her experiences as a surfer, and about her personal work in Jamaica, I saw the potential in her story to positively impact upon and inspire others.
Your film, its production process and distribution highlights multiple issues in surfing, Jamaican society and filmmaking. Was this intentional, or was it impossible to cover one without including the others?
As filmmakers we feel a responsibility to tell diverse stories, and particularly female stories through a female gaze. We believe in using the format of film as a strong impact medium because behavioural and mental change creates vast cultural change. It was a set intention to collectively highlight the lack of diversity in both filmmaking and surf media – the two are interconnected – as visuals inform our expectations of what is out there and what is possible.
Exploring the impact of the patriarchal Jamaican society was a theme that came through much stronger whilst we were actually in Jamaica filming for the month. The film is hugely character led, and the womens' stories shape the film's narrative so it was through their experiences that the subject matter and those issues were really unearthed. By experiencing and witnessing the sexual oppression for ourselves whilst we were out there, it became an increasingly more important topic to include in the documentary. It also comes hand in hand with showing the impact of Imani's work, because the safe and nurturing space that she offers to escape and overcome those challenges is unique and rare; it really is vital for the support of these women against this patriarchal backdrop, which we tried to lay out early in the film.
How did you initially approach this project? What were your aims?
We knew we needed to be out there long enough to let our relationships and mutual trust with the women develop naturally, so we went out for a month and didn't really film in the first week. When you are coming from a different country, to make film in a different culture, you cannot be too rigid with your aims or let your preconceived ideas of the place lead you. If you have this approach it is likely that you will miss the real and true narrative because you are searching for something you are projecting. We laid out the messages that we wanted to get across in the film to guide us in our approach, however remained fluid and responsive throughout our filming process with all of the crew and contributors. Once we felt close to the women we began filming in an observational way, to let their conversations and scenes play out, and review and learn from what we had captured to direct us within the journey of the film.
The whole production was a complete collaboration with Imani, who is a filmmaker herself, and so it was very important for us to communicate with her about the story she wanted to tell, to be authentic to her experience and views.
How did you go about funding and making the film?
We initially reached out to brands, but had no luck or response. This is no surprise really, as our film challenges the one dimensional, sexualised image of the white female surfer which is the perpetuated visual repeated by these large brands.
This is a story we were so compelled to make that we would have funded it ourselves if it had come down to that, but we were lucky to get a pitch at Sheffield Documentary festival in June 2018, one of the biggest international documentary festivals in the world. Adam Gee and Alex Hryniewicz are commissioners at the Real Stories channel of Little Dots Studio, which is one of the fastest growing online documentary channels of this moment. This commission proves the ever-growing awareness of the need to tell diverse and representative stories in the documentary world. It has been a blessing, because we could have been very limited in our freedom of speech if funded by a brand, so we're very grateful for the support of Real Stories in seeing how this surf film could relate to and touch a very wide and diverse global audience.
You both came to this project as independent filmmakers and surfers but from slightly different starting points. How did you determine the sort of film you wanted to make and the story you wanted to tell so that it wasn't solely an impact documentary or solely a surf film "with a message".
We didn't set out to make one or the other because it can be limiting to set a boundary or label for a film. I was definitely inspired by films I'd seen at the London Surf Film Festival, which had the power to engage an audience of both surfers and non surfers with a real human force driving the stories.
As the film was commissioned by Real Stories an online documentary channel who maintain a broadcast aesthetic, we were always aware that the story needed to work within these stylistic parameters and in terms of distribution engage an audience that might be watching the film on their phones, on the go. As a result, the story is complex and interweaves many places and people, but all the time we are watching these characters develop so that the viewer is on a journey too.
The Jamaican surf scene is important to the film because it is through this that you can see the foundations Imani has had the courage to build upon, as well as really see how the ocean is a therapy, using the water almost as a protagonist in itself and creating these moments for pause and reflection in the film.
We feel a responsibility as filmmakers to make an impact with the film. It is such a powerful medium that should be used as a positive tool, and that is very much the approach we are taking with this film, particularly in the way that we are distributing it; to create conversation surrounding the question, "how do we create access and diversify our local and global surf industry?"
What challenges have you had to overcome to bring this project to life?
A relatively quick turn around! Before we knew it the two of us were off to Jamaica for a month with our very modest camera and sound set up. Also, the very long editing process – we had so much footage as a result of shooting in an observational manner over the course of a month. We spent weeks working through this, and deciding upon which would be the best scenes to show the impact of Imani's work.
Being very true to the story was always at the forefront of our minds – knowing how hard to go without making the women vulnerable. This is something that we discussed throughout the project with Imani, and she urged us to go deeper in the editing process and expose the truth that is a daily reality for them.
It was a new challenge to us to be working with a big team that included executive producers and commissioners as well as the whole Jamaican team, surf girls family and Imani. It was an absolute blessing however, as although many voices means a lot of "back and forth" it definitely made the film stronger. We are hugely grateful to all involved for their input.
What would you like to see happen as a result of this project – within surfing, filmmaking and Jamaica?
Within surfing, for the film to be used as a positive tool, working from the bottom up – empowering communities of black women to get into the ocean and see a place for themselves in the global surf industry.
In Jamaica we'd like to see Nya (Imani's daughter) and her Jamaican friends and cousins, of all ages, grow up within this strong support system that Imani has created, and to continue to inspire future generations of women in surfing. We want to see these women to continue uniting together through the power of the ocean and surfing, and to continue to overcome and therefore challenge the patriarchal structures that surround them.
Visually, we'd like the film to make large waves to change the sport. We can use it to challenge large brands, to show them their social responsibility and how it could potentially benefit them to be diverse in their advertising.
In turn, this can increase the representation of many diverse athletes and open up more opportunities for sponsorship, create more funding and improve access on a local level all over the world for people to surf and find the therapy they need from the ocean. In the future, we hope that the surf industry will give support and representation to these surfers.
The imbalance in representation in surfing is an entrenched problem, tangled up partly in the historic economics of brands, media, and why and how surfing events and media have been funded. Regardless of how blame is proportioned, which sector do you think could make the greatest impact upon resolving the imbalance in representation in surfing, and how could they best go about that?
There is no excuse – ALL SURF COMMUNITIES AND BRANDS need to acknowledge the role that they are playing in this oppressive system and realise the power they have to be more inclusive and positively affect all communities. It's a chain reaction: everyone needs to work together, keep their eyes and ears wide open to the media they are consuming and how it makes them feel and, importantly, how others globally may be impacted by it. It's an awareness issue – we need to draw awareness to emotion and the true consequences of the messages that we are fed on a daily basis. Every single person has the power to create change, but we are undoubtedly stronger when united with the same vision. Rhonda Harper from Black Girls Surf puts everything into the work that she does to support woman of colour who want to pursue surfing professionally. She needs to be given even more of a voice than she has already so that every single person in surfing is aware of what she is doing. She has dedicated her life to this valuable mission!
Importantly, Surf Girls Jamaica doesn't just focus on the imbalance in the surf industry, media and professional competition in terms of gender, but also in terms of race, with its focus on the black female surf community. There are obviously women from other backgrounds who also feel alienated from the global surf industry . Do you have any plans to find and share some of their stories in the future?
We still have so much work to do distributing Surf Girls Jamaica, sharing it and circulating it in the most impactful way.
We find inspiration from the many incredible female surf communities all over the world whose stories have been underrepresented and it's incredible to see role models for these communities finding platforms to amplify their voice, such as the Iranian female community and Easkey Britton's work in Into The Sea or Ishita Malaviya, the first professional female surfer from India. We are seeing waves of change but there is a long way to go before all these women gain the representation and support that they deserve, and there is still a need to create access for the women around them.
The Groundswell Program which uses surfing as a tool to help survivors of sexual assault is an incredible project and we are really excited to see the impact of their work grow.
Hopefully, the film itself will connect people more to filmmakers, who will also recognise that they have more of their responsibility as visual creators and see the roles that they can play in this argument, as new visuals create new realities. We would love to continue to work with all of these women in the future.
To support Imani's work you can donate at
https://www.gofundme.com/surf-girls-jamaica
Black Girls Surf is raising funds to send West African, female surfers, Khajdou Sambe (Senegal ) and Kadiatu Kamara (Sierra Leone) to the Tokyo 2020 Olympic Games. Both of these young women are the first and only female surfers in their countries. You can donate at: