-
Words by Mat Arney, images by Jack Eden and John Witzig & film by Strictly Hot (1964)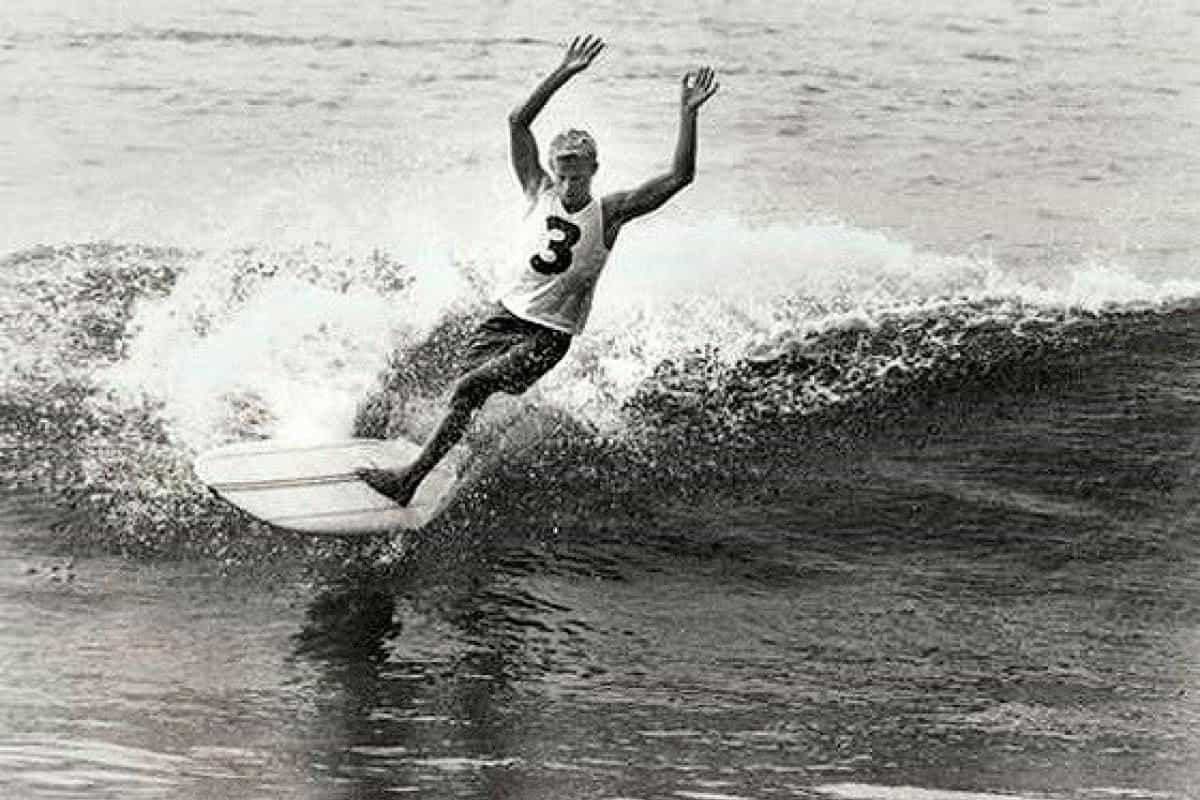 September 13th, 1944 – August 7th, 2016
On Sunday 7th August 2016, Surfing's first World Champion Bernard "Midget" Farrelly died of stomach cancer at home in Australia. He was 71 years old.
Farrelly was born in Sydney, Australia, in 1944 and learnt to surf at age six when his uncle took him out at North Bondi on an enormous "toothpick" wooden paddleboard. At this time surfing in Australia was still a niche extension of surf lifesaving and competitive paddling, and Farrelly's family moved between Australia, New Zealand and Canada throughout the first nine years of his life. By 1956 they were settled back in Sydney, and young Bernard would haul a traditional hollow wooden paddleboard down to the beach at Manly on a homemade trailer to go surfing. He also learnt ballet alongside his sister, and his smooth, controlled and elegant style on a surfboard was informed by these early years of structured practice. As hollow paddle boards gave way to balsa and then eventually to foam and fiberglass, the flyweight Farrelly whose 5'8" height earned him the enduring nickname "Midget" developed a refined style that would see him dominate competitive surfing at home and internationally throughout the 1960s.
"And I looked at everybody very analytically, all the guys who were very, very good in the water. Everybody gets something from somebody else, you're not born with it."
Bernard "Midget" Farrelly
Having unexpectedly won the prestigious 1962 Makaha Invitational (he was showering when he heard his name called out in first place) Midget, who was the reigning Australian National Champion, became a bona-fide sporting hero in his homeland. In 1964 at age nineteen he won the National Titles again before going on to win the inaugural World Championships on home turf at Sydney's Manly Beach, beating Mike Doyle and Joey Cabell in front of 60,000 spectators. Having already helped form the Australian Surfriders Association, following the '64 World Championships Midget helped to form the International Surfing Federation (ISF) which would go on to stage future World Championships.
Surfing exploded in popularity through the 1960s as the Baby Boomer generation rebelled against the restrictions of the post-war years that they had been born into, and held surfing's easy-going lifestyle up as the epitome of teenage counter-culture. Midget was a sporting hero in Australia, but as surf culture began to turn away from clean-cut competition and embrace hippy culture he found himself on the wrong side of the fence; his once protégé Nat Young was heralded as the hero of the "New Era" and Midget was painted by the fledgling Australian Surf Media as a stick-in-the-mud and "old news". Midget and Nat developed a bitter feud and, despite being the more successful competitor and a groundbreaking shaper (who alongside Bob McTavish certainly played a significant part in the birth of the shortboard revolution in Australia) he was frequently ignored and overlooked in favour of Young and McTavish. This was all despite the fact that Farrelly continued to dominate the upper echelons of competitive surfing, finishing runner-up in both the 1968 and 1970 World Championships ahead of Young and winning the 1970 Gunston 500 in South Africa. Farrelly felt that he was being ostracised by his peers despite still being one of the best surfers in the world, and he rightly took umbrage. In 1969 he pushed himself further away from the popular surf culture of the day by publicly denouncing drug use, and rather than challenging the position that he had been demoted to he seemed to accept it, somewhat bitterly, and retreated from the scene.
"He disliked Nat's counter-culture, but disliked even more being defined by his opposition to it."
Nick Carroll
In 1972 he founded Surfblanks in Sydney and went about producing polyurethane blanks alongside his surfboard shaping business, supplying many of the blanks used by shapers across Australia. Despite having been cast aside and painted as a curmudgeon by the Australian surf media, Farrelly continued to make enormous contributions to surfing in Australia from his new position beneath the radar. As he stepped back from competitive surfing he began to explore other wave-riding disciplines, taking up windsurfing, paddleboarding, surf-ski racing and traditional Australian surf boat racing alongside hang-gliding, and became an active member of the Palm Beach Surf Club.
"He was just up for anything that was in the ocean, it was just an extension of his surfing."
Alexandra Tyrell, Palm Beach Surf Club Captain
In 1985 Midget Farrelly was inducted into the Sports Australia Hall of Fame, and then into the Australian Surfing Hall of Fame in 1986. In 2007 he was inducted into the Surfing Walk of Fame at Huntington Beach in 2007. He was, however, notably absent from several lists of great surfers and influential shapers in both Australian and American surf magazines over the years, much to their shame.
Midget Farrelly retained his love for the ocean right up until the end, continuing to surf regularly around his home on Sydney's Northern Beaches and visiting Fiji to surf Cloudbreak just two years ago at sixty-nine years of age. Midget contracted stomach cancer and had a tumour removed in 2014, finally succumbing to the illness on August 7th 2016. He is survived by his wife of fifty years Beverlie (they married in 1966), his daughters Priscilla, Johanna and Lucy, and his grandchildren.