Surf Contests
No 
Fear 
at 
Cape 
Fear: 
Red 
Bull's 
Slab 
Show 
-
Words by Mat Arney, images by Red Bull - Ed Sloane, Brett Hemmings, Rod Owen,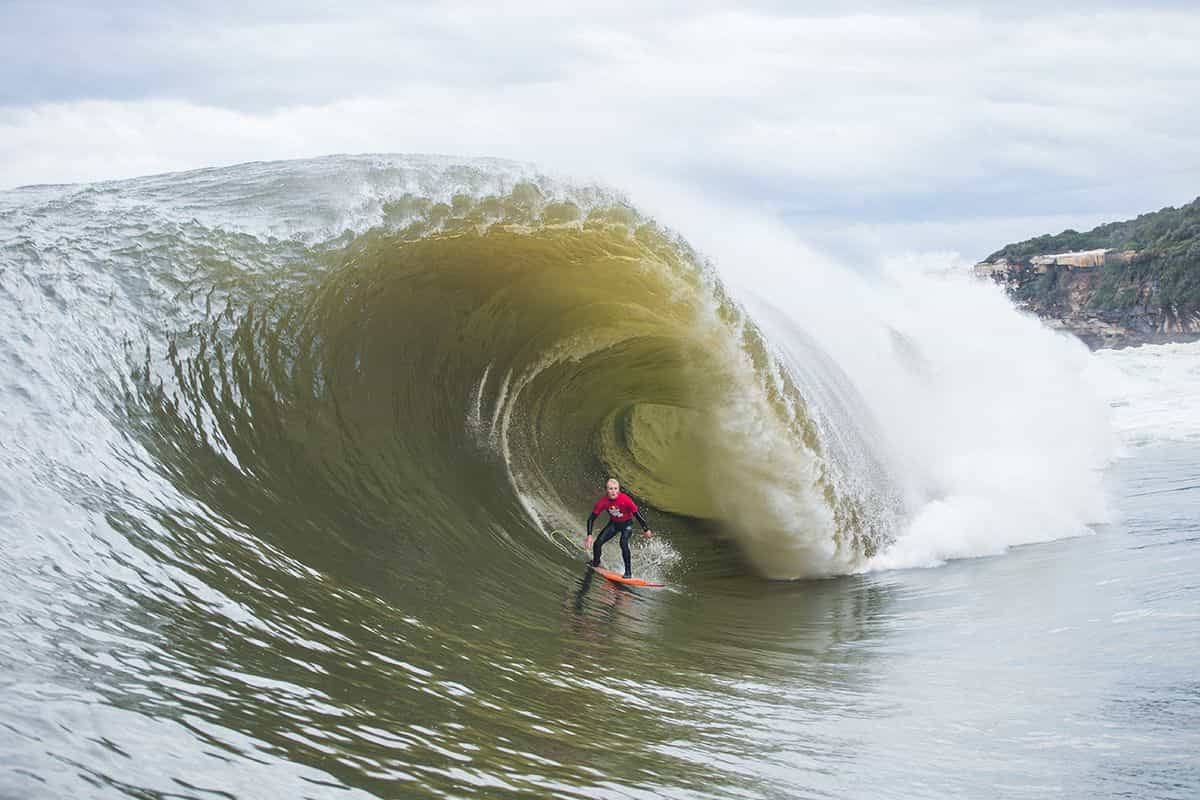 Australia's east coast has just been assaulted by one of the worst and most destructive winter storms in recent years: Three people dead, at least three missing, 3000 Sydney-siders in emergency shelters, over 11,000 insurance claims totalling over A$38m ($28m) and one completed surf contest.
Feature Image: Russell Bierke on his way to victory. Photo Ed Sloane/Red Bull
Above Image: Ours: Photo Brett Hemmings/Red Bull
Yup, amongst all of the chaos of the past few days, 16 surfers took to the water just metres from the cliff-face at Sydney's Cape Solander in man-on-man heats at out-of-control Ours for Red Bull's "Cape Fear" event, with 18 year-old Russell Bierke coming out on top.
A truly unique event, Red Bull's Cape Fear event sees slab and heavy-water specialists compete in hour-long, four-man heats in which two go head-to-head for half an hour of paddling-in whilst the other two battle it out on the end of a tow rope before they switch for the second half hour. On Monday there was a unanimous surfer vote to start the event in twelve-foot (plus) stormy surf, despite chop and backwash plaguing the face of waves. Competitors tried but mostly failed to paddle into waves, with successful rides coming with the aid of a ski and a lot of wipeouts that made for incredibly uncomfortable and wince-inducing watching, both for those within spitting distance on the headland and those watching the live feed.
Blake Thornten in a place nobody wants to find themselves. Photo: Rod Owen/Red Bull
"I think everyone in the event would agree this is the biggest the Cape has ever been surfed," said Maroubra's Blake Thornton, a former world tour surfer who competed in the first heat of the day alongside Justen Allport, Jesse Polock and James "Rooster" Adams in a session that landed Allport in hospital, after his head and shoulder connected with the unrelenting rocks of Botany Bay – he was later discharged. After the first two heats the event team made the call to postpone until the following day as the tide had dropped to a point where the water safety team would have difficulties affecting any necessary rescue in the already massively challenging conditions.
Justen Allport, charging on day one. Photo: Rod Owen/Red Bull
"Everyone was getting sucked over the falls and so close to going over the rocks. It was so lucky no one got seriously hurt today … Tomorrow it could be a little smaller, but way more manageable" said former World Champion and event commentator Mark Occhilupo, who grew up nearby and used to watch waves breaking here in the days before it was considered surf-able.
A birds-eye view of Rooster – James Adams on a clean one. Photo: Ed Sloane/Red Bull
Sure enough as the sun rose on Tuesday the swell size had dropped, however the waves coming through were still far from user-friendly. The day culminated in a final that saw Ryan "Hippo" Hipwood, James "Rooster" Adams, Koby Abberton and Russell Bierke put on a sixty-minute show of fortitude, skill and an utter lack of self-regard. Bierke, at just eighteen years of age, has already made a name for himself as a standout in waves of consequence however on Tuesday, in the shallow waters just off Cape Solander, he returned to shore following a perfect 10 and found himself stood at the top of a pile of sixteen of the most specialized, screw-loose, hell-men that Australian surfing could assemble.
For more photos, footage, breakdowns and highlights, head over to Red Bull's Cape Fear website.