People
Mozambique's 
First-Ever 
Professional 
Surfer 
Has 
Set 
His 
Ambitions 
As 
High 
As 
His 
Aerials 
-
Words by Stephanie Conway, images by Greg Ewing, Nuno Marcelino, Louise Pamment, Mat Arney, Yuni Cho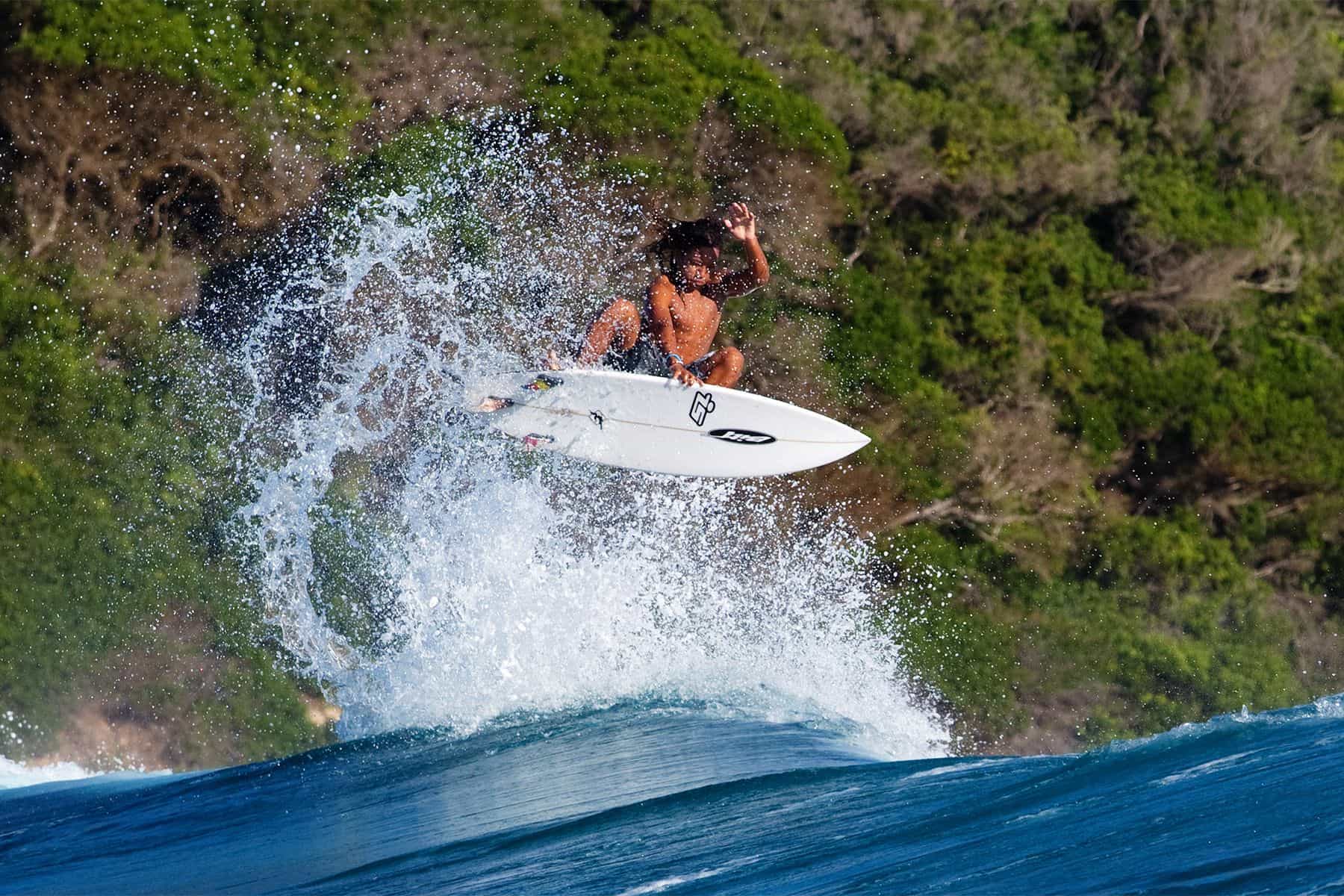 It all began with a donated surfboard. A gift from a tourist who had spotted Mini Cho and his two brothers sitting at the beach doing nothing for far too long. "It was a 5'8 neon yellow wedge," says Mini, unaware at the time of how much this gift would change his life forever.
While growing up in South Africa with a Korean father and a Mozambican mother, Mini often found himself caught between a clash of identities. He was often referred to as "the Korean kid," but his parents' marriage was unrecognised, so Mini was undocumented by the Asian country. A rise in xenophobic attacks towards other Black Africans in South Africa forced Mini, his parents and his two brothers to move to Tofo, in southeastern Mozambique when he was twelve. He was fourteen when he was gifted the neon surfboard.
His first time in the lineup, Mini remembers the anticipation of paddling towards a wave and hearing a voice behind him: "close your eyes and pop up." In what felt like an instant, Mini was standing on his board, riding his first wave, experiencing the transcendental exhilaration that only comes from throwing yourself to the mercy of the ocean's power as you glide towards the shoreline. "I immediately became addicted," says Mini.
"When I learned that there had never been a professional Mozambican surfer, it was all I could think about." Determined to bridge the gap of representation, Mini dedicated himself to elevating his surfing ability.
Tofo beach is located to the southeast of Mozambique, which receives some of the country's best Indian Ocean swells along perfectly formed reef breaks that create enviable right-hander barrel points. With uncrowded lineups, warm turquoise waters and the occasional spotting of whale sharks, it's the ultimate surfers' paradise. Though it's a seven-hour drive from Maputo International Airport, on a good day, the breaks are well worth the drive – and the flight – for a blissful day of barrels. So it was almost inevitable that an ambitious young surfer like Mini Cho, when given the right equipment and practice on some world-class reef breaks, would become the first professional surfer from Mozambique.
Whilst visiting Durban for surf training, he often volunteered with the Surfers Not Street Children charity to help mentor vulnerable children in the program. It was there that he met Tom Hewitt, the charity's founder, and where his passion for helping the next generation of African surfers developed.
Now 20, Mini is the first Mozambican to have received international sponsorships including Smile Wave Fund, O'Neill South Africa and DryRobe, and also the first to compete on the World Surf League's Qualifying Series. Surfing has taken him around the world, including to the cold waters of Croyde Beach in North Devon, UK, where he won the Croyde Surf Club open competition on Saturday, November 13th. He'll also be entering the Ballito Pro presented by O'Neill, a QS 5000 event, in South Africa this December.
"Everything I do is for the next generation," says Mini. "So they can achieve even greater." Mini has earned the role of Director of the Mozambican division of Surfers Not Street Children, known locally as Tofo Surf Club. "When Mini came to Durban to volunteer, it was clear that he excelled," says Tom Hewitt, the charity's founder. "As we grew our program to cover Mozambique, I knew Mini was the natural partner. He's inspirational in his own right, dedicated to surfing, and super compassionate to the children in Tofo."
Tofo Surf Club provides surfing therapy, mentorship and guidance to at-risk children. The aim is to help the 70 children that they currently work with to stay in school, learn a new skill and avoid the darker side that often accompanies tourism (which can involve joining gangs, and interacting with illegal drugs), empowering young people to become self-sufficient individuals who lead fulfilling lives. It also happens to be the only surfing program supported by Scholas Occurentes organization, led by Pope Francis.
Just as Mini started with a donated surfboard, any aspiring surfer needs a well-made board to elevate to the next level. As surfing continues to build momentum across coastal Africa, so does the need for fibreglass surfboards. But the cost and availability of new surfboards can be out of reach for many African surf communities. That's why board drives from organisations like Provide the Slide and donations from surf therapy organisations like Surfers Not Street Children are pivotal in developing a more competitive surf scene across coastal Africa.
"I'm so proud of how far Tofo Surf Club has progressed," says Mini. "The children we work with now have guidance and can make better choices. Tofo Beach attracts a lot of marine tourism, so if the children start swimming and surfing from a young age, they have more career opportunities to choose from. More kids want to stay in school, are getting better at surfing and are growing up to have careers as diving instructors and lifeguards. There are fewer kids on the streets having to resort to crime, and more with dreams and goals for a better future."
From a donated neon board to competing on the 'QS, Mini's story has only just begun. "We're still in the beginning stages of surfing culture in Mozambique. So the next goal is to create a national surfing association. Then, we'll build a team of Olympian surfers." Surf diversion programs like Tofo Surf Club have provided much-needed support to remove the barriers that have prevented local communities from grabbing a board and jumping in. Now that surfing is an Olympic sport, and social media exposure showcases the grassroots progression of barrier-breakers like Mini Cho, the next generation of African surfers now have the right representation and inspiration to elevate the competition.
The author and Surf Simply would like to thank the photographers featured for sharing their images of Mini with us. You can see more of Greg's incredible surf photography here or follow him on Instagram @gregewing, and you can check out Nuno's great photography on Instagram @nunomarcelino, Louise at @lou.lives.big and Mini's brother Yuni at @yuni_cho_97.