-
Words by Mat Arney, images by Liz Clark and courtesy of swellvoyage.com & film by Tiffany Campbell and Andria Lessler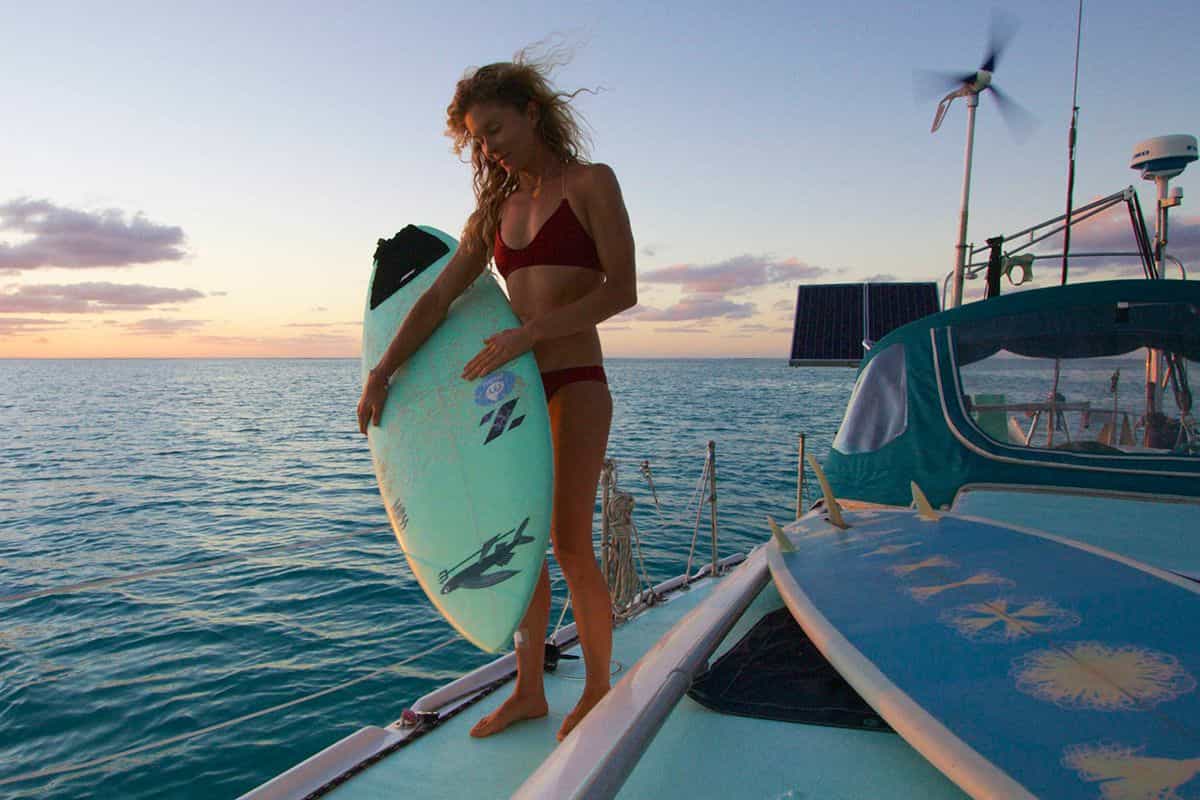 In early 2006 Captain Liz Clark (2001 NSSA College Women's National Surfing Champion) left California aboard her 40-foot sailboat Swell and set off down the west coast of the Americas and across the Pacific in search of waves. Liz has spent the last 9 years exploring the Pacific, searching for and surfing numerous incredible reef passes as well as working on local environmental projects and presenting talks in schools across Polynesia to raise awareness of pollution and conservation issues. Her aim is not only to promote environmental awareness in the places that she visits, but also to do so on a larger scale by documenting her voyage and sharing it through her writing and photography in the hope that it will inspire others to live out their passions and connect with both themselves and the planet. We were lucky enough to make contact with Swell, and Liz kindly made the time to share her relationship with surfing with us by answering our "Me, Myself and Surfing" questions.
Name: Liz Clark
Current Age: 34
Location: South Pacific
Occupation: Surfer, Explorer, Writer, Eco&Spiritual Activist
My earliest memory of surfing… was with my friend Renee in the whitewash in Solana Beach when I was 15 years old, only making it to my knees.
Surfing to me is… Bliss. Joy. Union with Mother Ocean.
Home is… on board my sailboat Swell.
My first overseas surf trip was to… on my parents sailboat to Mexico when I was 9 years old. First surf trip was to Soup Bowls in Barbados in 1998.
I still want to travel to… Micronesia & Marshall Islands.
I wish that I could… dematerialize and rematerialize instantly wherever I want to be.
I'd love to share a few waves with… all my sea sisters past and present, including Rell.
My magic board/piece of equipment is/was an… 5'9" FCD thumbtail thruster named Princess.
Wetsuits are… awesome but I'll take the tropics anyday.
Localism is… how it is so just respect locals.
Before I get in the sea I always… thank Jah and my angels for my safety and my blessed life.
My most memorable session was… getting my first long, deep frontside tubes with my tube guru, Katy Danielson in French Polynesia.
The last time I scared myself surfing… yesterday when I took off late, got pitched, and hit the reef.
My favorite surf movie is… Five Summer Stories.
My guilty pleasure is… right handers.
If I didn't surf then I'd probably… have so much more time for saving the world!
My greatest fear is… not meeting my soulmate.
I'm happiest when… I'm surfing with friends, out at sea sailing on a beautiful day, or hanging with my family.
I check the surf forecast… every day of course.
I dream about… a better world–where humans live in peace and harmony with the Earth. And a sweet, smart, tough, and handsome man who wants to go on a lifetime of adventures with me!
If I could travel back in time I'd set the dial to… Tahiti before European settlers brought mosquitos and rats.
In the future… I'm going to buy some land and plant a bunch of fruit trees, then finish sailing around the world, then sail back to my land and build an off-grid permaculture farm with an outside shower and bathtub.
When I get barrelled I… feel complete.
Surf culture… so cheesy.
The ocean is… home, friend, teacher, healer, infinite giver.
You can follow Liz's adventures aboard Swell here.