-
Words by Mat Arney, images by Deus Ex Machina & film by Harrison Roach/Deus Ex Machina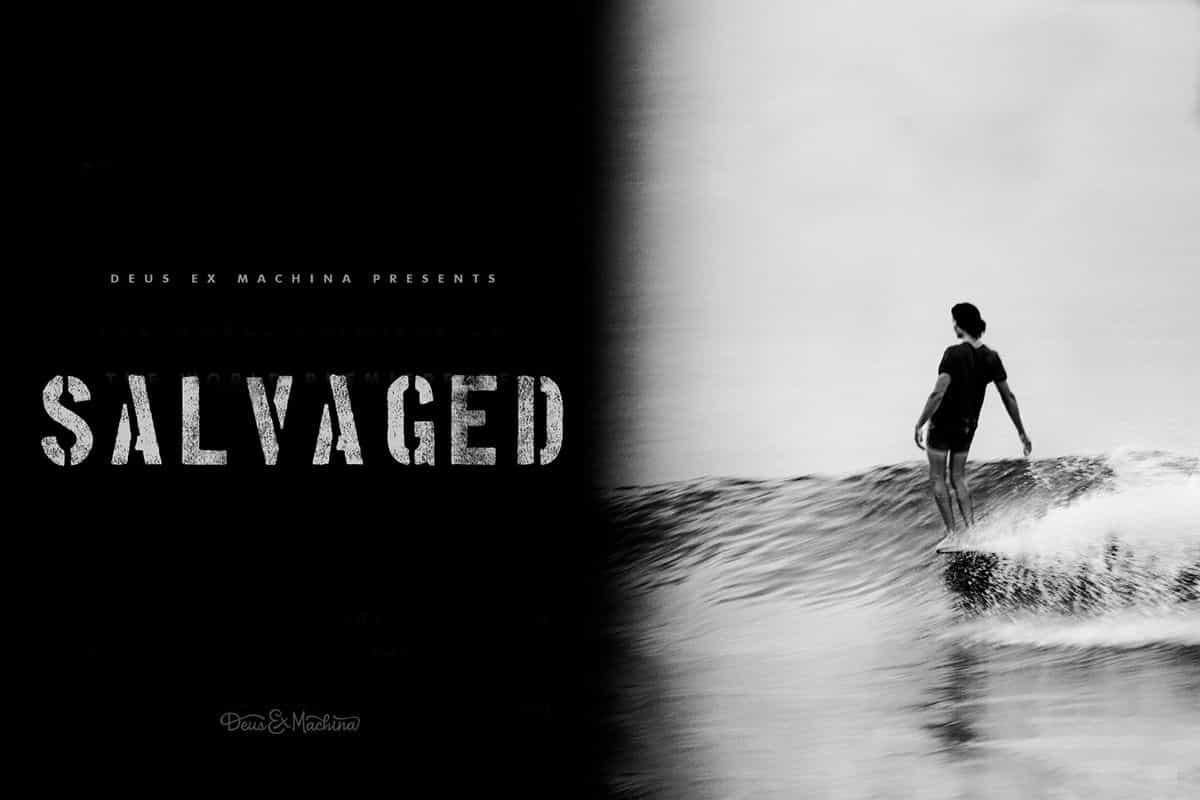 Salvaged is the latest movie offering from the perennially on-point team at Deus Ex Machina's Temple of Enthusiasm in Bali. Pulled together from the B-roll footage of two of their feature films, 2014's I Had Too Much To Dream Last Night and the upcoming South To Sian, it's the first film project of Sunshine Coast surfer and Deus family member Harrison Roach. We caught up with Harrison to ask about his experience producing Salvaged and to find out more about what else the Deus team have in store for us all this year.
Is this really B-roll footage? What are you guys sitting on for South to Sian??!
Yes it really is B-roll. Most of this footage was leftover after one of Dustin's previous films, I Had Too Much To Dream Last Night (IHTMTDLN). We got so lucky with our longboarding footage that there was more than we ever could have hoped to use. South To Sian will be much the same, we've logged so many hours worth of footage and not everything will make the cut. I will say though, what we have for STS is going to be on a whole new level.
Has producing a movie been on the cards for a while Harrison, or was Salvaged a personal project come-good?
Originally the idea for Salvaged came about because we had a Deus event on in Bali and no film to show at it. We always have one night during the event where we show a new film. We needed something to show and the film came about thanks to that. Dustin Humphrey was the brainchild behind it. He knew we had a lot of footage just lying around gathering dust, so to speak. He gave me the opportunity to make something in the lead up to the event. I think I had a month. It wasn't hard… there were so many great, unused clips.
How many hours of footage did you sift through? It takes a lot of footage to produce a feature, and Salvaged is composed from the cutting room floor of two. Was it a difficult and time-consuming process?
I have no idea how many hours. Time consuming? Yes, but not so difficult. There was so much left over for IHTMTDLN. I cut down the footage when that film was made and knew what was there. We spent two weeks shooting the longboard section and could only use two or three clips of each surfer. When it came to going through it all again for Salvaged, the hardest part was differentiating between the A clips and the A+ clips.
Salvaged is eighteen minutes of riding waves. No motorbikes. No lifestyle footage. Had it always been your intention to create a core longboarding movie?
Yes definitely. We were never going to try and use B-roll lifestyle or moto clips. That story had already been told. This film was always going to be about the surfing. We wanted to make a film that would excite people to surf. Similar to the old shortboard films I used to watch when I was a kid. I'd watch my favourite section of my favourite surfer and then paddle out and try to do what he was doing. It's great to think of someone watching Salvaged and being inspired to surf smooth or noseride technically.
The black and white treatment really makes Salvaged stand out. Was that a stylistic choice from the outset, or was it necessary to tie all of the footage together?
First and foremost it's the aesthetic, I just love black and white. But it was also about working with what we had. Colour work on video is incredibly difficult and my hat goes off to everyone who does it. Nobody around at the time had ever done it before and we didn't have a budget to pay anyone. I figured black and white would be a little easier. I got a few examples, sat down with Andre Cricket and watched him learn as he went. Andre works for Deus as a cinematographer and shot most of the footage in Salvaged. He did a great job on the B&W for a first timer.
You've gone for surfer sections in Salvaged, as opposed to location or session sections. Can you talk us through that decision?
I like the idea of people having favourites. If you don't want to watch the whole film you can just watch your favourite part.
Did you have the soundtrack set in your mind before you started to edit, Harrison, or did your music choices develop as the project progressed?
They definitely developed as the project progressed.
That Fela Kuti track is such a impactful opener, but you mix it up a bit – was Thomas Bexon's section being set to a Woodie Guthrey track always going to happen regardless of the musical direction of the rest of the movie?
I wanted to use the Fela Kuti song as an opener for just that reason. Those horns hold such weight! Thomas' section wasn't always going to be the Woody Guthrie track but it was always going to be something like it. The image of him walking up the beach and staring at the lens was stuck in my head. To me it was like he was looking down the barrel of a gun, or like he was death staring me through the screen. When I came across the Woody Guthrie track I knew it was for him. "Stackolee was a bad man, everybody knows." Thomas' is my favourite section.