-
Words by Kim Feldmann, images by Max Morgan, Driftwood Photography, Trent Mitchel, JS Photo, Murray Frazer, Jarrah Lynch, Sam Suendermann,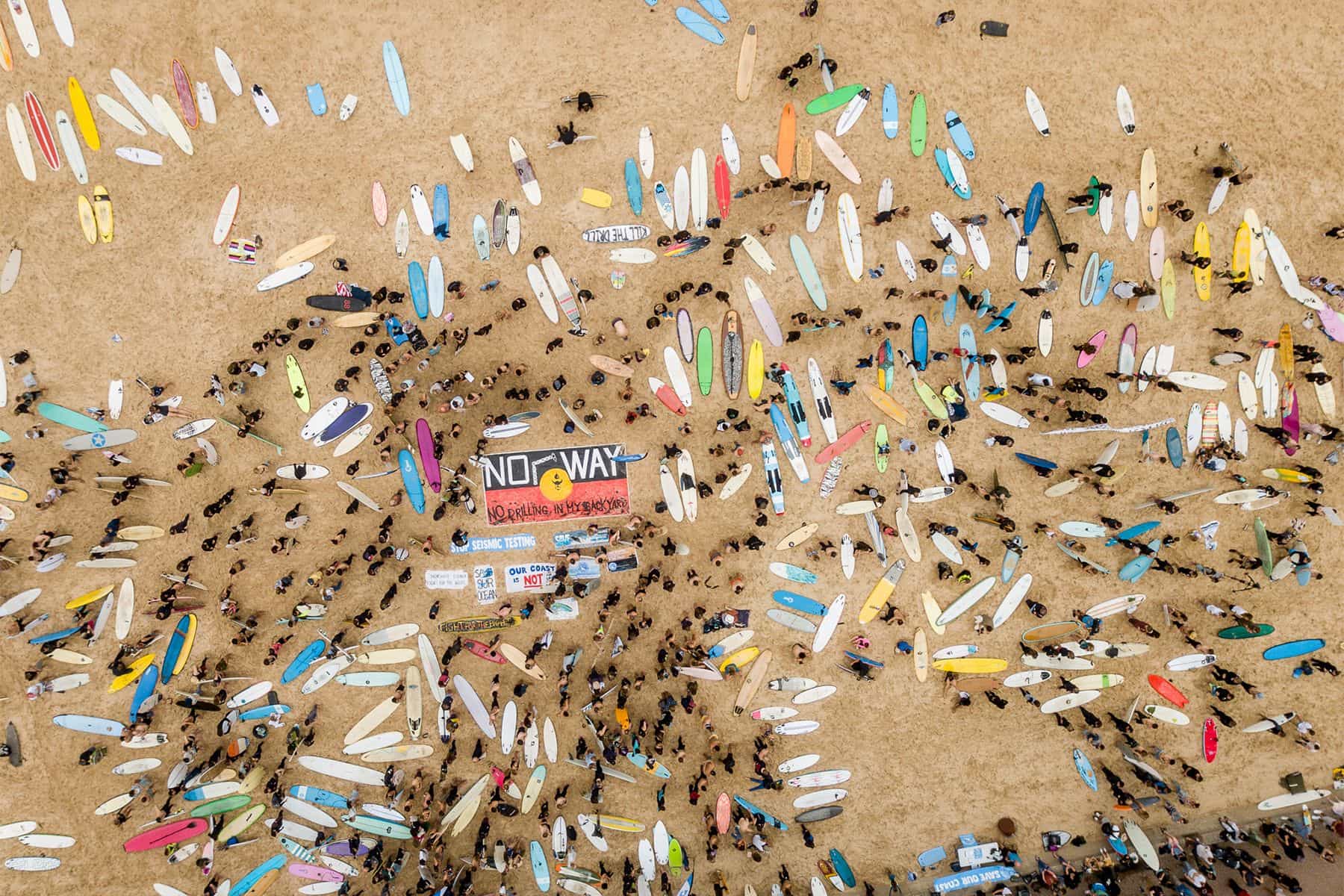 The enormous negative impact of the exploration for, and exploitation of, fossil fuels on the environment, climate and communities is, now, truly undeniable. In the case of offshore drilling, the picture is crystal clear: drill a hole on the seabed and at best it will lead to the continued emission of greenhouse gases that the climate, planet and humanity can no longer sustain. At worst, in the event of an accident and spillage (and they happen, regularly), it could also lead to an environmental catastrophe that could wipe out entire ecosystems across large areas of ocean and coastline for many years.
And yet despite this being common knowledge, there is an ongoing disconnect (or perhaps it's a blatant disregard for the risks in favour of profit and ease?) that compels large corporations to continue their attempts at sustaining (and even increasing) the extraction of fossil fuels, and that allows governments to permit and approve such activities. As fossil fuels reserves are being used up, finding new sources is becoming increasingly difficult and dangerous, forcing exploration into more remote, fragile and pristine marine regions. These activities overlook the the well-being of local communities and cultures, overlook the fact that an oil spill cannot just be spooned out of the sea, and overlook the fact that some things are not meant to be turned into gold, and that perhaps our dependency on fossil fuels has run its course.
In southern Australia the narrative is no different. Since exploration licenses were first granted in 2011 the Great Australian Bight, a pristine region with a natural environment that is valuable for various reasons and to various people, has been targeted as a potential location for oil exploration. Among the enterprises that haven't backed off (BP withdrew its drilling plans in 2016, followed by Chevron in 2017), Equinor, a Norwegian-based international energy company, continues to pursue its plans to drill an offshore exploratory well – which would be the deepest in Australia and one of the most remote in the globe – in a region roughly 370 km off the coast, 476 km west of Port Lincoln.
A second draft of Equinor's Environmental Plan was submitted on November 29th and awaits a decision from NOPSEMA (Australia's National Offshore Petroleum Safety and Environmental Management Authority), scheduled to be made by December 30th. Should they receive a go-ahead, Equinor plans to dig the first well still during this 2019-2020 southern-hemisphere summer. But not everyone is happy about these plans or their potential implications, and some are standing up to big oil and the authorities involved.
Surf Simply reached out to pro-surfers and Patagonia ambassadors, Belinda Baggs and Heath Joske, who together with other surfers, activists, brands and foundations, have been leading the Fight For The Bight campaign against Equinor's plans to drill in the Great Australian Bight. We caught up with Belinda and Heath via email to hear how the campaign has been developing, as well as their own perspectives on the matter.
"The Great Australian Bight is home to an abundance of marine life – some species that don't live anywhere else on the planet and a significant whale calving zone through out the year. It includes the longest stretch of sea cliffs in the world, and pristine rich waters. The environmental brilliance is what makes the Great Australian Bight so special. At a time when we are seeing our planet's wild places vanish at an alarming rate, its ever more important to keep the remaining areas of wilderness untouched and protected.
The Indigenous people of the Nullarbor and Western Eyre Peninsula have been its custodians for tens of thousands of years – and remain so today. The culture has a longstanding honour and respect for the ocean and Earth and thanking it for all it provides. We are constantly learning from and reminded by the indigenous elders who rely on these sacred lands, that all things are integrated and need to be looked after for all to survive.
As surfers I think it's also important to recognise the waves that this coast has to offer. The spill zone threatens the majority of Australia's surfable coastline – waves and breaks that act as a hub for communities to unite and places to share special experiences with nature. These are beaches of immense social value to Australians."
– Belinda Baggs
"There are so many factors that make the Great Australian Bight so important. Where they want to drill is actually in a marine park. The Bight is home for southern right whale and blue whale and is their breeding ground, as well as the Australian sea lions. 85% of the species found in the Bight aren't found anywhere else in the world. The fisheries down here are huge and extremely vast – Australia's biggest fisheries. The coastline is just so raw and rugged and really inaccessible for hundreds of kilometres along these cliffs. Those same cliffs, dotting the whole coastline of the Bight, would make an oil spill here just horrendous to clean up."
– Heath Joske
Contrasting with these values, there seems to be a paradox when it comes to the exploration of regions like the GAB, often expressed by the way corporations argue that they have to meet a market demand. Erik Haaland, a spokesman for Equinor, told the Guardian newspaper that"Production from existing oil and gas fields is declining, and there is a need for new supply to meet the future demand for energy", which is to say that the real issue extends past the exploration for fossil fuels, into the way that you and I consume energy. What is your opinion on our need to take individual responsibility with the matter of energy consumption and its consequences, both as humans, citizens, and surfers?
BELINDA: Equinor drilling in the Bight will add to CO2 emissions in our atmosphere. If we want our children to survive on this planet we must keep fossil fuels in the ground. Opening up new projects at this time is unconscionable. Climate change isn't up for debate any more. We are already experiencing the first effects of climate breakdown and seeing impacts on all animals, including humans. We must move swiftly toward zero carbon emissions if we are to keep our earth below 1.5 degrees of warming. There are already alternate renewable forms of energy available that have proven reliable. Managed correctly, they also provide a more stable long-term economy for citizens and communities.
Our federal government here in Australia is not taking action; it leaves us in a place where we have no choice but to take individual action. This can start in our own homes by installing solar panels or opting to purchase only from green energy suppliers, divesting our money (banking, insurance superannuation) out of institutions that invest in fossil fuels and placing it with corporations that invest into renewables and carbon sequestering, [as well as] petitioning our local council to take action on climate solutions in our own community.
We can also look at our own consumption. Everything comes with a carbon footprint – food choices, what we wear and, as a surfer, the equipment that we use. Making our existing gear last longer and when we do buy new, looking into the more eco-friendly and sustainable options. Surf travel is also a huge one here – the places we choose to surf and how we get there. Ultimately, the emissions of surf travel are a bigger picture issue that needs to be solved by the transport sector, but I think that we as surfers can add to the pressure of implementing change here by asking the hard questions and easing our demand by car pooling and travelling domestically instead of taking long haul flights.
To summarise, we require large systematic changes, but these changes won't occur without the pressure and demand from individuals – even if it means going without and enduring short-term discomfort for a while until this crisis is solved. Discomfort now is better than the suffering that our children will endure if we don't.
Heath, you took part in the annual general meeting at Equinor earlier this year. What was the experience like and how did it affect your own perceptions/motivations when looking those who you are "fighting" against in the eyes?
HEATH: Attending the AGM back in May was kind of a cool experience, to talk amongst the delegation of other Aussies there about why we wanted the Bight protected was really positive, and I thought Bunna Lawrie's story of his indigenous mob coming from the head of the Bight and of their totem being the whale out there (and him being a whale songman) was super powerful. I was really thinking "far out, these guys have heard how incredible the Bight is, how can they keep on pushing through that" and, at the same time, we had a half-dozen different Norwegians get up and say something at the meeting and they all pointed out the irresponsibility of drilling in the Bight as well. I was really hopeful that we were actually going to get a good outcome, with Equinor pulling out after that, but they didn't. Since then, we've just seen this huge national day of action only a week ago, and once again I'm thinking that's just amazing to see over sixty different communities of Australia come together to show their opposition to Equinor – the biggest show of opposition from coastal communities we've ever seen in Australia. How can they possibly keep pushing through all of this? We'll see what happens, but Equinor didn't ditch their plans after this round of paddle-outs, which is pretty disheartening.
Belinda, branching off from what I just asked Heath, I think it's fair to say that, up until not too long ago, surfers were not really seen as the kind of subculture to get so directly and constantly involved in politics as they have been lately. Based on your own experience, what are some reasons behind this increased level of engagement?
B: Surfers are a passionate group who are so deeply connected to the natural environment. We've all seen Equinor's worst-case scenario graphics that illustrate the horror a spill could wreak on coasts ranging from Margaret River to Port Macquarie – the risk is too high. This alone was enough to engage the surf community.
There are a number of environmental issues here in Australia that are coming to a head. Via user channels such as social media and websites there is now a possibility to reach a large part of our population without a huge advertising budget, spreading awareness and the entire 'truth' on these projects and issues that we didn't have before. Surfers live with passion. The beach is a place to embrace and share life with friends and it's the glue that binds this family. When you threaten what we love most, our place of worship, it's only natural that we will become rebellious.
I'm seeing this happen for multiple projects along the coast now. The Fight For The Bight campaign played a huge role in prompting surfers to stand up. As a parent, I see it as my responsibility to ensure my son has a safe future, and I think many other people feel the same and are seeing the urgency to fight for it – because if we don't, then who will?
My home town of Newcastle is currently under threat from seismic testing, for oil and gas explorations. It's a zone they call PEP 11- 4500 square KM between Newcastle and Sydney. I'm working with the local organization 'Save Our Coast', trying to use this same framework created from the Fight For The Bight, but bringing it to a local level.
The effects of climate change on surfers are very apparent. We see how the smallest changes to our coast have effects for years to come. Some of these issues include coastal erosion, surf breaks effected by sea level rise, sewage overflows caused by extreme weather events, and ocean acidification affecting coral reefs and many species that can, in turn, throw the whole functionality of an ecosystem out of balance.
On this topic, with a group of passionate friends we have created 'Surfers For Climate' – a movement of wave riders who recognise that the shift in our environment is directly attributed to Climate Change. We aim at surfing our way toward a shift from fossil fuels toward a renewable and sustainable culture and invite the surfing community to take part in the Climate Change discussion, take future action and be a part in the solution. Without a healthy ocean we wouldn't be able to exist and thrive. Surfers are at the forefront to lead us to a clean and healthy future.
Heath, from the perspective of a surfer, what are some ways in which you think it'd be possible to optimise/expand the effectiveness of this and other marine-environment-related causes in Australia – and across the globe?
H: I think as a global community we're becoming so much more aware of the negative impacts of climate change and plastic use and abuse. And as surfers, being in the ocean more than almost anyone else on the planet, we've got to be making the moves to protect it; we see the negative impacts first as surfers so we need to be out there doing what we can to protect and maintain these precious playgrounds that we have. The options to do that now, to stand up and have more of a voice, are available more than ever with social media and the instant ability to spread what you're thinking and for that to then spread as well is amazing. You can't ever think that your voice isn't going to have an impact because everyone's voice does and that just carries on from one person to the next. Now a sixteen-year-old girl has inspired so much change herself, starting out by herself, sitting out the front of the Swedish parliament a year ago…and then a year later there are millions on the streets following her footsteps, it's a huge movement to save our planet from the power and money-hungry governments and their links to the fossil fuel groups.
Along those lines, what are some "Do's and Don'ts" you have learned from being engaged in the Fight For The Bight?
B: Uniting a community of coastal dwellers is powerful. It takes each and every individual that has turned up for paddles, signed petitions, and written to Equinor's CEO to save our coastline. If you want to see change you need to get active and do something. All oil and fossil fuel extraction will add to climate change.
There will always be people who want to point out the intricate details and prove you wrong, like the old argument of hypocrisy 'surfboards are made from petrochemicals and you're protesting against oil'. There is no more time left for debating the details. If you don't want drilling in the Bight and the threat of oil on our beaches then unite and tackle the problem of petrochemical use in surf equipment with solutions and positivity.
Don't be scared to use your voice, find confidence in knowing you're using it for good. Saving the Bight and the planet is bigger than individual gain.
Beyond associations such as the Great Australian Bight Alliance, what are some ways in which the Australian surfing community has been organising itself?
B: The local chapters of Surfrider Australia have been incremental in rallying the local communities for the paddle outs. There have also been some surfing clubs/ associations who have supported and organised several areas. There're also some key individuals who have mobilised lead their community into action. A lot of the time this is all it takes: just one person to organise and pull everyone together.
And how about this intercontinental link between activists and surfers in Australia and Norway?
H: Years ago we had a guy called Bjorne come visit Kangaroo Island and Port Lincoln on the Eyre Peninsula. He's a fisherman from Lofoten who has been at the front of fighting them coming to drill for oil for years. I didn't actually meet him when he was here, but after I went to the AGM I went up to Lofoten to try and learn from them. They have been opposing Equinor for over ten years and they just had a big win; Labor said they'd never open it up and the other local parties as well were in agreement, and that was a huge win for them. So I went up there and went surfing and met a few of the locals, the surfers who had been fighting it, and chatted with them as well as with Bjorne, which was super inspiring. That's another thing I guess I've learned from the campaign: to make the activism really fun. For example, they skateboarded the length of the Lofoten Islands, tight-rope-walked between two mountain peaks with a big banner beneath them, reading 'Oil-free Lofoten'…just things like that are amazing. But, especially in the surf communities that I've visited in Norway, you just connect straight away. We've got that in common and I don't know, it seems that surfers have a certain energy that is quite mellow in contrast with a lot of other people and you can just relax in their company quite easily. So to see them stand up and paddle out again on this last weekend, in Oslo and Lofoten, was pretty sick. I didn't contact any of them and I'm not sure how it happened, but they must've gotten word of us doing it and turned out to show their support. We both want the same thing, and that's clean oceans.
It's interesting to see how companies such as Patagonia – which also rely on profits to keep afloat – have a completely different approach than most other companies, particularly surf brands, when it comes to environmental matters. Being involved with the brand as an ambassador, why do you think that's so? And how would you say that other surf-related businesses, which perhaps share the same viewpoint, can or should engage more actively?
B: Patagonia is in business to 'save our home planet'. That statement alone sums up Patagonia's ethos. They act on this on many levels by transforming the industry through implementing new technologies and standards and then making these materials and methods available to their competitors for the betterment of our planet. Donating time, services and a minimum of 1% of sales (adding up to over $US89 million) to grassroots environmental groups; this funding has gone toward the protection of our planet's environment and functioning ecosystems.
For other businesses that share the same view, don't let yourselves be bound by convention and remember there is no business to be done on a dead planet.
Speaking of organisations, how has the Australian government and its regional institutions been responding to the Fight For The Bight campaign?
B: We have had a number of local councils who have been supportive of the campaign, acknowledging that a spill would have detrimental consequences regionally both from a social and economic perspective, and taking action by officially opposing the project to our federal government.
The Fight For The Bight has gained support from many local MP's and members of the Australian Greens. However, the current Liberal government fails to accept responsibility for climate, and value big polluting businesses over the well-being and demands of their own citizens.
Can you give us some insights on how the National Day of Action, which happened on the 23rd of November, went?
B: Tens of thousands of people in 62 locations paddled out making it one of the largest coastal rallies in Australia. The Fight for the Bight has been a continuous battle for many years now, gaining more and more support and traction as time goes on. Drawing a clear line in the sand that we won't tolerate this bullshit and sending a loud message that we will continue to defend our coast.
Like a mass invasion we stroked our way beyond the breakers assembling a huge circle splashing and shouting "Fight for the Bight" and "No Way Equinor" It's a surreal experience to be amongst such immense passion and energy; emotional and powerful, a community united.
What were some of the repercussions – practical as well as intangible – on a local and national level?
B: On Friday the 29th, Australia-based Karoon Gas has decided to ditch its exploration permit located in the Great Australian Bight. During Karoon Gas' general meeting on Friday, Chairman Bruce Philips said the company had "listened to our broader stakeholder groups and have initiated actions to relinquish EPP46 in the Bight". The display of public protest and community opposition is undoubtedly a key factor in Karoon's decision.
What are some upcoming events and/or actions that surfers in Australia and around the world who wish to support the cause should look out for?
Tell your friends, especially ones that live in Australia or Norway.
Share the message on social media #fightforthebight
Sign the Great Australian Bight Alliance statement of concern- https://www.fightforthebight.org.au/statement
Send a letter to Equinor's CEO- https://www.patagonia.com.au/pages/bigoildontsurf
Continue to turn up or host your own paddle out.
Continue to defend your coast; stand up and mobilise against other projects that threaten our waters and coastline.
Click here to watch the full 30 minute version of Patagonia's film The Head of the Bight.