Interviews, Surf culture
Divided: 
The 
Surf 
Dynamics 
of 
The 
Mexico-US 
Border 
Zone 
-
Words by Kim Feldmann, images by Juan Carlos Monje, Jesus Salazar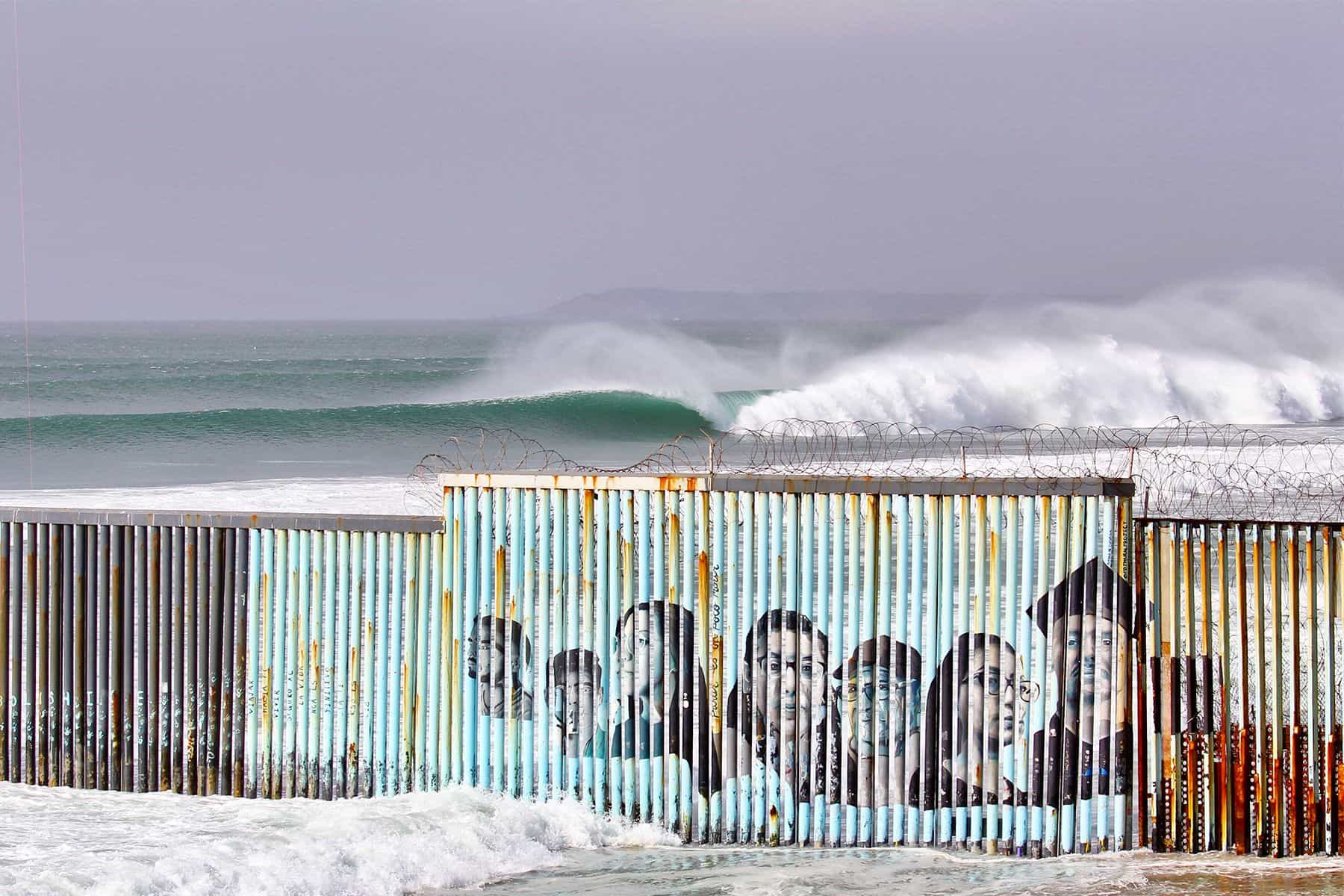 Surfing bonds us. Out in the water, nationality, race, gender, political standpoint and philosophical outlooks are all irrelevant. From a non-competitive perspective, there is no "better" or "worse" and, to a certain extent, no "right" or "wrong." There are spots, breaks, sections, and lines – but no borders. We are but limbs floating on a piece of foam, looking out for a lump in the horizon.
That would be ideal.
"When we want to have a better understanding of the social and cultural processes around border regions, we usually focus on land borders. However, equally fluid and complex processes occur with oceanic borders, maritime boundaries that delimit, separate, and unify nation states. That is, the land and the sea are each sites in which border interactions and power dynamics play out between two countries."
The above statement opens a paper published last year on the surfing trends on the Mexico-United States border, in which authors Jesús Estrada Milán and Luis Escala Rabadán put the tenuous and fickle interrelations of transnational practices under the microscope, opening up a new field of investigation into surfing.
Milán, a sociologist and independent researcher at Universidad Autónoma de Querétaro in Mexico, learned to surf in Tijuana whilst undertaking a Masters programme in Cultural Studies. He says the idea for the paper came after his very first surf lesson, when he "realised that some things I thought were a huge problem, are not. There's something about the perspective of surfing – it makes you a very reflective person." This eureka moment compelled him to switch the topic of his thesis to surfing, and dive into research.
From then on Milán started to familiarise himself with the surf scene in and around Tijuana. Straightaway, he learned that Baja California was one of the first Mexican states to adopt surfing – but also that it remains a relatively unexplored practice when compared to other cultural sports such as football or baseball. "I tried to find the meanings and values of the sport," says Milán. "And one of the things in Baja specifically is all the border-related issues around surfing." Taking several surf trips around northern Baja, Milán conducted both formal and informal interviews in and out of the water. He asked locals how they thought the border is connected to surfing, and their opinions on surf tourism from the US to Mexico in the border region. These interviews, together with direct observations and auto-ethnographic notes (a self-reflective technique in anthropology) informed the ethnographic data upon which the paper was structured.
Being one of the most infamous borders in the world, a melting pot of political dispute as well as cultural cross-pollination, the area by the Pacific Ocean along the Ensenada–Rosarito–Tijuana region in Baja California and San Diego, California, represents the ideal backdrop for a study on the cultural impacts and influences of surfing spaces. "There are other 'global surf spots' in Mexico, like Puerto Escondido or Sayulita, that can also be seen as borders," says Milán. "But they don't have or promote the dynamics of being situated on the land border with another country."
In this particular region, surfing stands not only as an active subculture in both nations but as a channel for the influx and outflow of people and goods, a motif behind environmental concerns and territorial disputes, a reflection of power imbalances and nationalistic feelings. The geographical proximity ends up having a say in the shaping of surf identities – as well as in the development of affinities and rivalries between surfers from both sides of the border. But these dynamics, referred to in the paper as structural boundaries (meaning the "economic, political, and cultural effects of the geopolitical borders that structure and shape the seaside spaces and practices"), begin with the contrasting ways in which landscape and seascape are constituted and coordinated.
While on the Mexican side of the border, comprising residential districts, the nearshore serves as a place of leisure for residents and tourists, on the US side the Tijuana River National Estuarine Research Reserve (TRNERR) is an "area more akin to a war zone", laden with surveillance and rarely used for recreational purposes. This lack of fluidity along the coastline wasn't always the case though. In fact, people from both sides of the border used to meet up and play volleyball matches over the fence, creating a sort of link between both countries. It was only in 1994, when the US government reinforced immigration control by increasing and extending the border fence some 90 metres into the Pacific Ocean and implementing systematic checks via Operation Gatekeeper that asymmetries were consolidated. The first measure created a physical break that incited environmental and social transformations; the latter kick-started the currently notorious border-crossing paradox, tempting "undocumented" migrants to find alternative routes, often leading to them choosing to swim across the maritime border.
Another aspect in the backbone of these peculiar dynamics is history. The residents of California on the American side of the border already lived a coastal lifestyle in the early 20th century and by the 1950s, when inhabitants of Baja California on the Mexican side began to incorporate the sea into their daily lives, surfing was already firmly established as a subculture on the verge of booming in Southern California. "A couple of years ago, surfing was declared the official sport of California; it has a huge industry and surfing community," Milán points out. "In Mexico, not so much – but it has great waves."
Although American tourists had developed the habit of flocking southward throughout the years of Prohibition (1920-1933), surfing only gained popularity among Mexicans in the 60s, following an overcrowding of Californian surf spots and the birth of 'surfing safaris', which coincided with government-led tourism initiatives such as the construction of a coastal road between Tijuana and Ensenada. In other words, US surfers left a trail wherever they went, seeds that eventually sprouted into the first surf hubs in North-western Mexico, initiating the surf cross-pollination.
The Baja Surf Club Invitational, an event organised by the first Mexican surf club which began in 1966 and is still running to this day, was the first tangible mass interaction between both surfing communities. It has been playing a fundamental role as a positive mechanism for the two surf nations to exchange, not only collectively through trends, but also individually via friendships. Nowadays, this symbiotic relationship has become more fluid and defined – but the border still dictates a lot of it.
"Positive changes are mainly related to access," says Milán. "Baja Surfers take advantage of iconic cultural elements like surf vocabulary and land-related resources such as equipment. Before the internet, it was also easier for Baja surfers to get magazines and access surf media. As for US surfers, they take advantage of the border in a more sea-oriented way, by going on surf trips to Baja where they have access to a lot of uncrowded spots."
At the same time, these interactions have also facilitated negative scenarios. "A couple of years ago, Surfline put a camera at a surf spot close to Ensenada," says Milán. "This created conflicts in the community. Locals didn't want the camera there because they knew it would attract more surfers; people from San Diego and LA would check the forecasts and shoot down." Indeed, at first glance more visitors coming down would be the better for business, however this kind of short-distance surf tourism, endemic to border spots, functions differently from that of global spots where, say, someone flies to for a two-week holiday. "It's just a couple of hours away from their home by car," highlights Milán. "Surfers take advantage of the waves and go back to their country on the same day. They don't stay there, don't book hotels, which doesn't really benefit the local economy with the same intensity."
Such flash-tourism phenomenon, ever-present in northern Baja, is a corollary of structural elements and power relations between both countries, in the sense that it's relatively easy (immigration-wise) for a North American surfer to cross south for a quick trip – not so much vice-versa. On top of that, the fact that travelling surfers often bring their home turf mindset along kindles what Milán calls "border localism," which, in this case, means disputes between local Baja surfers and southern California surfers.
Unlike the standard 'domestic localism', border localism is highly influenced by cultural disparities; to an extent, it becomes more about national identity than any surf hierarchy or pecking order. "On weekends you can see a lot of trucks loaded with surfboards coming from the US," says Milán. "Most Baja surf spots get crowded, and sometimes foreigners don't respect the locals. Or it can be a matter of them being more skilled or having a more aggressive way of surfing, which puts the locals at a disadvantage. This makes the waves a scarce resource, and that sometimes sparks reactions around localism and aggressiveness."
And if border localism spikes tensions in the surfing experience in Baja California, so does the "real estate localism." Another particularity of the US-Mexico border, this phenomenon has grown out of the economic colonisation atavistic to the 70s and 80s, when the Mexican government opened the gates, so to speak, for foreign property investments to flood in on the Pacific coastline. This real estate boom has, in turn, reshaped the coastal landscape of Baja, with all sorts of properties (retirement homes, vacation houses, tourist centres) restricting access to surf spots from local residents and surfers.
On a brighter side, this constant, unavoidable osmosis has also provided the motivations and tools for tackling issues that concern both nations. "A positive exchange has been the connection between Mexican and US associations for preserving the ocean, such as the Surfrider Foundation, the Wild Coast Foundation, and Proyecto Fronterizo," emphasises Milán. When dealing with the environmental threats faced by this section of the Pacific Ocean, organisations work together, taking actions that favour the region – not the nations. After all, pollution knows no borders.
This type of bi-national activism between surfers and associations thus becomes a great example of how to use something that separates, to unify – and yet another idiosyncrasy of border regions worthy of attention.
"When it comes to cross-border surf dynamics, it's important to be critical, to think in a way of what is better for the community, for the experience of the sport, for preserving nature. And not just the differences, but the similarities too. Yes, the border is a political border. But because it's related to nature there are certain things that hold us together as a big region without borders. And this kind of border-related angle is new to the surfing studies."
The author would like to thank Jesús Estrada Milán for his assistance with the article, and Jesús Salazar for the photographs. To see more amazing shots of Baja California give him a follow on Instagram. Those interested in the topic are encouraged to read Milán's paper, Riding Waves on the Mexico–United States Border: Beaches, Local Surfers and Cross-Border Processes.