Surf Movies
Deus 
Ex 
Machina 
road 
trip 
'South 
to 
Sian' 
-
Words by Will Forster, images by Anthony Dodds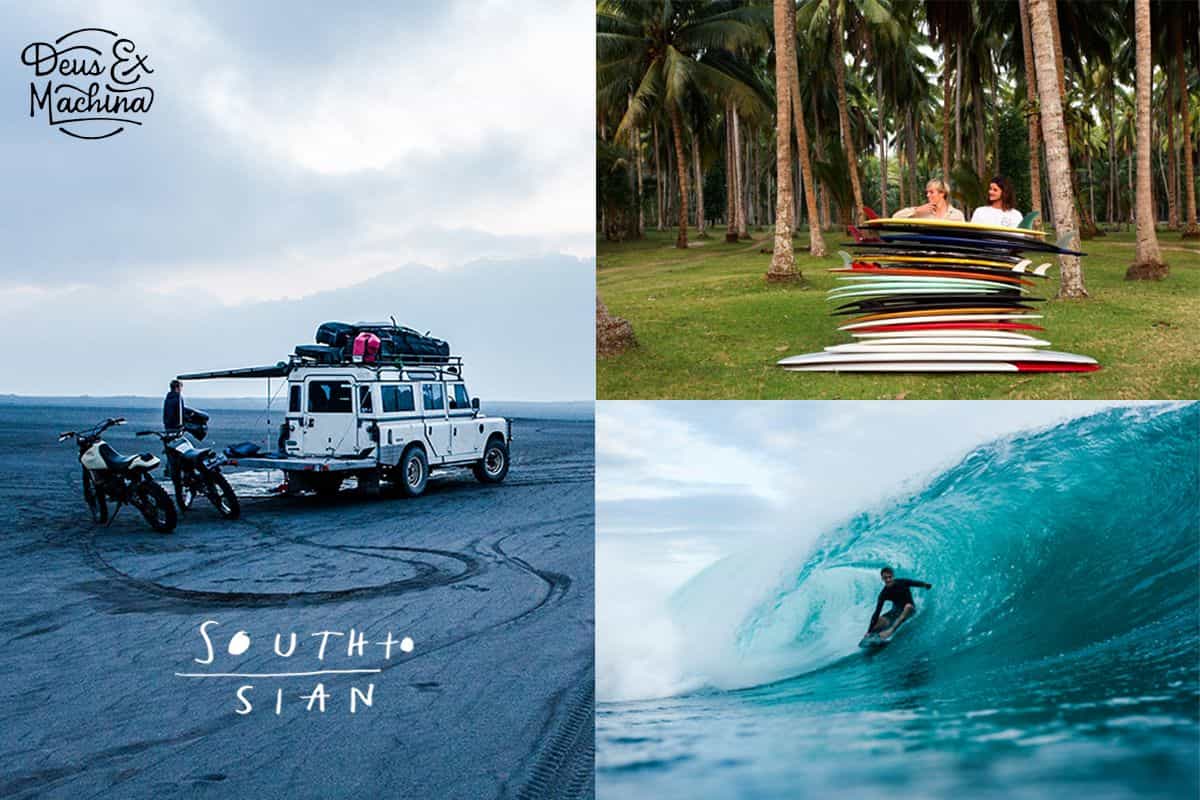 "It's only once you've spent time travelling here that you realise the gravity of a journey like that. The possibilities for surf are quite literally endless. I mean jeez, even if we didn't surf it still reads as the adventure of a lifetime." – Harrison Roach.
Deus has just released its follow up film to 'I Had Too Much To Dream Last Night', called 'South to Sian'. Any of you unfamiliar with Deus Ex Machina, they are a Sydney born company with a high Balinese surf and motorcycle profile who have taken over from Steve McQueen as the king of cool.
The Deus identity is a mix of retro throw back short shorts, bonzers and heavy glassed McTavish logs; with the thrown in spice and thoughtful rebellion of Ryan Burch
Based in Bali, their compound is known as the Temple of Enthusiasm, and will have you redrawing your man cave plans immediately. From surfboard shaping bays to motorcycle workshops and artists studios – the Deus HQ is far from a clinical corporate office; it is a factory of creation, or I guess; a Temple of Enthusiasm.
Here at the Surf Simply resort in Costa Rica, most of us zip up and down the dirt coast roads on Honda XRs, so it was no surprise we had a 'nose pushed up against the glass moment' when checking out the Deus Customs motorcycle website. Anything previously on my christmas list has been replaced with Honda CB cafe racers, and Kawasaki W dirt trackers.
The Deus director (and creative thread holding the short shorts together) is Dustin Humphrey. Dustin is the mind, body and soul of Deus in Indonesia, and has been travelling the area for 15 or so years, first as a photographer. With Dustin's background knowledge, along with Noosa loggers Harrison Roach and Zye Norris they set out to document something dear to them; Indonesia. Photographer Woody Gooch, producer Anthony Dodds, and director of photography Andre Fauzi provided the backbone to capture this endeavour.
Harrison Roach has become the poster boy for heavy glassed logs and the Deus ex Machina brand. Over the course of the trip Harrison wrote diary entires, which Deus then put together with supporting photos from Woody. Instead of the classic hush hush approach and anticipated premier, Harrison and Zye drip fed the photos in real time through Instagram to their followers, connecting this potential audience, and inviting them to follow and share the journey as it happened. When the film was released, those early photos already had us hooked. We knew they had scored solid Indo, and dreamy volcanic dirt.
"To keep people up to date we had decided to leak images of our journey as it happened. We'd select one of Woody Gooch's photos, he'd edit it and we'd let the world know what we'd been up to that day. In Lombok (and a lot of other places) this proved difficult. It was a half-hour motorbike ride to the closest phone reception. Alas, that was how we were rolling." – Harrison Roach.
The trip started in West Nusa Tengerra and followed the West side of the Indonesian Archipelago up to North Sumatra; imagine New York to Las Vegas in an old truck; with ferry crossings, endless roads and the odd active volcano thrown in. If you've been to Indo then a few iconic surf spots might flash to mind, but in the spirit of quiet exploration the film locations featured can only be identified by the shape of the wave; a subtle touch of class.
"Riding boards and bikes through the day, collating and editing photos by night, searching out a WiFi signal wherever we could and sending our exploits to the world. This was only the beginning, but already, the endless possibilities of adventure were presenting themselves at every turn." – Harrison Roach.
So what might one need on a trip of this nature? A lot would be the short answer. Travelling light is heavy work, but Deus equipped the boys with two Yamaha Bysons, close to 20 surfboards ranging from 4'11 to 10'0 – they clearly considered the variety of waves in Indo, and the couple of team riders that excel in variety.
The mule? A 20 year old long wheel base Land Rover defender.
Their ambition was to avoid busy lineups and tourist traps. But having some of the best waves in the world, means from time to time you might have to share your Bintang. Whether it was clever camera angles, or an 'up with the sun' schedule, the lineups looked empty. Creative arm Andre sent session by session clips back to Dustin at the Temple of Enthusiasm, so that his original vision wasn't diluted by the practicalities of filming in remote locations.
"Andre would be awake by his laptop with a coffee and cigarette long after the rest of us had gone to sleep. He'd select the best clips of the day and send them via Whatsapp to director, Dustin Humphrey. Dustin would watch and converse with him about which angles to shoot and which lenses to use." – Harrison Roach.
Without the back story, you'd assume Harrison and Zye were carved out of the volcanic rocks that edge the archipelago; negotiating the two story drops and freight train lefts as if they were the sand bottom point breaks back home; minus only the reef rash.
The journey continued, and another recreation was calling.
"After packing up our gear and leaving the heaving swell, Zye Norris and I each wore a handful of new "tiger stripes" on our skin. Plain and simple, it was time to do some riding." – Harrison Roach.
Picture this; a Balinese volcano, dust clouds, lens flares, wheelies, leather jackets and Agi Agassi. Deus was now exhibiting its drone pilot, and custom bike department. Both bikes were dirt trackers, aggressive in styling, with taco tires and wide fenders. Agi was a local, and either had helium in his lungs, or just wasn't shy of jumps. An empty race track designed by the organic flows of Balinese lava.
"Agi is a great Indonesian rider with a love for custom two-strokes. He's also as fast as a bat out of hell, and on his tour around the place we ate more dust than we would've liked. Local insight always heightens the experience. Agi showed us places that we could never have imagined existed." – Harrison Roach.
4000km is a lot to cover without a bit of maintenance, and since West Bali is Deus' home turf, Canggu and the Temple of Enthusiasm called out. Plus it was time to showcase what Harrison and Zye are more known for; logging. Heavy logs and fast running breaks make for a super session sprinkled with a new face to the film; Jared Mell, a switch stance Californian with a "you never know whats coming next" style, as Harrison put it.
"We had a chance to get out on our longboards and even a few sessions body surfing. There's a wedge there that people consider to be too big on proper swells, but for us it's the perfect body surfing bowl. It was true that we eventually swapped the dust in our hair for a thick mat of sand." – Harrison Roach.
Leaving Canggu, climbing into the mule, and onto the Bukit Peninsula. A performance right hander, shorter boards and an indie-electro song by Mansionair that's been added to my play list. Songs can often make or break a movie – View from a Blue Moon for example nailed it; high energy and thoughtful. South to Sian at times danced the line between cliche and cool, with sunsets and guitar playing. Moments of marriage though were the fading light right hander with 'How You See the World' by Charles William, or bodysurfing in Canggu with 'Good News Blues' by Doug Jerebine, complimenting, without complicating.
"No Indonesian surf trip is complete without a trip to the peninsula's famously fantastic, long left-handers. And though the waves have been ridden for decades, they spill peel as well as anywhere." – Harrison Roach.
The magnetic Mentawai proved too strong to resist. A yacht, the motorcycles and a rich quiver saw the boys ride through the swampy inner jungles before basking in the rich sun and blue water. Logs stayed dry, finless and experimental boards took centre stage. The duo danced on low risk, high fun all white finless boards – perhaps from the mind of Dereck Hynd. Head high slip and slide, party waves and some rail game show offs; topped by some funky guitar licks from the before heard Doug Jerebine.
If I were to compare South to Sian to any other film, it might be The Endless Summer; capturing the emotion of surf exploration, without a booking agent in sight. Modern discovery has become so clinical, particularly in an area of the world where resort stays are one click away. South to Sian rediscovered the old route and interpreted it for modern eyes; so if an Indo road trip runs in your veins, then this film won't disappoint you.
Few films gather an audience, and fewer still connect with that audience. Harrison's diary entries and narrations provided the personal insights often neglected in surf films, and the final quote from Harrison is the perfect place to end.
"After more than 4000km our journey was drawing to an end. Neither of us could imagine going home. Walking out across the reef, we knew this was the perfect place to end our travels." – Harrison Roach.
Surf Simply PodcastRating:
Ru 9/10
Harry 7/10
Asher 10/10
Will 10/10
Watch the trailer here: Deus Ex Machina presents: South to Sian