Travel
Departure 
Gate: 
South 
Island 
(East 
Coast), 
New 
Zealand 
-
Words by Kim Feldmann, images by Kim Feldmann de Britto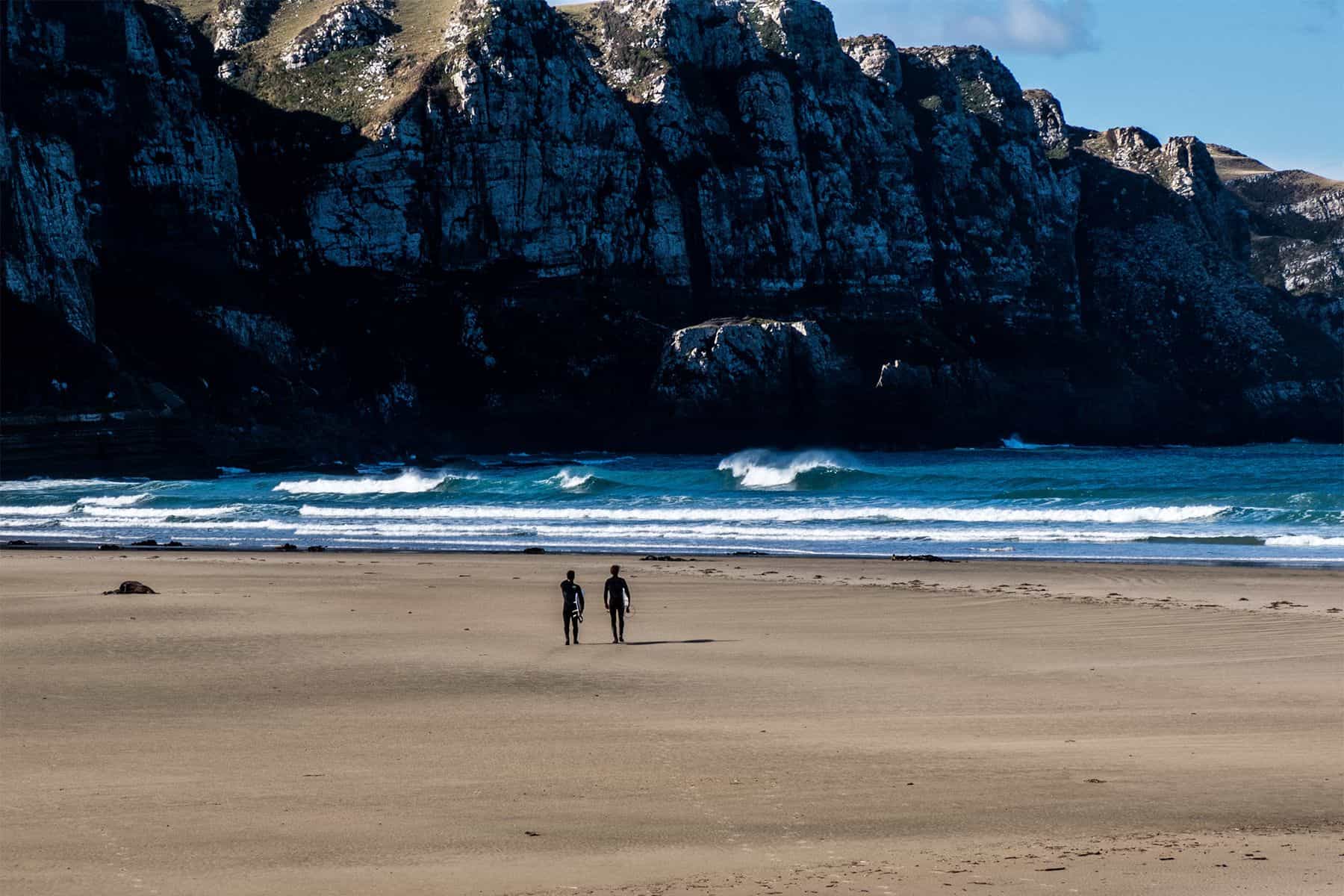 Many people would say that the best thing about New Zealand is the fact that you can cross from the eastern to western shores of either island in just a matter of hours, and yet still witness an incredible range of different landscapes in the process. For a surfer, the bi-coastal options means increased access to almost any swell. Despite being a bit of a cliché such a dream is achievable in the South Island, and together with the island's changeable weather, incredible wildness, (mostly) rural structure of life, and the raw beauty of its coastline, it truly evokes the spirit of a surf adventure.
Assuming that you have read our Departure Gate articles on Raglan or the Tarakani Region, and are therefore familiar with New Zealand's ability to serve up quality waves, the importance of having a car can't be stressed enough if you plan on exploring the South Island's full potential. Unobstructed by any other chunk of land, the South Island's east coast is exposed to any swell coming from the NE-S range, favoring those that pulse from SE and hit the more exposed spots of the south at a powerful, big-wave-producing intensity. The coastline of the South Island, as it concerns surfing, could be roughly subdivided into five main regions: Kaikoura, Christchurch, Timaru, Dunedin, and The Catlins – without counting the Invercargill region, which is actually the south coast, rumored to be sharky, and is far too cold!
If you've arrived in Auckland there's the option of catching a domestic flight to Christchurch or driving/busing/training to Wellington and then hopping on a ferry across the beautiful Cook Strait to Picton – the latter being far more rewarding as far as journeys go. As you drive out of Picton, heading south through the vast vineyards of the Blenheim area (known for its splendid Sauvignon Blanc varietal), the smell of brine starts to become more evident. The beauty of the first stretch of highway that leads to Christchurch is its proximity to the shoreline. One can drive along the coast, check the surf at Mangamaunu, Meatworks, Kaikoura, and Oaro, and if things look favorable, pull over for a session in the cold South Pacific. Out of the above mentioned spots, the boulder-bottomed Meatworks is usually the most reliable option. It's easily accessible by turning off after Mangamaunu, going over a train track and along a gravel (metalled, as they term unmade roads in NZ) road, until spotting a beach toilet and a parking area. This wave is short, goes both right and left, and depending on the tide and swell size can break right on the rocks. Since it's so close to the tourist town of Kaikoura, it's often crowded. Still, even with a lot of people in the water, you can still contemplate the surrounding mountains while waiting for your next wave. Around the regions of Christchurch and Timaru, there is an array of surf spots – from the extensive, peak-laden beach break of New Brighton, to the long, right-hand point-break of Jack's Point just south of Timaru. These are great options for those who wish to squeeze a session between drives but in spite of their potential don't really offer much of the South Island wildness one would expect.
Upon entering the Otago region, things start getting more interesting, both in and out of the water. With strong Scottish and Maori heritage, Dunedin is one of the best surf regions in the South Island, with an impressive number of banks one after the other. Even with the low water temperatures there is a strong local surf scene – many of these surfers are students. Just before entering the city it is worth checking out the spot of Aramoana, which can be tricky to find but if the swell is pumping from the NE it is sure to produce some quality, hollow peaks. Two suburbs of Dunedin, St. Kilda and St. Clair, share one long stretch of sandy beach facing south – the first suburb hosting a versatile beach break consistent enough to provide for the locals, whilst the latter has the charm of a right-hand point added to its also mainly beach-break features. Both spots work best on a southern swell, with the wind blowing from the NW. There's a huge tidal range here – which usually affects smaller days – but otherwise the waves are easy to read. Fortunately, once you head out of Dunedin southbound, the road rejoins the coastline and sticks to it for a good 20km before turning back to Highway 1. The town of Brighton features a spot with the same name, which is worth checking out if the swell has any south to it as it's just off the main road. This right-hand point peels along a small peninsula and can produce long, fun walls on a good day. Ironically, even though only a 20-minute drive away from Dunedin, it is rarely crowded.
Despite having a plenty to offer a visiting surfer, Dunedin – and all other regions along the east coast of the South Island for that matter – may seem too populated to tick all of the wilderness surf boxes, even for South New Zealand. That's not the case with the Catlins. Adjoining the regions of Southland and Otago, this area is a Conservation Park, with good reason. Most surf spots are accessed by meandering gravel roads that ultimately lead more adventurous souls to secluded beaches where they can catch uncrowded waves, make beach fires, and sleep out under the stars. Needless to say, you will need a vehicle in order to explore this region to its fullest. Of the many spots the available, PK Bay frames the idea of surf mission around this latitude: cold, raw, unpredictable and yet, beautiful. To get there, watch out for signs after the town of Owaka and then head into the "jungle", keeping to your left at a fork in the road that will otherwise take you to the (also good) spot of Long Point. There is a cabin housing a toilet by the beach, but no drinking water – only a stream that passes by the grassy patch (where you'll probably park your car) and which runs out to meet the sea. This bay has a long sandbank that produces different peaks between its headlands, with the northern section offering the cleanest lines under the shade of a towering cliff. The wave itself has that mirage feel: it looks small and friendly from the outside but actually packs quite a punch when you get to the outside. Apart from that, you're in for clean rides with great chances of getting barrelled since the sets can be quite hollow.
When someone somewhere mentions New Zealand's South Island, it usually includes reference to both its astounding natural beauty and how miserable the weather can be. Regardless of any natural challenges that this raw part of the world may present, more practical aspects such as the quality of the roads, relatively easy access to drinking water and electricity while traveling, safe and organized camping facilities, and good cost-benefit (since you can cut accommodation expenses by renting a camper van), are even more reason for you to not think twice before purchasing that plane ticket.
PS: if you happen to drive through or near Wanaka, make sure to ask around for the Hawea River Wave!
When: This coastline works all year round, but it's probably better to avoid the Southern Hemisphere Winter months.
Where: Fly to Auckland (AKL) and drive or take a bus or train to Wellington, then a ferry to Picton; or catch a domestic flight to Christchurch (CHC).
How: a selection of short-boards.
Why: Variety of accessible yet no so crowded spots combined with amazing landscapes and a bewitching air that is unique to the South Island of NZ.