Travel
Departure 
Gate: 
Raglan 
-
Words by Mat Arney, images by Sam Wakerley and Mat Arney & film by Bruce Brown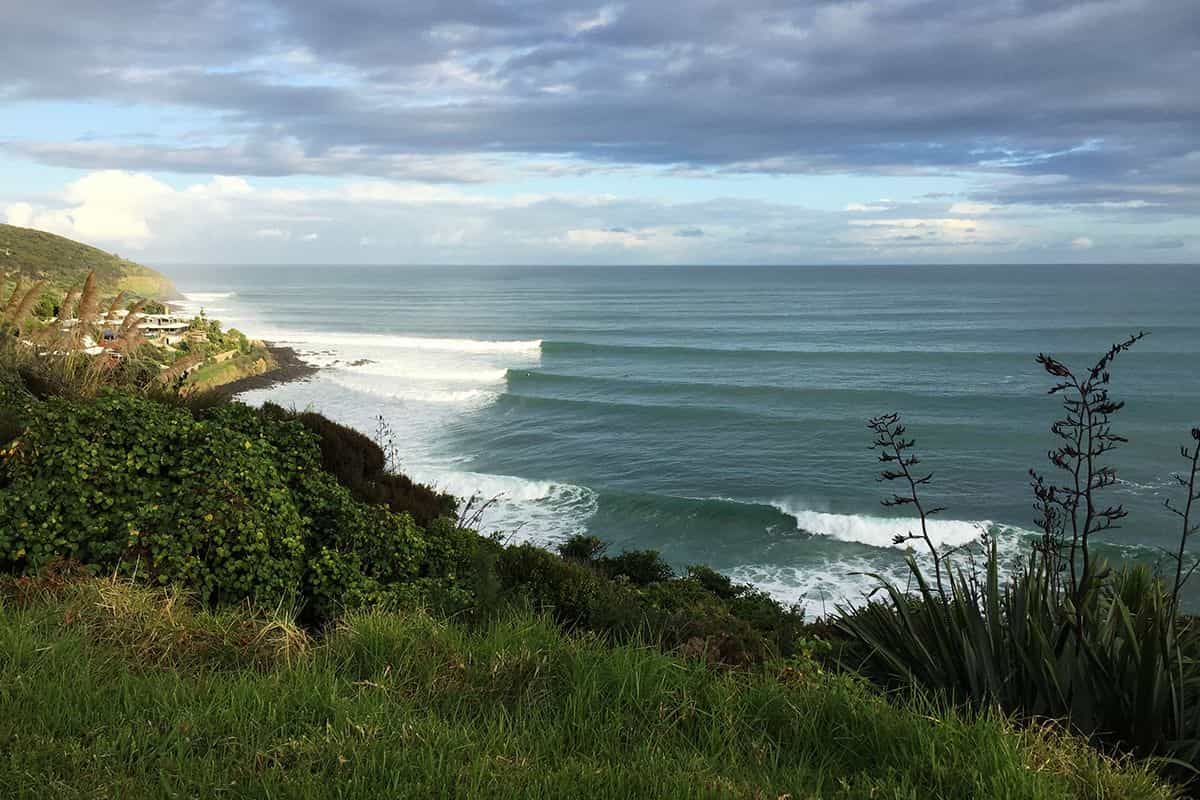 New Zealand is a country that packs a lot more punch than seems fair for an island nation of just over 4.5 million people living on two islands in the south western Pacific Ocean. "The Adventure Capital of the World" markets itself largely using its incredible natural environment, and beyond its snow capped mountains, glaciers, fjords, hot springs and subtropical islands, it is also blessed with good waves; the sort of waves that you'd expect from islands in the southern Pacific that sit in the way of swells generated in the roaring forties.
At 990 miles (1,600km) long and only 250 miles wide (400km) at its widest point, New Zealand is a long, thin, country and has a lot of coastline – approximately 9,300 miles (15,000km) – which means that despite some stretches of its coast not having surfable waves, not being open to swell or being largely inaccessible, it is still littered with waves. One area that doesn't suffer from any of the above is Raglan, on the central west coast of the North Island, and the succession of three long left hand pointbreaks just 5km southwest of the town are the main reason that a lot of surfers pack their boardbags and board a flight.
A couple of hours drive south from the city of Auckland, where most visiting surfers will step off their plane, is the small town of Raglan. The town itself sits on the south coast of the inlet to Whaingaroa Harbour, a large drowned river that runs seven and a half miles inland from the coast, and has managed to retain much of its small coastal town charm. As you approach Raglan on the main road from Hamilton (the nearest city) the first sign that you're nearing your destination are the enormous wind turbines, some of the largest in the world, that come into view on a hillside to the south before you start to pass some of the wooden holiday cabins (known as "bachs" in New Zealand) and eventually pull into town. Set back from the waterfront, Raglan exudes an air of sleepy cool, in a similar way to Byron Bay, with a high street lined with surf shops, cafés and real estate agents either side of a central pub. To get to the points you have to cross the bridge over the estuary and head south out of town on Wainui Road, however on the right day the sand bar across the mouth of the estuary can produce incredible rights.
The road out towards the point breaks goes past the beach that stretches south from the mouth of the harbour and it's dotted with occasional surf stores or cafes, and you'll also pass a small wooden church and the town's museum. The first point, the last in the line of three that wrap in towards town, is Manu Bay. Manu Bay road doubles back as you turn right off Wainui Road and the sight of the wave peeling down the point out of the passenger window could prove distracting as you find a space to park your car. Manu Bay is the wave that was featured in the original Endless Summer; a long, rolling left-hander that peels across the bay in front of the boulder point that offers nice wall sections for maneuvers and is best on a pushing tide from low to mid. It gets busy because it's the closest point to town and arguably the easiest to surf, however there are lots of take-off points and the crowd there is widely regarded to be competitive but respectful. The end section known as "the Ledge" offers a hollow section should you make it through that far down the point. You can take your chances with your fins and go in off the rocks to get out to the line-up, or take the longer paddle up from the boat ramp.
The next point up the road is Whale Bay; turn right off Wainui Road onto Calvert Road and try to find a spot to park around Tohora Close – good luck when the waves are good. Whale Bay is another long left hand pointbreak, and is the softest of the three main waves at Raglan, best again on lower stages of tide. There's a big rock part-way down the point which you'll need to avoid (unless you're surfing Whale Bay on a large swell and low tide), and as it gets bigger it breaks further out from the rocks and as a result gets a bit softer. It's therefore a popular spot when the swell is a decent size as it's easier to surf, but also because it picks up more swell than Manu Bay it gets busy when there's not quite enough swell to get Manu Bay going. Beyond Whale Bay is Indicators and, outside of that, Outside Indicators. Indicators is the break of choice and suitable only for more experienced surfers; it's a faster wave that can offer several opportunities to get barreled and has some cutback sections, and has a shallow inside section. Indicators is the preferred break of many of the locals although you wouldn't label it as "localised" as the Kiwis are a mellow bunch on the whole and they'll simply let their surfing do the talking.
Back on the road (Whaanga Road) the tarmac soon turns to dirt and heads south, up and over a ridge-line. You'll get great views of the coast heading south, although it's inaccessible, and the road continues winding down until you come to Ruapuke Beach. Ruapuke is a long black sand beach with multiple peaks that picks up heaps of swell – so much so that it's only really an option when Raglan's points are flat. It's very exposed and there'll be lots of water moving about, but you may find a little more regularity and shape at the south end in the lee of the cliff headland.
Raglan is undoubtedly the name that sits at the top of the list for any surfer visiting New Zealand regardless of which foot they put forward, and with good reason. Consistent swell and a series of pointbreaks that can handle a good size range means that this small area can provide something for everyone. The town is well set-up for visiting surfers with a camp ground, hostels and more upmarket accommodation to choose from. Should your shoulders need a break from paddling back up the point, or if you get unlucky with the wind or the waves, then New Zealand certainly manages to cram an awful lot into its relatively small surface area so you won't be stuck for things to do. In fact, if you don't do anything else but surf then you'll probably doing yourself a disservice, particularly if you've travelled a long way to get to NZ. If it's outside and adventurous then you'll be able to do it here – the options are far too numerous to list. But, whatever else you end up doing on your way to or from Raglan, just one good wave here will likely define your visit to "the land of the long white cloud" more than any zipline or bungy jump ever could.
WHERE: Fly to Aukland International Airport (AKL)
WHEN: March to May
WHY: Long, rippable lefthand pointbreaks
HOW: Standard Shortboard and perhaps a fish/hybrid for smaller days.