Travel
Departure 
Gate: 
North 
West 
Puerto 
Rico 
-
Words by Mat Arney, images by Rachel Tanner & film by Matthew Pappas/Superbrand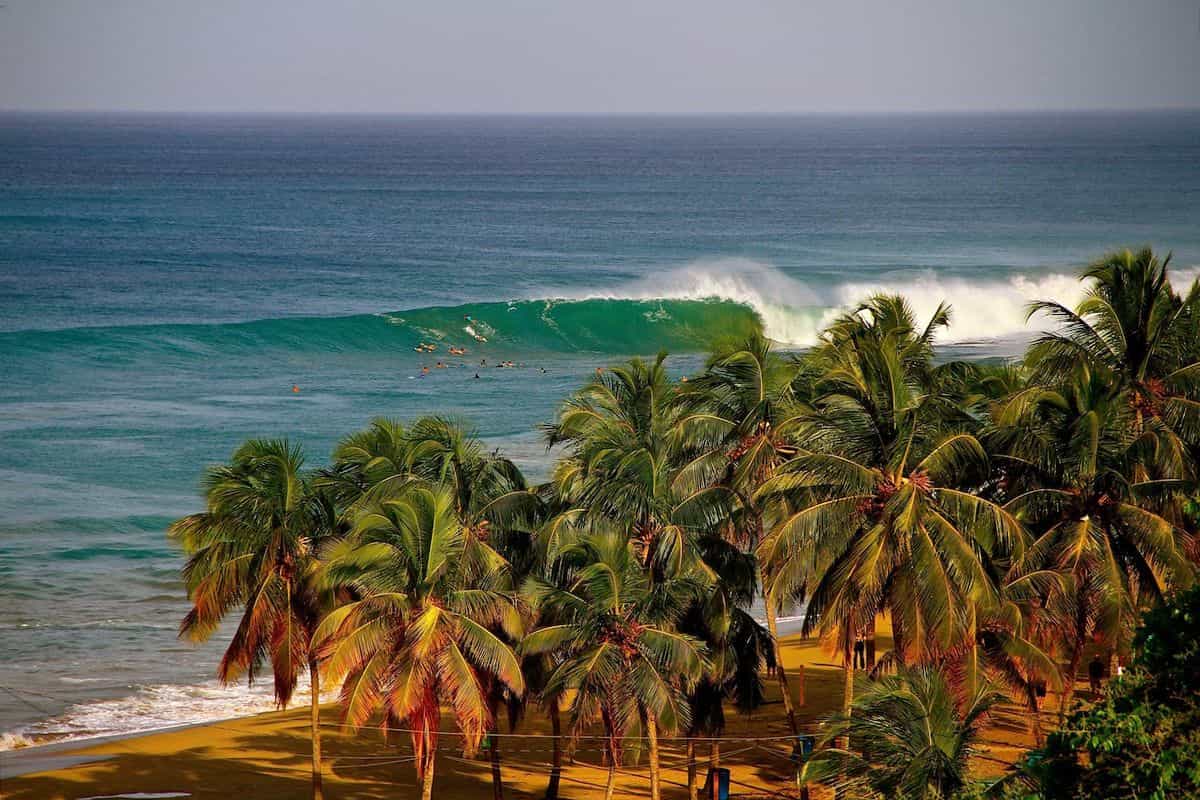 What if we told you that at this time of year there's a tropical island where you can surf world-class waves out front of palm-tree lined beaches, and that said island wasn't Oahu? You could be forgiven for not believing us as news feeds across the surfing community were filled almost exclusively with doings on the North Shore all December long (deservedly so), however over in the Atlantic Ocean, Puerto Rico offers a tempting alternative for those surfers not bound by contest commitments.
Image: Rachel Tanner
The westernmost of the Caribbean's Leeward Islands (comprising Puerto Rico, the British Virgin Islands and Anguilla), Puerto Rico has 311 miles of coastline with its north coasts facing directly into the North Atlantic. Trade winds blow reliably from the east and southeast which is offshore on the island's wave rich northwest coast. Puerto Rico is an unincorporated U.S. territory and is officially known as the Commonwealth of Puerto Rico; the Spanish ruled the island for four centuries (1493-1898) and their influence still dominates the culture and traditions of Puerto Rico, with Spanish being the primary official language and the language spoken by over 95% of the population. Being a U.S. territory, American citizens can visit Puerto Rico without a passport and the currency is U.S. Dollars which makes it an attractive and very popular destination for East Coast surfers, particularly at this time of year.
A big set breaking at Tres Palmas. Image: Rachel Tanner
Puerto Rico boasts a wide range of surf spots, from fun beach breaks through heavy reefs and slabs right up to the sometimes-enormous waves at famous Tres Palmas. Many of the best and most well-known breaks are clustered in the North West of the island in the municipalities of Rincon, Aguadilla and Isabela, which is where this guide will focus. In Rincon, Tres Palmas is one of the western-most breaks on the island, and is its well-known big wave spot as well as first marine reserve. An underwater trench focuses large groundswells onto the end of a long stretch of reef that hugs the coast around Rincon, with waves starting to break at around double overhead. A large channel to the south provides some comfort however it's a big, heavy, spot and getting caught out by a wide set when there's west in the swell is no laughing matter. Moving north, the flat stretch of reef that connects Maria's up to The Point and Indicators provides walled-up right hand point waves that are offshore in the trade winds, however it is almost without question packed with wave-riders of every description. Moving around the top of the point is the small bay of Domes, the main location for the 1968 World Surfing Championships named after the large and very visible cement dome that housed an ill-conceived nuclear power station through the late 1960s and early 70s that makes it look like the set of an old James Bond movie. Domes is more protected than its southern neighbors however it doesn't handle size very well and sections a lot.
Image: Rachel Tanner
Heading north up the west coast away from Rincon towards the city of Aguadilla you come to Crash Boat Beach, a rare bowly right that peels down the sandbar created by an old Navy jetty. The wave comes out of deep water and hits the shallow sandbar close to shore on a higher tide during large swells. It's a busy beach and very crowded when it's on.
Image: Rachel Tanner
A little further on is Puerto Rico's most well-known and photographed wave: Gas Chambers. An incredibly fickle tubing right hander breaking over a sand covered reef directly in front of a low, jagged, cliff that bounces backwash straight back out into the line-up, Gas Chambers is as good as it is rare and therefore incredibly crowded with the best local and visiting surfers.
Image: Rachel Tanner
Once around the airport (formerly Ramey Airforce Base) and onto the north-facing coast of the island you come to the a-frame reef set-up at Surfer's Beach which offers a long right and short left (although north east swells make more of the right). Further east, Jobos is a right hand reef break that does a great impression of a pointbreak as the wave breaks off the rock at the eastern end of the bay and refracts into the beach. A fast wave, it's popular with both regular surfers and also as a contest venue thanks to it's incredible consistency. Middles was the location for the 2010 Rip Curl Pro Search event, being as it is a world-class barreling right, breaking close to the beach over a reef that picks up any swell with some north in it. It's another hugely popular wave when it's breaking well, but deservedly so.
Image: Rachel Tanner
In the Northern Hemisphere winter, storms off the East Coast of America and further out in the North Atlantic produce regular swells that break on the North and North West coasts of Puerto Rico. It's an easy destination to reach for surfers from the length of the Eastern Seaboard, and a far warmer option in winter for those from the North East, so is a popular destination. Add these visiting surfers to the local population of surfers and bodyboarders, and you've got a recipe for sitting around not getting many waves at the prime spots when they're on. Aside from a selection of very good waves, Puerto Rico also offers visitors everything else that you'd expect from a tropical Caribbean Island (beautiful beaches, turquoise waters, rainforest and palm trees lining the beaches etc) as well as a good dose of history and culture in the old neighborhoods of the capital San Juan, which is the second oldest European-founded city in the Americas (after the Dominican Republic's Santa Domingo) dating back to 1521. If it's on, though, then you could be forgiven for heading straight to the North West corner of the island and doing nothing but surf.
WHERE: Fly to Luis Muñoz Marín International Airport (SJU) in San Juan or Rafael Hernandez Airport (BQN) in Aguadilla
WHEN: November to February
WHY: A range of good and very good waves in a tropical setting.
HOW: Shortboard and maybe a step-up. Pack a longer gun if you fancy taking on Tres Palmas on a big day.