Travel
Departure 
Gate: 
Mozambique 
-
Words by Kim Feldmann, images by Mat Arney, Tom Harrington, Cam Anderson & film by Stab Magazine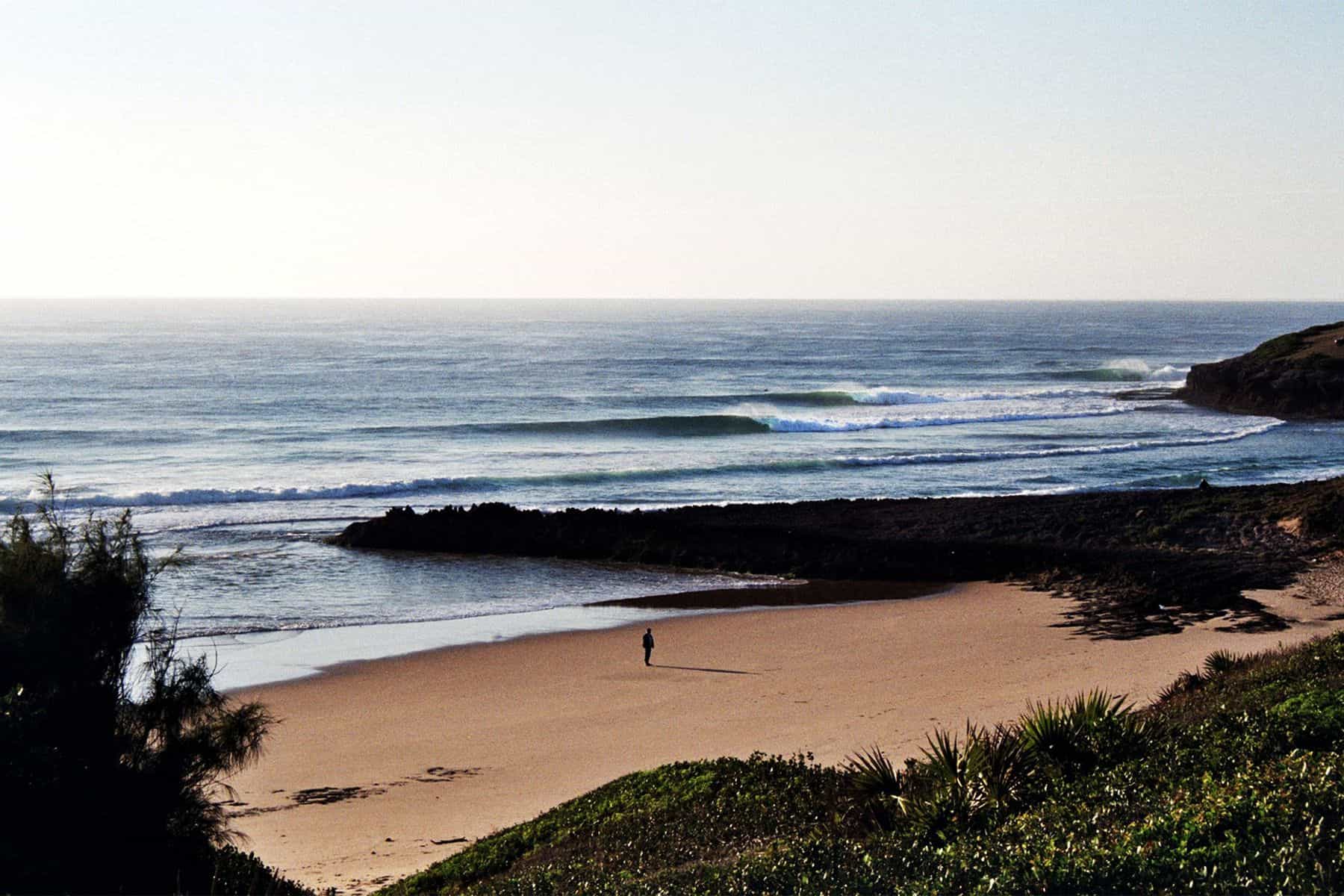 Despite having 2,500 kilometres (1,600 miles) of coast along the western edge of the Indian Ocean, Mozambique, which sits between South Africa and Swaziland to the South and Tanzania to the North (with inland borders with Zimbabwe, Zambia and Malawi), is an oft-overlooked surf destination. Surf-wise, its warm-water, wave-laden points remain less well-known than they probably should be – besides South African surfers and some surf media, not much is seen or heard of this former Portuguese colony and its waves. Maybe that's down to the difficulties involved in getting there; maybe because of the even-harder undertaking that exploring the country's coast presents; or perhaps it has something to do with all the preconceptions (some well-founded, many now outdated) that the country's history of civil unrest, violence, flooding and disease lingers on. Regardless of the reasons behind its continued low profile, the fact that swells keep rolling in and producing some of southern Africa's most fun tropical right-handers is indisputable, and indeed alluring to those surfers with a taste for adventure as well as waves.
The surf season in Mozambique stretches from April through to early October, peaking in June/July. But even in high season, the majority of point breaks in the country (some of which are as high-quality as neighbouring South Africa's best waves) are far from having the sorts of crowds that you'd experience in more well-known destinations.. That notwithstanding, with Madagascar obstructing much of Mozambique's coast from open-ocean swells, swell direction is key: although most spots will will work on anything from the east, it is often the influence of some north or south in the swell that makes it pump rather than simply good. Both weather and water are boardshort-friendly all year round; what is not friendly are the mosquitoes, so be sure to be prepared with malaria medication or at least take precautions and sleep under a net.
Most surf trips to Mozambique will begin in South Africa, either flying into Johannesburg and then taking a connecting flight or travelling overland to Mozambique's capital Maputo.. Alternatively, those who are already in South Africa may opt to head north along the coast from Durban, past Richards Bay and Sodwana Bay (two high-quality waves), until reaching the Kosi Bay border crossing. Depending on the duration of the trip, budget,you're your threshold for adventure, it is advisable to rent a car (preferably a 4×4) in South Africa (where car rental is cheaper and more accessible), as public transport in Mozambique can be slow, crowded, unreliable and often unsafe, given the poor condition of roads combined with the carelessness of drivers. Regardless of which direction you're coming from, the first spot to keep an eye out for is Ponta D'Ouro – a small nook situated 120km south of Maputo and only 15km from the southern SA-Mozambique border checkpoint.
Before the long white-sand beach stretches north and away from the village of Ponta D'Ouro, it wraps around a small peninsula, forming a bay that is hooked enough to allow swells to roll in (particularly those coming from the northeast) whilst sheltering the point from southerly winds. Ponta D'Ouro may be small and secluded, but on a solid swell, especially on a weekend, this little village is swarmed with South African surfers seeking warmer waters and, with good reason, the opportunity to ride one of Southern Africa's most exciting right-handers.
Ponta D'Ouro is exciting not only for providing a long and fast ride with a barrel section on take-off (on a good day, some call it the warm-water J-Bay), but for the surge of adrenaline that the insidious slab of reef protruding from the tip of the peninsula provides to anyone paddling out or in (read: tough rips and potential slips when jumping into the water) as well as to those taking off from the outside peak (read: risk of broken boards and/or reef cuts should you wipe out). And yet, as hazardous as it may be, this platform also saves those surfers without a friend on a jet-ski from having to do the long paddle across the lagoon to reach the line-up – it's one of those love-hate relationships.
Needless to say, the point of Ponta D'Ouro is best left to experienced surfers; beginners can opt to surf the beach break further north, where various scattered peaks offer fun A-frames. For those who feel confident both in themselves and their equipment, risk a late take-off on a solid day and you may very well get a barrel that will cause you to stop dreaming of J-Bay when thinking about this part of the world. Plus, unlike J-Bay, the right of Ponta rolls towards a sandbank and, although it may become fatter and lose a bit of power here, it doesn't section that much, allowing you to carry on arcing your way down the line. High tides move too much water and hide the reef platform, so aim to time your sessions around low tide. The village has enough infrastructure to accommodate tourists looking for waves, with restaurants, lodges and campsites, as well as surf shops and ding repair workshops. Should the swell drop there's always the option of taking a diving or fishing tour or simply hanging out in one of the local bars snacking on fresh seafood and drinking a 2M (the local beer, known as "doshem").
Returning to Maputo and heading north some 500km along the coast to Inhambane Province, you'll reach the next prominent peninsula and the village of Tofo, home to arguably Mozambique's best wave – the right point at Tofinho. There are accommodation options at Tofinho, but many people choose to stay in Tofo for its better infrastructure and tourist facilities which, in contrast, will mean walking at least 30 minutes each way every time you want to go for a surf at the point. If that's the case, however, then consider grabbing some water and fresh fruit from the local market and making a day out of it. There's shade to be found at Tofinho Beach and on the grassy headland that overlooks the wave.
Tofinho's set-up is very similar to its southern sister Ponta D'ouro – long reef to sand-bottom right-handers that start over a reef platform sticking out from the beach creating a sort of barrier right in front of the peak – only the bay has less of a hook shape and shallower banks than Pont D'Ouro, making it open to a wider swell window and offering more consistently walled-up waves. Any swell with a bit of east in it is good, and even the smallest pulses seem to create something surf-able. The ocean around Tofo is well known for its diving potential, but particularly whale-shark and giant manta-ray diving and whale watching, so even if the waves aren't as epic as in these photos then there's still a chance to spot some amazing marine wildlife through the translucent water.
Much like Ponta, the moments before and after low-tide are the best for the waves to roll crisply along the sandy-reef bottom, often hollowing out enough on take-off for a few seconds in the tube before emerging onto the open face. Unless the swell is really big the waves then at high tide the waves will be fat and crumbly. Perhaps nowadays (since the separate occasions when the author and editor visited) Tofinho has become more popular and crowded, but the chances that you'll surf with more than ten or fifteen guys even in high-season are pretty slim.
Mozambique is a long but narrow country (a coastline of roughly 2,500km/1,600mi) and with its poorly maintained roads it's unlikely that any foreign surfers travelling there for the first time will head much further north than Tofo – partially because it is such a time consuming and expensive mission, and partially due to the fact that the most cost-beneficial waves are situated below latitude 23.8569° S. However, should you wish and have the means and inclination to venture further north*, the spot of Diamonds (a point rivermouth right-hander that can roll empty for ages on a good day), between Nacala and Pemba, may be a good option not only in terms of its consistency in Eastern swells but also due to the fact that the Quirimbas National Park is not too far away and with it, various opportunities to get to see some of Mozambique's most pristine marine life.
*Travel to the northern provinces of Mozambique is currently not advised, due to the threat of attacks by terrorists. It was also the region worst affected by the devastating cyclones and floods of the 2018/19 rainy season (October to April) and is the region most likely to be impacted by tropical storms and cyclones.
Where: Fly to Johannesburg O.R. Tambo (JNB) and drive to Mozambique or catch a connecting flight to Maputo International (MPM).
When: April to September.
Why: High-quality right point-breaks with warm water and few visiting surfers.
How: An all-round shortboard, a step-up for bigger days, and perhaps a fish for when the swell drops.