Travel
Departure 
Gate: 
Kerala, 
India 
-
Words by Mat Arney, images by Peter Chamberlain Down The Line Photography & film by Soul & Surf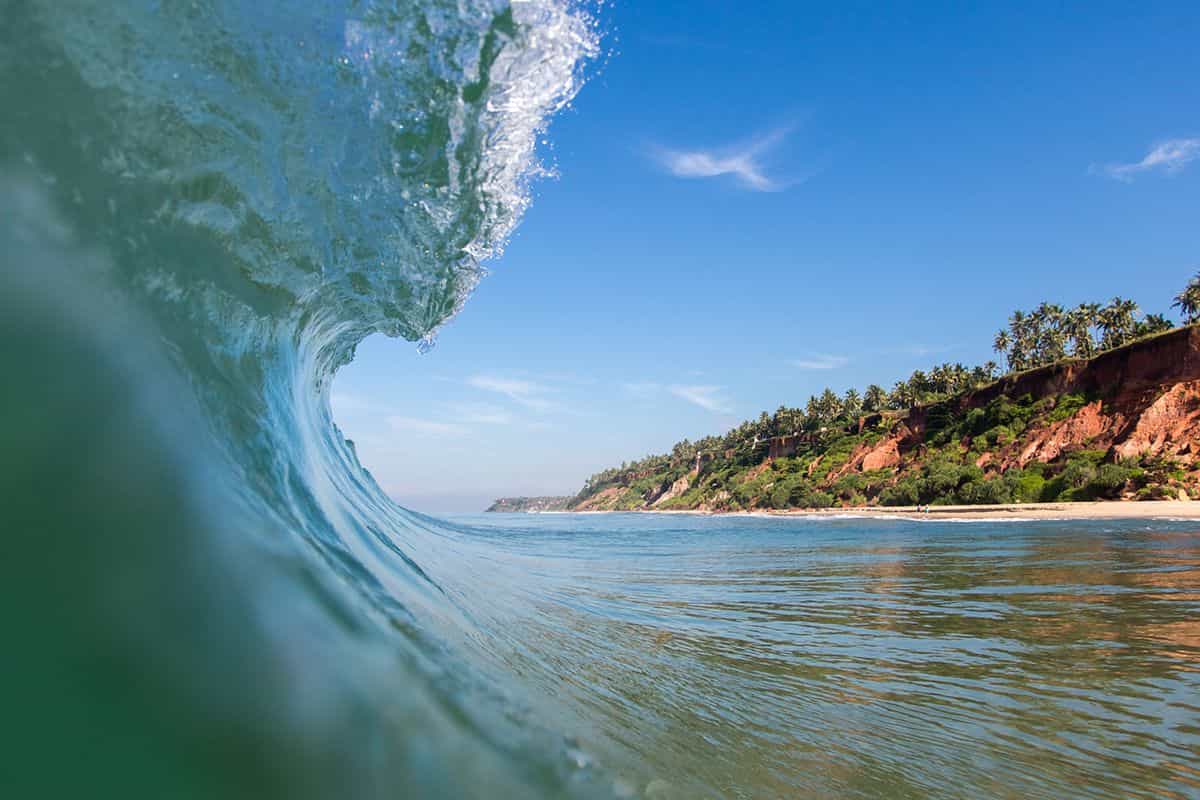 India is many things, but arguably a surf destination is not one of them. Or is it? Whilst eight million travellers visit India last year in search of such things as unique cultural experiences, incredible food, and the difficult to define "spiritual enlightenment" amongst other things, the number of visitors who arrive with a surfboard is still in the hundreds, rather than the thousands. When you spread those visiting surfers (who greatly outnumber the local surfing population) out along India's enormous coastline it becomes apparent that surfing in India is still in its infancy and that getting good waves to oneself is a very real possibility. Whilst the neighboring island nations of Sri Lanka and the Maldives are firmly established on the surf-trail, India, with it's more fickle beach breaks and variable conditions, offers the more adventurous that hard to come-by commodity in the world of surfing – a sense of exploration.
The main focus for surfing in India is Kerala, the coastal state in the south west of India (which boasts 600km of Arabian Sea frontage). It is the south western strip of this state, from around the town of Varkala (an hour north of the city of Trivandrum) down to the southern tip of the sub-continent that we will focus on here with the help and expertise of the team from Soul & Surf, who have been welcoming surfers to this region for six years.
The coastline here is low-lying, sandy, and very straight with few barriers to trap sand making it incredibly fickle. During the monsoon season from June through August the sand is washed south down the coast, whilst for the rest of the year swells push it slowly back north. From September and October through until April and May this south west coast of India receives consistent small swells from the south and southwest, so at the start of this season local surfers must see where the monsoon sand has settled to inform where they will be surfing. During the monsoon season there can be large swells generated by local cyclones as well as the remnants of long range swells from the deep south (the sort that light up Indonesia, the east coast of Sri Lanka and South Africa).
Kerala is famed for its network of inland waterways, and at intervals along the coastline are river mouths that occasionally breach, opening up for several days or weeks and offering a classic river-mouth sandbar set-up for a very limited time before closing up again. Tides are minimal (30-40cm) and have little impact on surf-ability, although most of the spots do work better on a lower tide. It is the wind that has the greatest effect on surfing in India; during the main season between September and May the day can begin with no wind or a light offshore however the vast continental landmass of India causes a sea breeze to come up by mid-morning, blowing onshore and destroying the shape of the waves and with it, any hope of surfing for the rest of the day.
Thirty minutes north of Varkala, where Soul & Surf are based, is a village named Parurvur where there is a permanent (controlled) river-mouth next to a temple. It is a naturally beautiful spot frequented by large numbers of fish (and the occasional spinner shark), with an A-frame (a short right and a much more reliable and longer lefthander) that drifts north over the course of the season before the sand fills in and it becomes a regular beach break.
South of Parurvur is one of the regions more popular (and increasingly crowded, relatively) spots; a left point near the mosque in the fishing village of Edava. There are two take-off spots here; the deepest option is in front of the rocks and barrels from the take-off, whilst the second option a little further down the line and, on mixed swells, sometimes a third option even further along. It is a fast and hollow wave with power and good shape that is shortboardable from waist-high upwards and that offers a fun race-track. Because of the sand bottom the bank can sometimes shift and the wave can section and offer room to turn. Edava is a very consistent wave, and also one that can lull surfers into a false sense of security – it regularly breaks boards.
Half an hour further south near the old colonial British fort at Anchuthagu is a river-mouth with rock groynes. The groyne on the north side has recently been extended which has affected the wave here; there is a good right that breaks of the southern groyne during the off-season, and historically this spot could hold very large swells and offer long rides, however only time will tell what the lasting impact of the groyne extension will be here. Surfing in India has not yet, and is likely a long way off, being economically important enough to warrant being considered when new coastal infrastructure is being developed.
Kovalam is the longest established surf community in India; with two horseshoe shaped bays south of a headland (Hawa Beach, and Lighthouse Beach just to the south beneath Vizhinjam lighthouse) and an artificial reef, it offers a number of different options to surfers. There is a left point that breaks off the rocks near the lighthouse and a right that breaks at the north end, however the artificial reef that was created near here (using giant sand-filled geotextile bags that were unfortunately moved by powerful waves one monsoon season) no longer produces consistently surf-able waves. There are various other waves that can be found in the bays and rocky nooks around Kovalam, and the waves here are usually around one foot bigger than the other breaks detailed further north up the coast. The Kovalam Surf Club has been running for 8-10 years, and is a part of S.I.S.P. (Sebastian Indian Social Projects), a charity founded in 1996 by two Belgians that aims to improve the living standards of socially and financially disadvantaged members of society around Kovalam; local children with full attendance at school get to surf on a Saturday in the hope that surfing will motivate them in their studies. From the Kovalam Surf Club a strong community of local surfers has developed, with some of the graduates of the programme going on to gain employment as surf instructors once they've left school.
16km further south (a half hour drive) is Poovar, famed for its scenic backwaters and lakes. The surf spot here is regarded to be the best on that stretch of coast, however it is seasonal and whilst it works every year it is often for a limited time. When it's on, though, Poovar offers a heavy, powerful, barrelling left.
Surfing in India can be an incredible experience, however a visit here must be about more than just riding waves. As a surfing destination it is fickle and it is possible for several weeks to pass without much more than thigh-high waves, and the strong onshores that blow up by mid-morning mean that it is only possible to surf once each day, early in the morning. Around the major population centres of Trivandrum and Kollam the water quality can be poor after rain, however the spots detailed here usually have good water quality. Female surfers (in fact, female visitors in general) are advised to avoid being alone on beaches outside of the main tourist hubs, and need to wear more than a bikini – particularly at the surf spots located next to Muslim fishing villages to avoid attracting unwanted attention or causing offence due to local religious and social customs.
Whilst the waves in India can be good, surfing will likely be the bonus element of a cultural trip; there are countless temples, boat trips or SUP excursions on the beautiful backwaters, colourful festivals and elephant parades to keep visitors occupied and entertained along the coast, or tea plantations to visit in the hill country inland. In short, a surf trip to India will be a memorable one, regardless of how good the waves are.
Our thanks to Soul&Surf for their assistance in producing this article; please check them out if you are interested in guided surf and yoga trips to Kerala.
All images courtesy and copyright of Peter Chamberlain at Down The Line Photography.
WHERE: Fly to Trivandrum International Airport (TRV), likely with a Gulf or Arabian carrier or via Mumbai.
WHEN: Northern hemisphere winter.
WHY: Uncrowded, fun waves with a sense of exploration in a destination with a unique and vibrant culture.
HOW: A small-wave performance board, fish or longboard.