Travel
Departure 
Gate: 
Galicia 
-
Words by Kim Feldmann, images by Cristiano Bins, Caio Guedes & film by Epic TV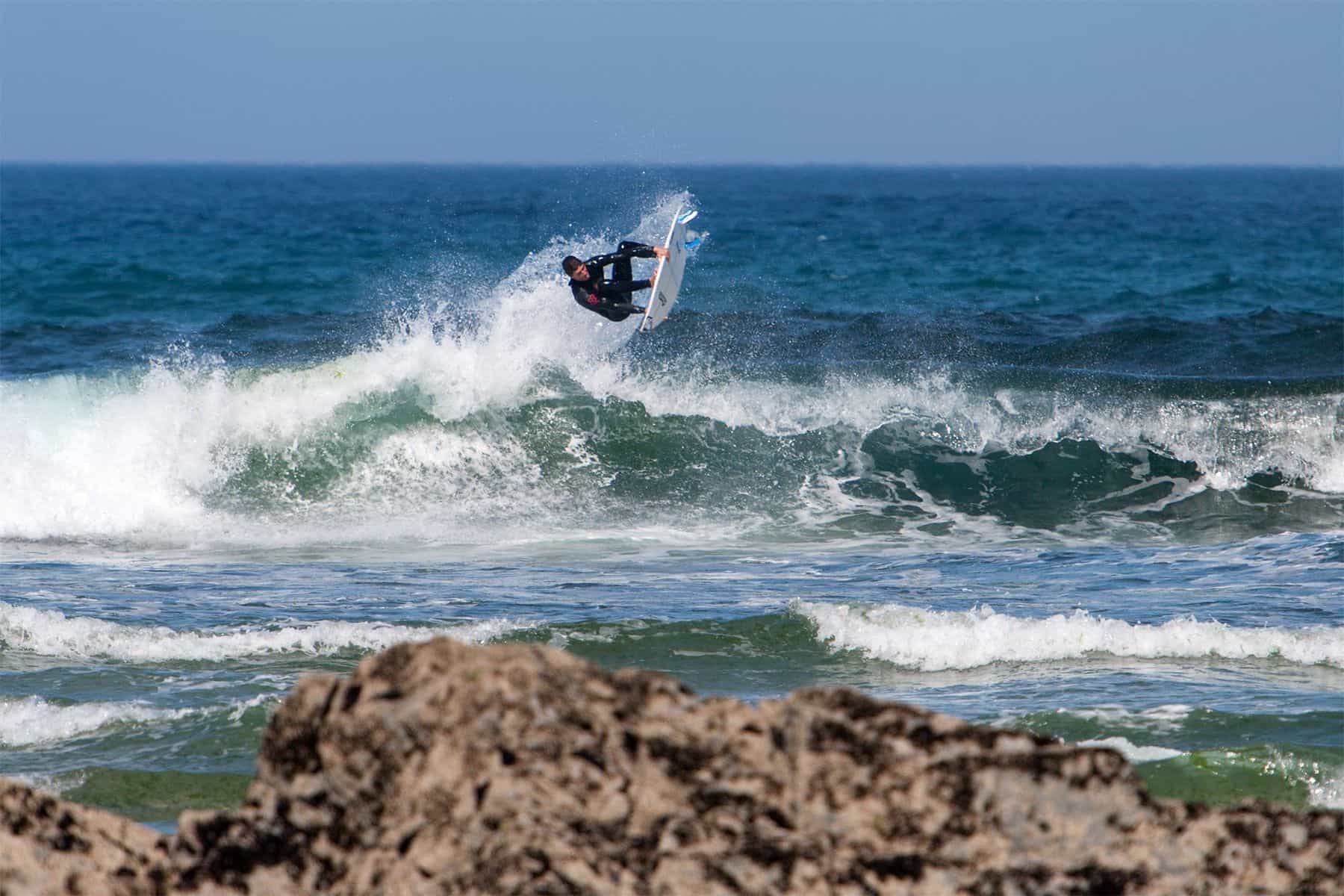 If you had to choose a word to summarise the region of Galicia in Spain, it would have to be "wild". A rugged stretch of intensely green coastline filled with bays, peninsulas, small islands and sandy beaches that is constantly at the mercy of the unforgiving North Atlantic Ocean, it is a region that somehow manages to be both charming and captivating.
Resting on the far away north west corner of Spain, in an area between Portugal, Lugo and the North coast, the region of Galicia is an often forgotten gem of Western Europe, especially when it comes to surf. Its coast kisses the Atlantic Ocean and is completely exposed meaning that any Westerly swell will hit at full power, bringing rough weather and solid waves.
The Northern Hemisphere Winter is the most consistent season for surfing, but it's also the worst weather-wise with huge amounts of rainfall and incessant winds. The best option is to arrive between August and November, when the waves may be smaller (which can be a plus) but there will be less wind and rain. Many of Galicia's spots are beach/point breaks that lay in small, somewhat sheltered bays, surrounded by little else but wilderness and small villages. The best surf is usually a long way away from any big city – which makes crowds a rarity – so a bit of planning and a good map are a must.
It'd be nearly impossible to put down and describe every single surf spot in the region, as there's an immense array of nooks and crannies accessed by many different dirt roads and paths, so it's up to each visiting surfer to rent a car and explore the region by either asking locals or following the map and swell forecast.
Assuming you'll arrive in Santiago de Compostela (SCQ) – which is the regional capital, situated right in the centre – there are options both to the North and the South, so it's all a matter of checking the swell to see which direction to head in first.
To the South:
Louro may be a bit of a drive from Santiago but it's probably your best first choice for a decent (if not great) surf. This is a consistent beach break that works all year round, with uncrowded rights and lefts rolling in to a picturesque, sheltered beach. It's a good option for when the swell turns SW, and if this specific spot doesn't appeal to you then you have the choice of driving a few miles further North or South in search of something else.
Further down the coast – on what seems like another peninsula – is the break of Lanzada, a fairly consistent beach and reef break that also works throughout the year. A SW swell is again the best option and even if the waves are pumping you'll likely be surfing by yourself, which makes the mission of getting there worth it.
Not far from the town of Vigo (where you can re-stock and take a break) is the famous spot of Patos. Although it's not known for its consistency, Patos does offer great beach and reef break waves, both right and left, when a good NW swell arrives. If the swell is right and winds are blowing S-SW it's worth the drive down, though you may find a few more people in the water.
There are a heap of options if you wish to continue driving South from Vigo all the way to Portugal; it'll just take a bit more patience and an adventurous spirit, but when you do find something you're very likely to have it all to yourself.
To the North:
The North of Galicia holds the majority of its "known" spots, especially around the town of Ferrol where you're bound to run into locals checking the surf from the car park in the morning. In order not to get too far off the main route you can head to La Coruna and explore the area from there, before heading up to Ferrol.
Santa Cruz is probably the furthest East you'll get from La Coruna, but the extra mission of getting there and then paddling for 20 minutes (or hopping on a boat) pays off when the conditions are right and you're welcomed by long and powerful waves breaking over reef. It only breaks every so often – in the right Northerly swell and Southerly wind – so make sure to check the forecast beforehand.
Straight out of La Coruna the spot of Sabon offers consistent beach break waves on any Northerly swell, and without too much crowd. But to find something more interesting you should head west of La Coruna, through spots like Barranan and Cayon – which are still quite similar to the beach break of Sabon, but may work better as the wind shifts more to the East – until you reach Razo.
This large and consistent sand/rock bottomed beach which holds a bit more swell and produces longer and more powerful waves than its neighbours. Tides don't matter too much, but it usually starts working at around 1m (3ft) and winds are best coming from the South since there's not much shelter around.
Further North around Ferrol there are quite a few beaches to be explored within a short radius, giving you the option of basing yourself in town while going for short day-drives to look for waves.
Doninos is a very consistent (but crowded) spot near the tip of the Ferrol peninsula. There's a choice of both rights and lefts, which can offer up rather long rides but are for most of the time just a standard beach break wave. There's no need to worry about tides, and any swell coming from the West is bound to bring something surfable.
Further breaks will unveil themselves as you head up along the coast, but they're mainly beach breaks, that are exposed to anything coming from the expanse of the Atlantic Ocean (such as San Xurxo and Santa Comba), and may only differ slightly from one another in topography and optimum wind direction. Going back through the town of Ferrol and heading north east you'll reach another collection of spots – starting with Campelo, and you will eventually get to a deep bay and long stretch of land sticking out to sea, forming yet another peninsula. This deep bay is home to Vares, a hard-to-find (therefore uncrowded) rivermouth that offers both rights and lefts over a sandy bottom, and works best at low tide.
Neighbouring Vares slightly to the west is Pantin, considered one of Galicia's best and most consistent beach breaks – it even has a surf camp set up in the village. Not much experience is required to ride this beach break, and again you'll have a choice of rights or lefts that start working at 0.5m (1,5ft). The wave itself won't blow your mind, but the surroundings may well do.
More spots are to be found NE of Pantin, and finding and enjoying them will all come down to how much time, petrol and energy you have.
Galicia is definitely not a classic "board shorts and sunshine" surf destination. Still, between green hills and deserted beaches you'll find not only a wide variety of quality waves but also inspiring nature and welcoming people, which together make for a memorable surf trip.
It may require a bit more energy and exploration to enjoy it in full, since to get a true feeling for the place and its waves a surfer must immerse themselves in what makes Galicia what it is: the wild.
Where: Fly to Madrid (MAD) or Barcelona (BCN) and then get a domestic flight to either Santiago de Compostela (SCQ), Vigo (VGO) or La Coruna (LCG), from where you can hire a car.
When: Late August till November, and Northern Hemisphere Winters for the more adventurous.
Why: Great variety of fair-quality and uncrowded beach breaks with the odd reef/point, plus breath-taking landscapes.
How: A choice of short-boards for different swell sizes, and possibly a fish for smaller days. Bring a gun in coming in Winter.