Travel
Departure 
Gate: 
Florionapolis, 
Brazil 
-
Words by Kim Feldmann, images by Christian Herzog & film by Surfari TV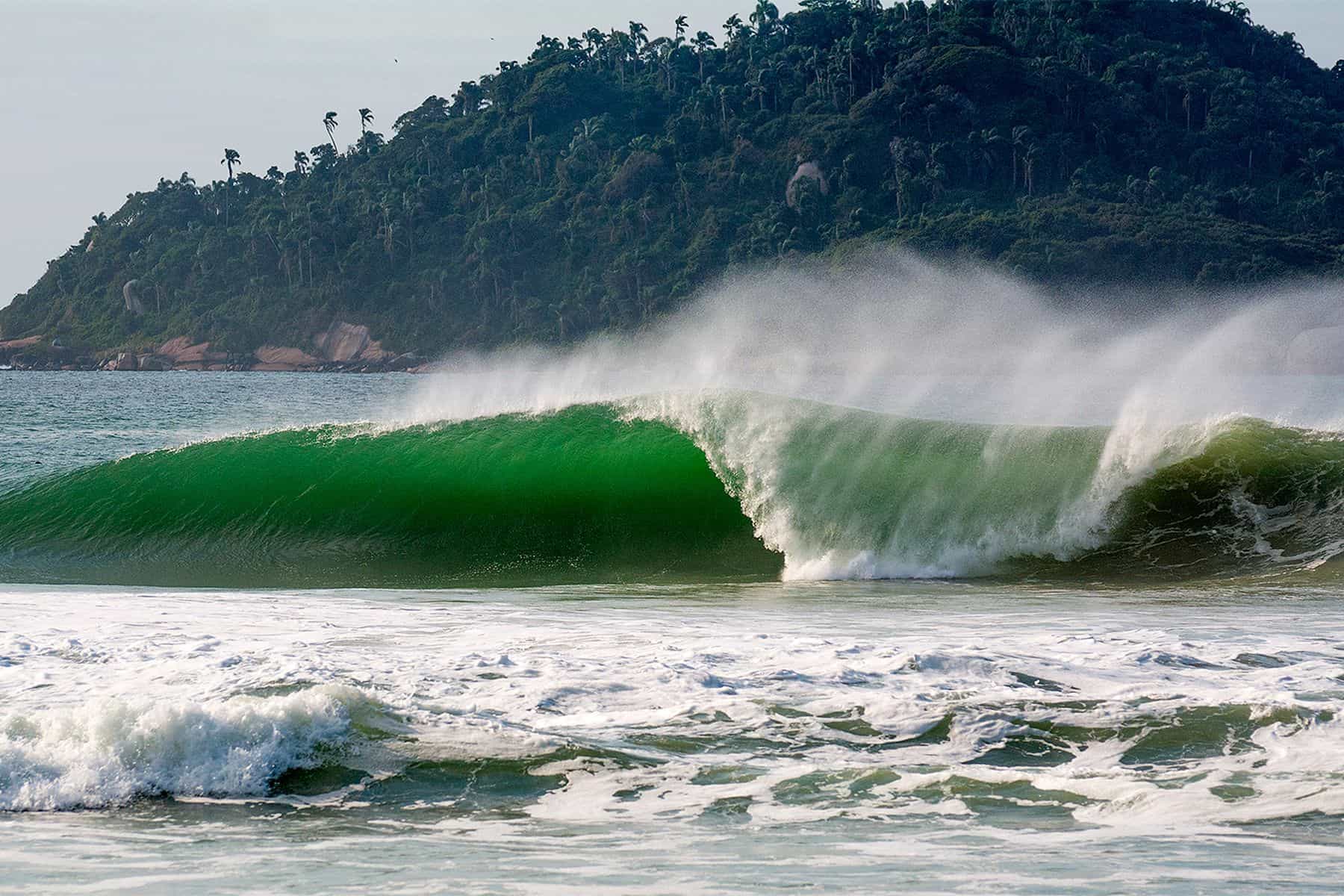 Always one of the annual top ten best cities to live in Brazil, the island of Florianópolis enchants every passer-by either with its charming and numerous (over 50) beaches, cultural variety, friendly locals, healthy habits, 'eco-friendly' mentality or with the amount and consistency of waves.
It's home to surf names like Yago Dora and Ian Gouveia, and more recently Adriano de Souza; the island breathes surf. With an economy mainly based around I.T. and tourism, it used to be one of those places that turns into a ghost-town after high-season, but that's not the case any more. Florianópolis' fame has spread around the globe and with relatively cheap properties (up until a few years ago), the island was inundated by a caravan of foreigners who sought a spot by the beach, literally.
Situated in the deep south of Brazil, about 700km (430mi) from São Paulo and 800km (500mi) from the border with Uruguai Uraguay(?), the island is connected to mainland by a 1km (0.6mi) long bridge and its entire western coastline is completely open to the Atlantic Ocean.
Florianópolis (or Floripa, as the locals call it) has a good reputation for waves generated by S-SE swells that usually come from low-pressure systems in and around Antarctica, and produce waves ranging from 0.5-4m (2-12ft) once they hit the shores. Northern-hemisphere autumn (Brazilian spring) is the season of choice, as it enjoys both S-SE pulses of swell as well as more easterly pulses coming from hurricanes off the coast of Africa and thus generating quick groundswells. Even if sometimes called "the windy city", the variety of spots positioned at different angles along the coast means that there's always an option sheltered from the wind. It's worth bringing a wetsuit regardless the time of year, since the island is only a strong southern storm away from changing its weather, from wine to water so to speak.
On the western side of the northern tip of the island is the surf spot of Praia Brava, a small bay facing east that is known for its consistent and powerful peaks that are sheltered from the southern winds by the surrounding hills. The best waves breaks either close to the north or south rocky points – which assist in defining the wave's direction: lefts on the northern point; rights on the southern, with a less crowded option along the banks that form in the middle.
Brava (meaning "angry", as its called by the locals) works well on E-NE swells and on the occasional massive SE swell that wraps around the southern point and creates clean lines, when everywhere else gets messy. This sand-bottomed bay holds up to 2m (6ft) of swell and on a good day you may score a barrel on take-off, followed by a nice wall to manoeuvrer for some 50-100 meters (160-320ft). As with most spots in Floripa, tides don't play a big role in the formation of waves and offshores come from the west. Although easily accessed by car, Praia Brava is relatively far away from the city centre and places like Lagoa da Conceição (a more affordable and pleasant neighbourhood), so the only other way to get there is to drive or catch a poorly-scheduled bus.
A 30km (18mi) drive south from Brava will take you to the 'Eastern Beaches' region – the most famous (and arguably most consistent) area of the island. This stretch of the coast consists of spots like Barra da Lagoa, Galheta, Praia Mole and Joaquina – the latter being the reason why many surfers moved to Floripa in the first place. The solid left-hander breaking off a rocky point at Joaquina has covered the walls of travel agencies and been stamped on postcards countless times.
Joaca (as it's nicknamed) is the most consistent spot of the city and its popularity is both due to the quality of wave as its magical surroundings (white sand dunes with lush green hills) and infra-structure (safe parking, shops, accommodation and restaurants). This beach-break is easily accessed by bus, car or bicycle, only 5km (3mi) from the neighbourhood of Lagoa da Conceição. The wave breaks off a rocky point and on a good day can run up to 300m (100ft) along a solid sand bank – be aware of the lone rock that sits along the way though.
This area picks up any pulse coming from S to E (favouring SE) and it holds up to 3m(10ft) of swell without losing its cleanlinesses. This spot is rather sheltered from winds that range from W to NE, but it's not a good option if it's blowing from the South. Its versatility pays back with the crowd factor, which can be too much at times. Still, good waves can be found if you walk further down the beach and look for a hint of a sand bank. It's a beginner-friendly spot in small days, but when the swell picks up the current and powerful whitewash can be a hazard. Joaca is one of those places where it's always worth a paddle.
As you move down on the same stretch of beach as Joaquina, you'll reach the beach of Campeche, usually divided into the spots of Riozinho (a hollow beach-break connected to a tiny river-mouth, from which it inherits the name) and Pico (the more friendly sandbar that sometimes produces Jbay-like right-handers). Both Pico and Riozinho (all part of Campeche beach) offer the same level of accessibility, the same intensity of crowds and very similar (if not the same) response to swell (favouring S pulses, as there's an island straight ahead that "blocks" most things coming from the E) and wind direction (clean on SW to NW). What differs here is the type of wave.
While Riozinho has a punchy, super-hollow, fast peak that going both ways over a rather shallow sandbank, Pico provides cleaner and longer walls that are easier to ride and more consistent. On powerful S swells these two waves meet, forming the famous Campeche Rights, that begin from the northernmost section of Pico and run a good 300-500m (980-1500ft) until reaching the barrelling sections of Riozinho. When this specific swell is on, the spot is bound to get super-crowded, but to get just a couple of waves and witness the beautiful lines running down the beach with the Campeche Island in the background are worth the session. Pico starts working at 0.5m (1.5ft) and is a beginner-friendly spot, while Riozinho works from 1-2.5m (3-8ft) and is an experienced surfers only wave.
The Southernmost part of Floripa has the spot of Matadeiro as its main feature. The beach is accessed either by car or by catching a bus to the beach-village of Armação, from where you walk 5-10min, crossing a small river, until reaching this hidden bay. The name Matadeiro ('killing place') derives from the old tradition of hunting whales for their oil, a practice that vanished many years ago. Nowadays, the spot is known for offering a fast and hollow left-hander that breaks off the rocks of an island-like peninsula and rolls down the beach over a shifty sand-bottom, heavily influenced by the river that empties into the sea here. It's the best option on an easterly swell with southerly wind (conditions that are very common in Floripa) and the waves start working with any pulse of around 1m(3ft), holding up to 2.5m (8ft) in size – which when it occurs creates wide take-off barrels. This bay is surrounded by a densely-forested hill and the beach area allows a few kiosks and huts to be used as bars and restaurants in high-season. The main peak generates mostly lefts and is most suited to experienced surfers, while the rest of the beach (an open area, away from the rocks) is good for those keen on catching a mellower wave and enjoying this wild and peaceful spot. Matadeiro is also one of the two starting points for a hike to the "secret" spot of Lagoinha do Leste.
Florianópolis is a safe and developed place (by Brazilian standards), features that when combined with its natural beauty and laid back atmosphere make it a highly-considerable holiday and surf trip destination. Not only are the waves consistent and fun, but the island also ticks the boxes for those who wish to party, eat fresh seafood, enjoy down-time with their family, indulge in other adventure sports or simply be within nature. But these qualities also bring with them some drawbacks, which for us surfers means crowds and consequently, intense localism.
The idea of respecting both the place and the people works like a law here and is applied in and out of the water. You'll get told off for littering, as you'll get mean looks for dropping in. Despite their overall friendly attitude, locals tend to "show their teeth" if they feel either the place or their 'lieu' has been disrespected. So choose your waves wisely and stay away from highly-crowded peaks. Other than that, do a bit of research previous to your arrival to optimise your time here, as there's a lot to see and do.
Where: Fly to São Paulo (GRU) or Rio de Janeiro (GIG) and get a domestic flight to Florianópolis (FLN).
When: September and October are the most consistent months, but there are good swells through the Northern Hemisphere Summer (Brazilian Winter)
Why: Consistent beach-breaks in a variety of environments, plus a wide range of other sports and cultural activities to enjoy.
How: Your standard shortboard (plus a spare) and a fish or longboard for smaller days.
Our thanks to photographer Christian Herzog for the use of his images.