Travel
Departure 
Gate: 
Bells 
Beach 
-
Words by Mat Arney, images by Mat Arney & film by World Surf League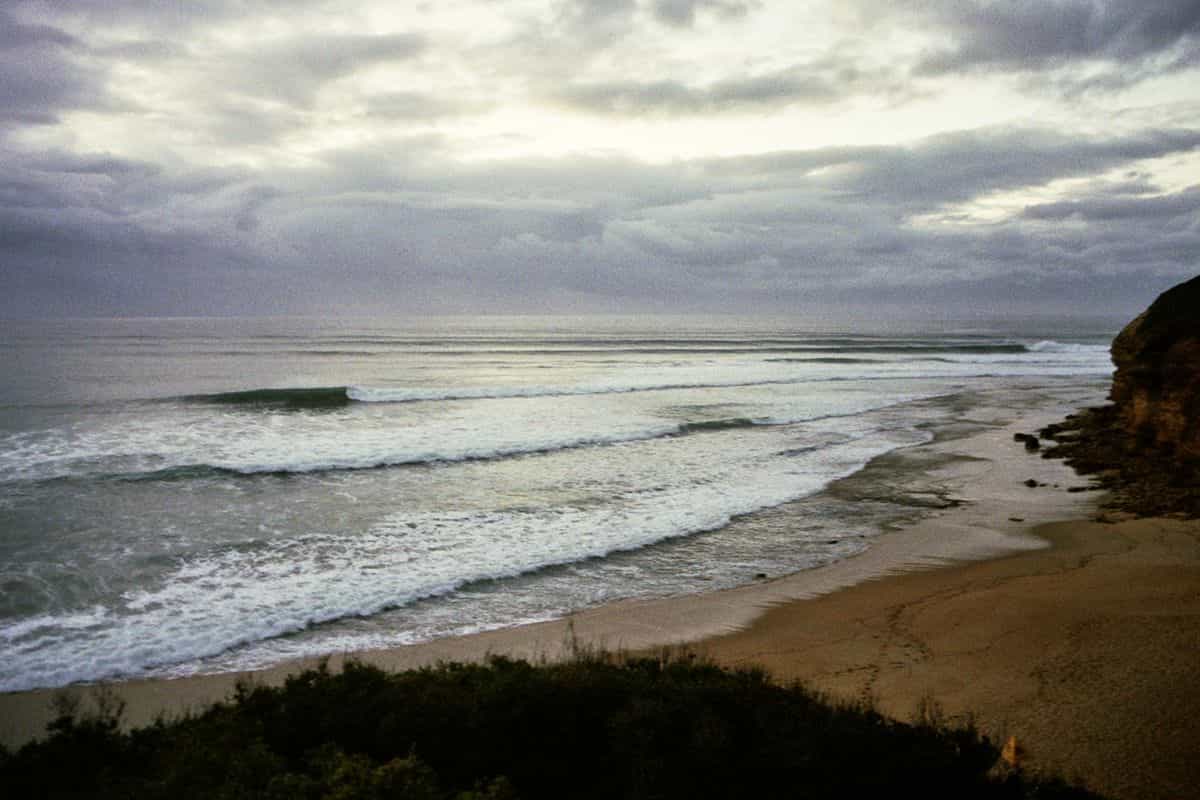 As far back as most surfers can remember, the Easter long weekend has meant one thing: Bells. You've got to "win it to ring it", and since 1961 surfers have been gathering on the Victorian coast just outside of Torquay to compete for the chance to shake the famous trophy loudly above their head. The site of the first Surfing Recreation Reserve on the planet, Bells and its easterly neighbor Winkipop are classic right hand point breaks that draw surfers from all over the world, and rightly so.
The coastline of Victoria is open to powerful Southern Ocean swells. On the eastern side of Cape Otway the Great Ocean Road hugs the coast as it heads towards Melbourne and the southeast facing coastline enjoys cross/offshore conditions in the prevailing winds, whilst the raw swells that approach from the west and southwest become more manageable as they wrap around the cape. Nevertheless, this is a coastline known for its cool conditions and powerful waves. Just south of the surf town of Torquay (home to Rip Curl and Quiksilver), the right hand point of Bells Beach picks up a lot of swell and provides consistent and classic waves in a wide range of conditions. Divided into two main sections, Rincon is at the top of the point and breaks along a ledge beneath the limestone cliffs. It's best on smaller swells and higher tides. What everybody comes for though is Bells Bowl, a powerful right that once over the four foot mark breaks through all stages of the tide and lives up to its name, providing numerous bowly cut-back sections perfect for classic power surfing lines. The wave can section badly, but if it's big and you're lucky then it's possible to make it all the way through to the shorebreak on the inside, which can be just as intimidating whether you're surfing into it or preparing to paddle out through it. Bells is all about power – power surfing in powerful conditions, so if it's sizable then expect to have to ride a bigger board, utilise your rails and paddle a lot. The sweep running down the point across the bay towards Winki can be very strong and needs considering when paddling out.
The next point along, to the north towards town, is Winkipop. Winki doesn't get as big a share of the international limelight, but is arguably a world-class wave in it's own right. Breaking over a flat reef for hundreds of meters, the waves at Winki are broken into two sections (Uppers and Lowers) that can connect on the better ones. Waves here are long, fast and hollow, and are better on a pushing or higher tide. The local crew have the wave dialed too, and will put on an impressive display.
https://youtu.be/PIqSjWIdMcU
Bells is a world-class wave with character and history, making it well worthy of a place on your surf-spot bucket list. It's on a lot of other surfers lists too, however, and there is a large car park there to accommodate them (and the infrastructure for the Easter contest) so you'll have to get up early in the morning for a chance to surf it without much of a crowd. Whilst you're visiting, it'd be shortsighted not to check out the Surfworld museum in Torquay or drive further along the Great Ocean Road to take a look at the Twelve Apostles. The "shoulder" seasons of autumn and spring are your best bet for scoring optimum conditions, although it can still be cold and windy – a visit to Bells isn't going to be a relaxing tropical trip, but more likely a colder, hard paddling, big turns kind of experience where the reward is in the waves.
WHERE: Melbourne (MEL)
WHEN: Year round, but best in spring and autumn.
WHY: Carving turns on an iconic right hand point break in the World's first Surfing Recreation Reserve.
HOW: Shortboard and a step-up or mid-range gun.