Travel
Departure 
Gate: 
Barbados 
-
Words by Mat Arney, images by Sporting Barbados & film by Matt Scorringe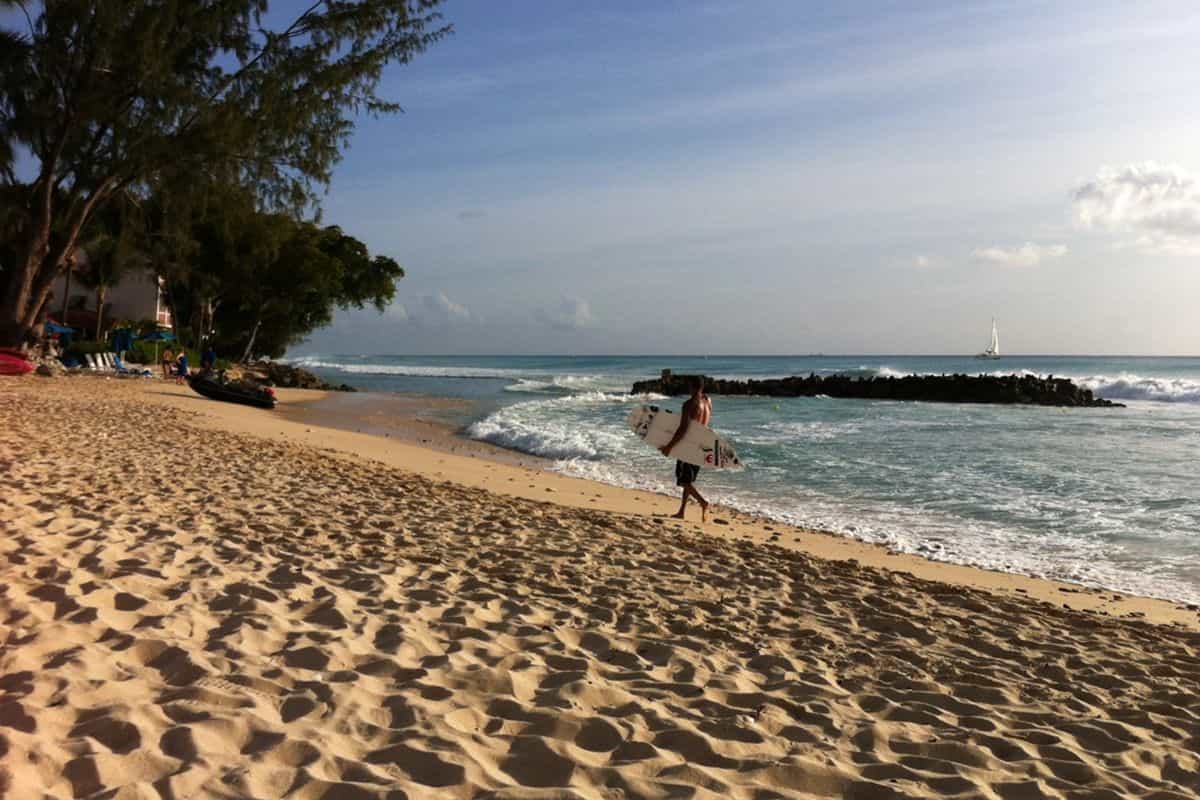 Upon initial inspection, Barbados would appear to tick all of the boxes for an ideal surf-trip destination: a small island with waves on all coasts, consistent swell year round, at least one world class reef break, water warm enough to surf in boardshorts and palm trees on the beach. So, let's go ahead and find out a little more…
The easternmost island in the Caribbean chain, Barbados is technically classified as an Atlantic island as it sits 62 miles east of the Windward Islands and the Caribbean Sea, and bang smack in the way of the easterly trade winds. These trade winds not only provide consistent 2-5ft swells, but also temper the humidity and heat to give the island a moderately tropical climate year round with temperatures ranging between 21 and 31° Celsius (70-88°F). Hurricanes tend to pass further to the north so are not much of a concern, the upshot being that they can push swell down the island's east coast where the prevailing trade winds blow offshore.
Image: Local junior surfer Danny Edghill by Sporting Barbados
Barbados was a British colony until 1966 (and it is still a member of the Commonwealth) and this historical link makes it a popular destination for British surfers in the winter months, as well as for surfers from the much closer eastern states of the USA. Those surfers are usually drawn to Barbados by a single surf spot: Soup Bowls. Situated half way up the island's east coast at the town of Bathsheba, Soup Bowls is a powerful, barreling right hand reef break that is often overhead and on big north swells can draw comparisons to Backdoor. This wave went largely under the radar for many decades until several dedicated video sections at the start of this millennium (starring one Kelly Slater who has claimed one of his best surfs was at Soup Bowls) showcased to the worldwide surfing population just what this spot was capable of producing. Soup Bowls is reported to enjoy a surfable wave at around head-high 300 days per year, and although it is often onshore the wave is powerful, bowly and hollow enough for this not to be too great a problem. Being Barbados' premier surf break means that it does draw a crowd and the local crew have it dialled as you would expect, however there are a few different take-off spots that serve to spread the crowd a little.
If Soup Bowls is crowded, then on a larger swell the next break south, Parlors, can provide good waves across multiple left and right peaks with less people. Further down the east coast there are several more very good waves to be found when there is a good north swell; Tent Bay, a powerful left and a very rare but highly regarded right at Conset Point. The west coast does not enjoy the same high level of consistency as the east coast, however the ever-present trade winds that are onshore on the wave-blessed east coast are offshore on the opposite side of the island. On the north west coast Duppies and Maycocks sit alongside each other but offering different levels of challenge. Duppies is an intimidating spot offering consistent and powerful rights that breaks a fair way offshore. There are strong currents that will try to draw you towards a cliff-lined stretch of coast to the south and the break is named after ghosts and spirits so, in addition to its rumored "sharkiness", Duppies is a heavy spot where you need to be thoroughly confident in yourself. Just to the south, Maycocks is a much friendlier alternative with softer rights set in a beautiful location. As you continue down the left coast left-handers are the order of the day, but only when there is a large north swell. Tropicana and Sandy Lane both offer great lefts, however they are rare and the urchins and fire coral at Tropicana may cause you to choose your moments carefully. To finish our lap of Barbados, the south coast requires either south easterly wind swells or swell generated by a hurricane passing nearby to be any good. Freights, South Point and Silver Sands straddle to southern-most tip of the island, with good lefts available at Freights and South Point, and rights at Silver Sands although this spot in particular is popular with wind and kite surfers because the prevailing NE wind is cross-shore. The joy of surfing on an island like Barbados is that, at 21 miles long and 14 miles wide, you can move between surf spots relatively quickly – or at least as fast as the country's dense network of narrow and winding roads will allow.
So between the swaying palm trees and great rum, there are plenty of very good reasons to visit Barbados for a surf trip. It's picture postcard qualities mean that it is a popular destination for tourism and package holidays from Europe in particular, offering one option for organizing a trip. Beyond the package hotels and their "fly and flop" clientele, it's possible to book accommodation ranging from hostels, guesthouses and homestays right up to hotels and private villas. Should you want or require something else to do other than catch waves, the island's coral reefs play host to some fantastic diving and snorkeling, and the island's capital Bridgetown and its historic garrison is a UNESCO World Heritage site, so there is plenty for culture vultures to get stuck into. But, if Soup Bowls is firing for the duration of your visit then you'd be forgiven for being a bit blinkered by its barreling beauty and heading home with a souvenir bottle of rum hastily purchased at the airport's duty free.
WHERE: Fly to Grantley Adams International Airport (BGA)
WHEN: November to March (dry season)
WHY: Consistent surf in the fun to challenging range, surfing Soup Bowls, great climate and Caribbean culture.
HOW: Shortboard and either a step-up or a fish, depending on what you plan to tackle.