People, Surf Contests
The 
Story 
of 
Kill: 
An 
Insight 
into 
Adaptive 
Surfing 
-
Words by Kim Feldmann, images by Thiago Vieira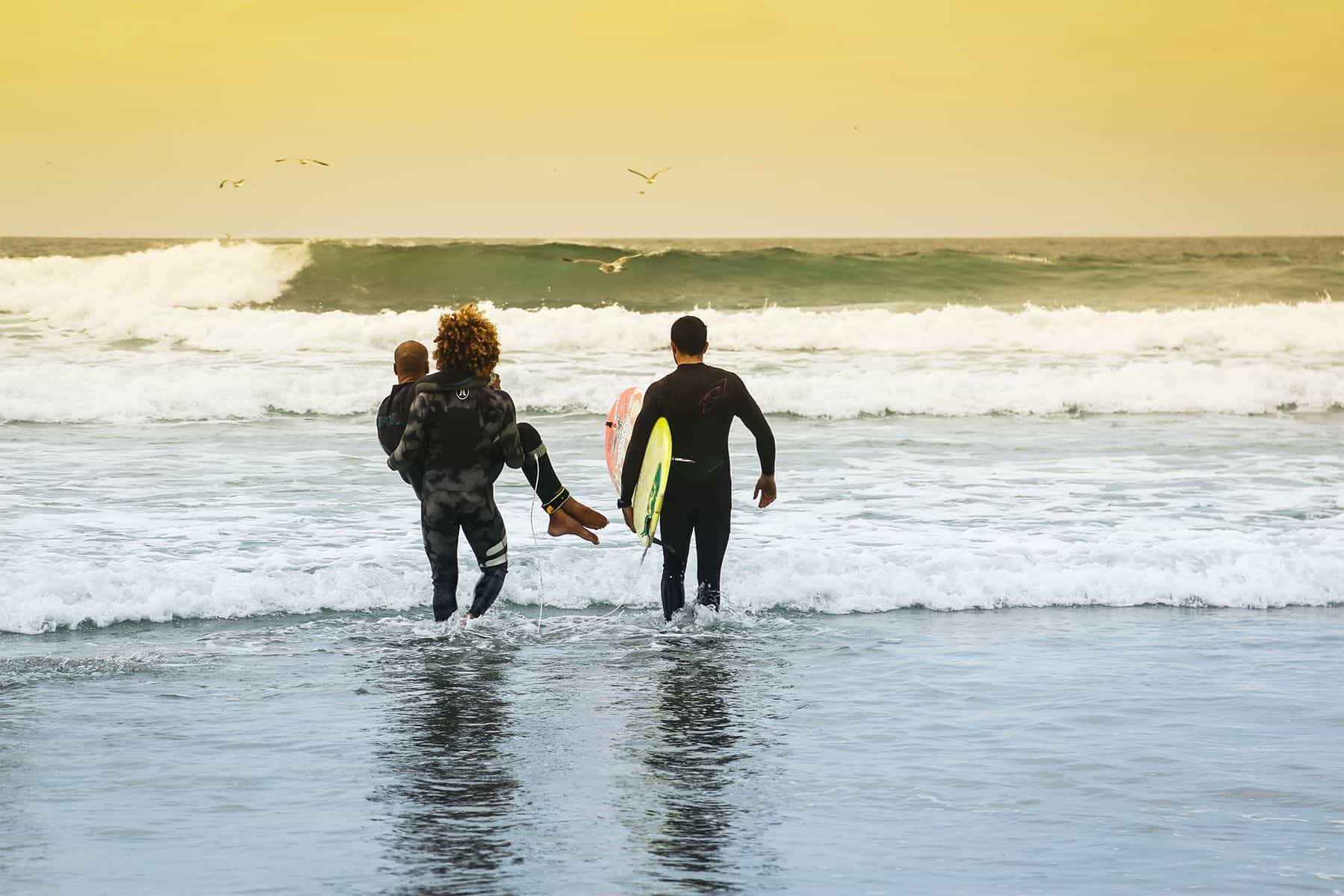 There are many stories of how surfing has helped individuals to overcome challenges, endure hardship or change perceptions for the better. Amongst such gritty saltwater narratives, there is no shortage of inspiring tales coming from today's professional community of adaptive surfers; people who have literally fought their way to their dreams.
One of the names in the current Adaptive Surfing scene is that of Brazilian Carlos Kill. Back in 2003, Kill was in a car accident that left him paraplegic and pushed him into a long phase of depression. Since then, his life has gone from water to wine – and back to water again. After coming back up to the surface, Kill won the national adaptive surfing championship in 2014 and was later invited to compete in the second edition of the ISA World Adaptive Surfing Championship in 2015. Now that his journey to recovery is over, he (and the entire community of adaptive surfers alike) faces another hole on the road – recognition.
Below is a translated transcription of an interview with Carlos Kill, in which he describes his relationship with surfing before and after the accident, as well as his insider's view of the world of Adaptive Surfing.
Surfing Before the Accident
When growing up, I was deeply influenced by my cousins, who were really into surfing, skateboarding, Rock n' Roll, reggae and punk rock, that kind of stuff. So I was raised in this sort of environment, always in the context of radical sports. At age 11, I watched the film North Shore for the first time and that is when I told myself I wanted to be a surfer.
From then on, I wouldn't let go of my cousins and, like a barnacle, would follow them to the beach. I finally stood up on a board when I was 12 years old – it was love at first sight, or at first take-off. I continued to tag along on their surf sessions until I was old enough to make the mission to the beach by myself.
In my early twenties, I used to work at a small ice-cream parlour pretty much from Monday to Monday, sneaking out for a surf whenever possible. Since I have always lived far away from the beach (about 35km drive each way), I often carpooled with friends. We had to get onto the motorway in order to reach the closest beach, Jacaraipe, and unfortunately, on one of these trips, the accident happened.
The Accident
On a regular Saturday, a friend of mine came into the shop and invited me to go for a surf the next morning. He said there was already a group of five going but I could probably squeeze in the trunk of his pickup truck, so we agreed to meet at 6am near his place. I woke up at 6.30, gathered my things in a rush and headed to the door. My mother even told me to stay home and sleep longer since I was already late, but I told her I craved saltwater. I met the crew and we jumped in the car; my friend was driving, two guys shared the passenger's seat, me and another two friends in the trunk, boards up on the roof.
Not long after leaving, I felt the car trembling more than usual; the shake was followed by a loud bang and the smell of burned tyres. Soon, all I could feel was the cool morning breeze until my chest hit the ground and I blacked out. When I woke up, I saw my friend lying in a very bad condition and although I tried to get up, my legs didn't respond.
The accident happened due to a mechanical failure – a steering rod snapped and sent us rolling down a bluff. I was thrown far away from the car and the landing caused me to fracture two vertebrae (T11 and T12), which made me paraplegic. I went into a coma and was taken to hospital. When I woke up a week later, the doctor told me they would need to transfer me to another hospital for the operation – a process that took about a month. In the end, I was in hospital for three long months, full of chats with doctors, needles, and medicine.
Indeed, it was a huge shock to get back home and realize I was a different Carlos Kill; that all my dreams and plans to study oceanography had abruptly changed. It was also difficult to understand my [new] place in a community and tribe I had previously been an active part of. This inevitably put me into a hard phase of depression. I was only 23 years old when the accident happened.
I struggled to keep my spirits up and even attempted suicide, but to see my family and true friends supporting me gave me enough strength not to give up. I also began to understand that in order to get over this I would need to acknowledge and accept that I was going to be in a wheelchair and that this shouldn't stop me from taking care of myself, from getting back to living.
Despite the hardship faced, nowadays, I talk openly about this and even try to raise awareness of the dangers of driving (especially drink driving), taking it as a lesson that can be shared with others.
The Reconnection
My battle with depression lasted for about 5 years. One day, a friend brought me DVD of a film featuring Jess Billauer (a surfer from California who also suffered an accident and became quadriplegic and whom I had the chance to meet in 2016 during my first international contest in California) where his friends, including Kelly Slater and Rob Machado, assisted him into the water for a surf. I was both inspired and made emotional by the film; that was a transition phase in my life after half a decade of no surfing, only lying in bed.
Still, Jess' venture made me realize that my arms were still responsive, I could still paddle so I could surf again. This was a big turning point in my life and from then on I was compelled to get back in the water and literally learn how to surf again. Even though I was familiar with the sea, how to read the waves and position myself, this was a completely different experience. Interestingly, nowadays I surf better than when I was able to stand up.
But getting back in the water wasn't a simple process. When you're as tall as I am and used to using your legs to push back up after even the smallest wipeout, you suddenly have to learn to rely on your arms a lot. I also needed to have someone assist me to the beach and watch me while I was in the water. It was at that time that, through my friend Jose Augusto Muleta, I had the support of a local surf school (Moulin Surf School). Then, on April 11, 2008 (my birthday), I had my first re-connection with surfing. It was a burst of emotions, I didn't know if I should cry or laugh, but it was a wonderful feeling nonetheless.
So far it has been 10 years of adaptive surfing, a journey propelled by grit and willpower. Surfing is my life – when I'm in the water I forget about my problems. I even forget that I'm physically disabled. When I'm paddling for a wave, I'm just like the other guy; the only difference being he/she will stand up while I'll carry on lying down. Thus, it makes no difference to me – I "destroy that wave" regardless. Once I got back in the water, I began to smile again, I regained a stimulus to live and to try to make up for all those years in idleness. That is when, with the help of surfing, my life got back on track.
Back In The Water
I have always seen surfing as a means to escape, to let go. Before the accident, surfing played a big role as a way for me to get rid of the stress accummulated from working long hours almost without weekends. Nowadays, it works in the same way, only with different circumstances – different emotions to let go at sea.
Also, prior to the accident, my perception for the wave's motion and understanding of how to use my body to optimize the ride were almost non-existent; I used to take-off straight and just go wherever the board took me. Now, I'm much more attuned with how to position myself, paddle for a wave, or even stall to try to get barrelled. Hence, after 10 years in the "business", I can call myself a professional surfer – I live for surfing and surf for a living.
The Challenges of Adaptive Surfing
The concept of adaptive surfing is growing at a gradual pace, just as people with physical disabilities are becoming more engaged in the world of sports in general. However, prejudice is still one of the things limiting both athletes and the actual culture from developing.
I want to represent all the people who have supported me, the surf community of Espirito Santo, Brazil, and to show that despite my physical limitations, I'm able to go surfing and do what I love. While there are a lot of people who go to the beach and "find excuses" for not getting into a rough sea, I jump in at once and look for the biggest bomb.
As for the hardships that surround the world of adaptive surfing, at least in Brazil, it has to do with the lack of opportunities. There haven't been any national events since 2014, and I can say that we really have to work to find a space in competitions abroad – only 2 of the athletes that were invited to this year's ISA Games actually have a sponsor to help them with expenses.
This year is the 4th time I've been invited to the ISA World Adaptive Surfing Championship in California (in 2015 I couldn't make it but the following years I did) but I won't actually be able to go unless I literally chase down some sort of support to get me and my team there. On top of that, I also have to train and prepare for the contest.
I believe that most people/companies/governments that are interested in the world of surfing and have the resources to provide support often overlook the actual value and scope of these events, as well as of whom they will be supporting. I have already told myself that this year will be the last year I'll go to the ISA Games, unless I find a sponsor. The mission of running after support or financing myself is a very exhaustive process that doesn't always pay off.
I guess I can speak for all adaptive surfers when I say that what frustrates us the most is not having our efforts valued. I would really appreciate if adaptive surfing was seen with a bit more care, a bit more sensibility and respect. Ultimately, my goal is to change the way others see people with physical disabilities so that there can be more opportunities for everyone involved. And I'm confident that in the near future adaptive surfing will be seen in a different way.
ISA World Adaptive Surfing Championship
The ISA Championship is more than a celebration of adaptive surfing. This is an international competition and these are high-performance athletes with remarkable life stories, who have gone through hell and high water to be there, doing what they love – just like a professional surfer on the ASP does. This contest hand-picks the best adaptive surfing athletes from over 20 nations and I'm really proud to be a part of it.
In 2014, I was the national champion of adaptive surfing in Brazil and from then on came the invitations for international competitions. I was first invited for the ISA World Adaptive Surfing Championship in California the following year but couldn't make it due to the lack of financial support.
In 2016, I was again invited and this time I received support for my plane ticket but had to sell raffle tickets in order to cover expenses of lodging and food. Nevertheless, I got sixth place in my category (AS-4 Prone) and Brazil was the world champion. In last year's event, I also managed to find a sponsor and ended up with the fifth place in my category – which has opened the doors for me to send an application for the Paralympic Games.
This year it will be the 4th edition of the ISA World Adaptive Surfing Championship and I'm training hard to improve my individual result at the contest so that I can increase my chances of being drafted for the Paralympic Games. Although the structure of the contest is very good, they still don't offer prize money – which I believe would encourage adaptive surfers from around the world to get out there and train hard.
As most adaptive surfers need assistance to get in and out of the water, we need to have a team with us at every event we go to. This year, I hope to take photographer Thiago Vieira (who accompanied me in 2016) and a film crew to document the event. Now, as well as training hard, I'm looking for sponsors to help finance the trip. We have already prepared a partnership project and a business proposal, and are approaching companies or individuals who may relate to our story and are keen to join us on the journey. Hopefully, with a strong back-up team and good waves, we can chase that third world title (Brazil already won 2 out of the 4 contests) and show once again that hard work and determination pay off.