Interviews
A 
Sense 
of 
Overcoming 
-
Words by Kim Feldmann, images by VAST, Avuyile "Avo" Ndamase & film by Timothy Hay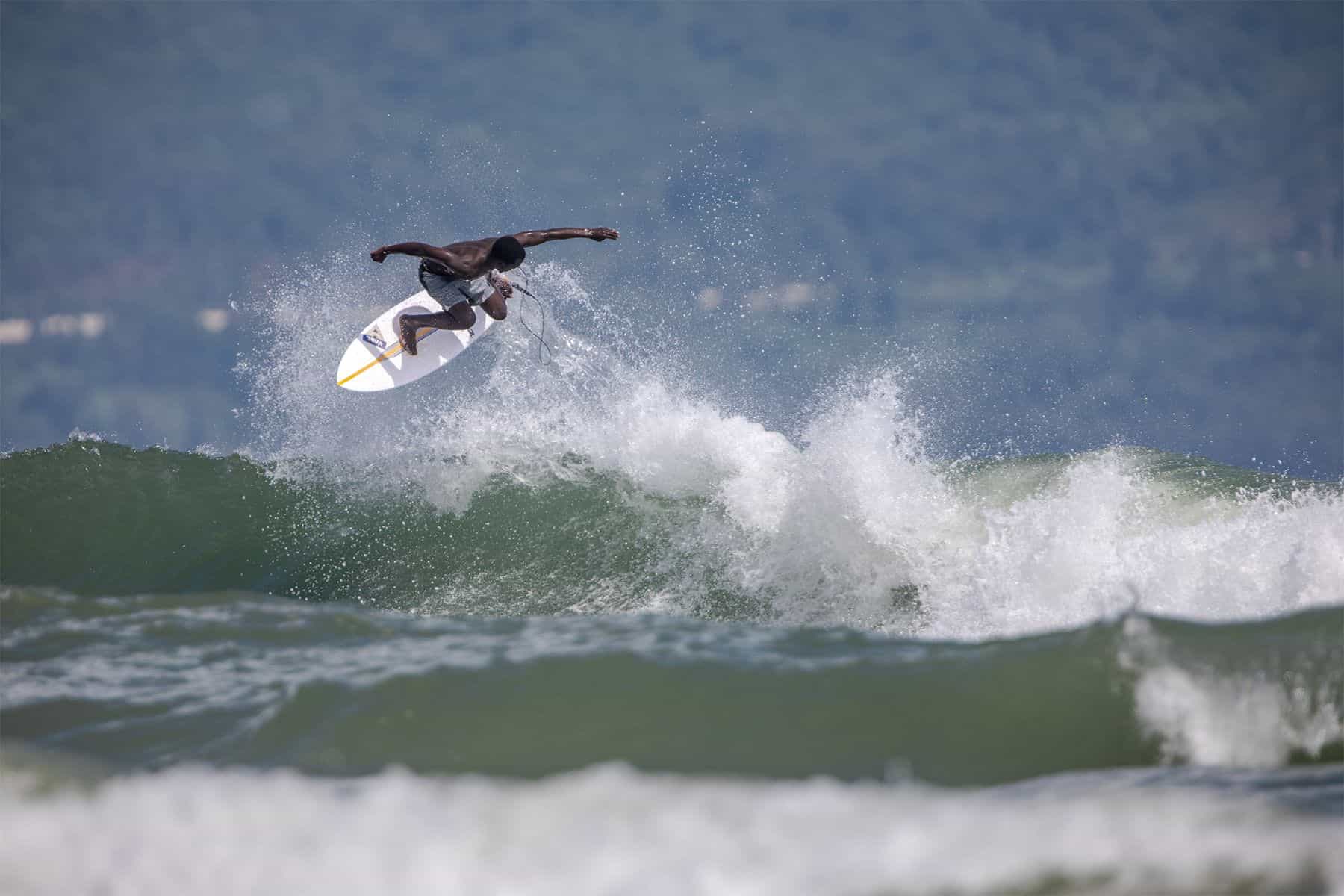 Avuyile "Avo" Ndamase & The Solace of Ocean Water
South Africa's surf reputation abroad reverberates chiefly around Cape Town and J-Bay. Now and again Durban makes the headlines, or a secret spot might get a double-page spread. And whilst South African surfers tend to know and explore their backyard, foreigners dragging Google Maps up-down-left-right usually overlook one of the country's richest [surf] regions…
"Transkei is the most beautiful part of the country," says Avuyile Ndamase, a surfer from Port St Johns, a coastal town roughly 350km north of East London. "Avo", as his friends call him, has embodied the natural beauty and ethos of his home district – "with the great green headlands of the Mpondoland that meet the mystic Wild Coast, turning them into steep cliffs" – and tapped into the surf potential of this wave-laden section of coastline – "with endless nooks and crannies, from long right-hand point breaks to coved beaches, mostly yet to be surfed," – to achieve professionalism and become a trailblazer for a new generation of African surfers.
Stimulated by a friend from a nearby township, Avo and his younger brother, Zama, caught their first waves on borrowed surfboards at Port St John's Second Beach. And whilst uncrowded waves abounded, their financially unprivileged upbringing, together with the region's relative isolation, also meant fewer opportunities. "Surfing at the beginning was all we had, and with no reference to the big picture, we were just surfing because we loved it," says Avo. "The most important thing on my mind was the feeling of freedom I got from being in the ocean."
For Avo, this freedom and the times shared with his brother in the water was where the essence of surfing lay: "Before we knew the word stoke, we knew the feeling – and the feeling was like nothing we've ever felt but we knew we both felt it." Then, in January 2011, Avo saw a bull shark attack his brother out in the line-up at their home break. Zama, 16 at the time, was killed in the incident.
Not many would have gone back to the ocean after such a traumatic event, especially considering the threat of shark/human interactions in this part of South Africa is constant. Yet for Avo, turning to the ocean seemed to be the most natural way to cope with his loss. "Being in the ocean and paddling through waves has a strong sense of overcoming," he says. "When I am in the water, I am humbled. I do not think or worry about sharks, but I know my place, and I find that that is where the strength of being able to overcome comes from."
Avo's path eventually crossed with that of Timothy Hay, a director also from South Africa. Their meeting culminated in the short film Amanzi Olwandle (Ocean Water), which won the prestigious judges' prize in last years' My RODE Reel competition. "We both never even spoke about possibly winning," explains Avo. "But the chemistry was strong and we knew we had a genuine story to tell."
Beautiful, honest, and heartfelt, the film portrays this brothers-ocean love triangle, and how holding tight to this bond has helped Avo cope with grief. "I am so grateful that I got to share the story of my brother with the world. I just wanted to be like him in every way, and now I feel like I am living out both our dreams. I truly feel like his memory will live on both in my soul and in this film," he says.
As a black surfer from a low-income family raised in a small town in South Africa, being able to travel the world in search of waves and get paid for it may have seemed out of reach. But, motivated by his brother's memory, a healthy addiction to the ocean, and staying true to himself and his beliefs, focusing on what he had rather than what he didn't have, has ensured he kept living their mutual dream. "I never felt like I had to compare myself or my situation to others, and that is another thing I learned from my brother. Self-awareness is important. And now, looking back, I simply know where I came from."
When asked about his plans for the future, he is, like most of us, at the mercy of travel restrictions. But even though he's itching to get back on the road, Avo, who currently lives in Durban, has been making the most of this downtime to further connect to the surfing community in South Africa, engaging in an ongoing cultural change which, according to him, "is still fresh and not yet fully embraced by the surf industry."
"I am the true story of a changing community, and would love to see other African surfers get similar opportunities as I have recently," he says. "I want to keep building my profile as a surfer, raising awareness of the endless potential South Africa has to offer, and sharing my story to inspire other surfers and people who have experienced loss all over the world."
*****
The author and Surf Simply would like to thank Avuyile "Avo" Ndamase and his sponsor Vast.