Photography
Peel-Apart 
Peelers: 
The 
Polaroid 
Photography 
of 
Matt 
Smith 
-
Words by Mat Arney, images by Matt Smith & film by Adam Bell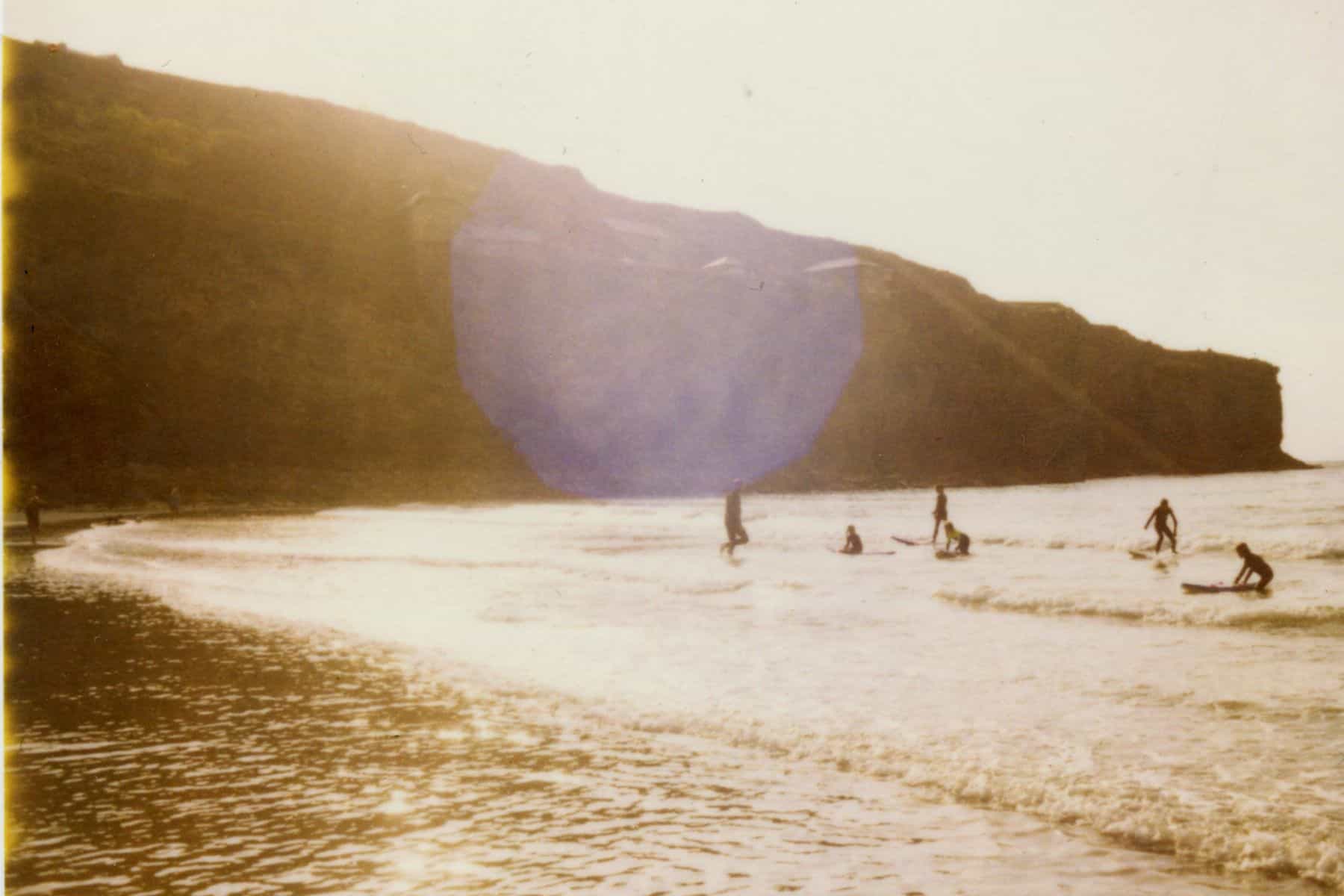 The fast action of surfing is not best suited to polaroid photography. But, where many would find the challenge of peel-apart film and the wide angle lenses and slow shutter speeds of instant cameras too much to even consider, British photographer Matt Smith has found creative opportunities.
Matt lives in Cornwall, the UK's southwestern-most and surf-soaked county. Like a lot of surfers with a love of photography, he tends to capture the moments before, after, and around surfing, choosing to surf as much as possible rather than photograph others doing it. This fits perfectly with his chosen medium. Matt has a collection of cameras, many of which he's adapted himself, and a collection of instant film. Polaroid famously stopped making their instant film in 2008, and whilst several niche after-market producers sprang up, there is also an active community of polaroid photographers who collect and trade in expired and rare instant film stock. Out of date film can go either way. If you thought that shooting analogue film was a gamble compared to the machine-gun methodology of digital photography, risking the moment on expired film that could be a complete write-off is another level. But with risk often comes reward.
Matt's instant film surf photography is ephemeral, often bringing to mind halcyon days of summer. It evokes a nostalgia for a time that never was because it is the present dressed up like the past. He's hauled his cameras on surf trips around the world, and continues to add to his body of work, and his collections of cameras and films. Surf Simply caught up with Matt recently to talk about some of his most memorable images.
Shooting surfing on big old cameras like this is almost impossible. No water housings were made, the lenses are wide, and the fastest shutter speeds are still usually quite slow. I feel like this lineup shot captures the feeling of a winter's day at this spot pretty well.
Shot on my honeymoon in 2011. My wife and I were cycling from San Francisco to Sausalito over the Bridge. As well as the good memories, I like the colours and imperfections of this image. It sums up shooting with expired film perfectly. It's just a shame Fort Point wasn't breaking that day!
A sunset portrait of my friend Jack and his single fin. I enjoy shooting into the sun and the contrast-y silhouettes it creates. I especially like the light coming through his fin and the glow the chemicals have left across the frame.
A tryptych shot on a Holga toy camera, with its low quality plastic lens and erratic shutter. On this day I'd done a long hike along the coast path with a backpack full of food and cameras. It was in the middle of winter, but the sea was strangely still and the beach was quiet and glowing in the warm late afternoon sunlight. Two or three longboarders enjoyed the knee high peelers.
A summer's day in Cornwall. Capturing the coming and going of the surfers, paddlers and swimmers. Out of frame the beach is completely packed. These landscapes of surfing and beach life are something I shoot a lot and often happen before or after I have surfed myself.
During lockdown in 2020 I decided it was the time to begin shooting 8×10″. These cameras are big and the process to shoot and process the film is even slower than I was used to previously. Portraits are something I continue to work on, so sometimes I persuade my children to sit for one. The sharpness of this image really shows what polaroid film can do when it's behind good glass.
Smooth Movers is an annual longboard comp held in Cornwall. I've taken a few images there over the years that have worked well. Longboards especially suit the images that these old cameras and expired film create and I really like the symmetry of the boards here. This year's event just took place and it was great to be on the sand there again shooting images.
A view from the Dhoni. Taken just after a surf, watching the rest of the crew at Cokes in the Maldives. This was shot on my 40th birthday surf trip to the Northern Atolls. I have such good memories of cruising between spots in the baking sun and the incredible tropical colours.
One of the first surf trips I took with a bag of cameras and film as well as a bag of boards was to Morocco in 2008. This was the first day of proper swell of our trip. We had already surfed, and took a taxi up to Anchor Point. We walked back to Taghazout along the coast. The trees were perfectly framing the lines wrapping in towards Hash Point.
In 2019 I spent a week on the Outer Banks for a film festival. We were lucky to arrive for a proper hurricane swell and managed to get some great waves. Our trip was shortly after Hurricane Dorian and the devastation it had left was sobering. Surfing beneath piers is an iconic part of American East Coast surf culture.
The wind on the first days of the Outer Banks trip sent most surfers around Cape Hatteras for shelter. The sweep here is savage and most sessions involve laps back up the beach after a handful of waves. Here three take a slow stroll back up under the punishing sun, while a laser fast left hander breaks behind them.
You can enjoy more of Matt's instant film photography and order prints and his annual calendar on his website at instantsurf.co.uk or follow him on Instagram @instant_surf for regular updates.